Have you been bestowed with the responsibility of putting together the office Christmas Party but have no idea where to begin?
Do it well and you will be hailed a hero but do it badly and you may just end up lunching by yourself for the rest of the year. Fret not, follow these tips to ensure your spot as the coolest person in office:
1. Gather a team
Assembling a team to put together a Christmas Party is similar to hiring – find people of different expertise, especially in areas you are not good at. Gather about 4-6 colleagues; remember that too many cooks spoil the broth!
2. Save the date
 December is a popular month for traveling so it's best to lock down a date and send out the invites as soon as possible. I am not a believer of hierarchy but it is always a standard protocol to check the calendar of "important people" to make sure that they can all make it.
3. Secret Santa
 Instead of spending on door gifts, why not have Secret Santa! It cost you nothing and everybody walks home with a gift and we can all agree that a Christmas party is not complete without gifts. If you are unable to get everyone in the company at the same time to draw names, leverage on (free) technology: https://www.drawnames.com.sg/
4. Budgeting
Find out what kind of budget you are given for the party and set aside monies for the compulsory items like venue, food and booze (beverage). Other items like decoration, game prizes, and activities like photo booth are good to have but you will not die without. This is important because your party can be as extravagant as the budget allows so you can only have a feasible plan when you know the budget.
5. Pick your venue
As much as you want to pick somewhere chic and unique like HUONE that is bound to make this the talk of the office party, it is important to differentiate the MUST HAVE and GOOD-TO-HAVE factors. For example, a poor location that is hard to reach may deter guests from turning up.
6. Decide on a theme
Party themes (good ones that is) get people excited. Instead of the same old themes, how about unleashing your creativity with themes like: Night before Christmas Party, The Ugly Christmas Sweater Party, Mismatched Christmas Party, etc.
7. Organise icebreakers and then games
The best party organisers plan ice breakers to help guests get to know each other better. One of the simplest ice breaker is bingo and you can create a Christmas version. Fill up the boxes like this: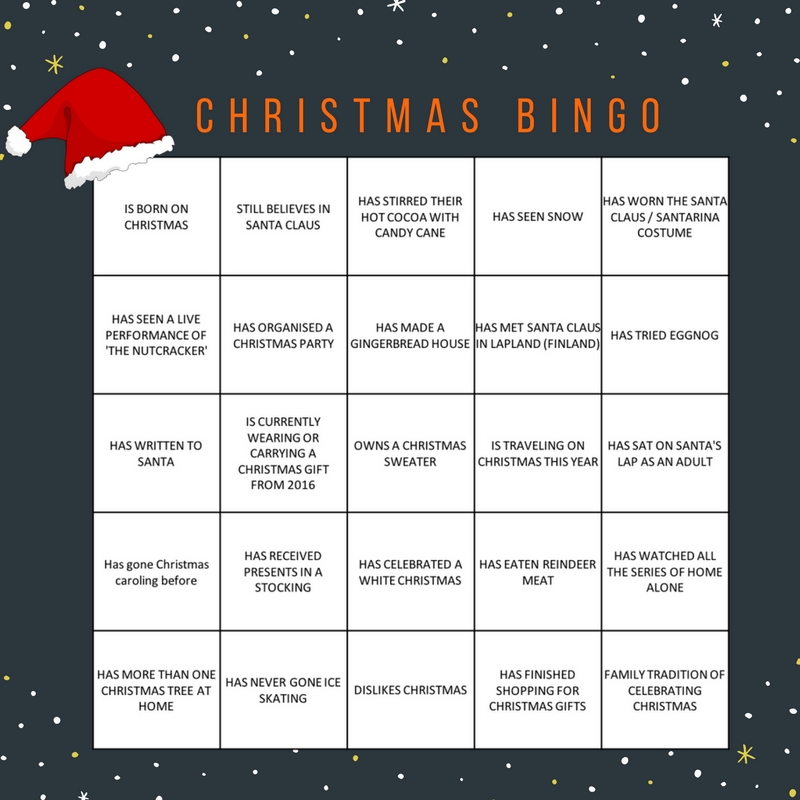 8. Food
One common mistake is not asking guests for food allergies and special dietary requirements when they RSVP. Also, make sure you chase for an RSVP from guests who have yet to respond so you can cater for food as accurately as possible. As a rule of thumb, always buffer 10-20% more than the confirmed number of guests.
9. Booze
Parties typically serve (alcoholic) drinks because it helps people to relax and it is an important way to enhance relationships amongst coworkers. Offer the basic drinks at your party to cater for different preferences: red wine, white wine, beer, sparkling wine. Other drinks like cocktails and whiskey are good to have only if you have enough budget for it.
10. Music
Do not underestimate the power of music at a party! Put together a playlist that will set the party mood and encourage people to dance and network. Spotify has many Christmas playlists that you can tap on if music isn't your forte!
11. Decorations
 This is an optional but if you do have some budget (however small), consider using decorations to spice up the atmosphere and get everyone into the spirit of Christmas! Tap on online resources for budget-friendly DIY decorations.
12.Ask for feedback
In every party, there's always room for improvement! Getting feedback from your colleagues will give you some direction to what their preferences are and you will be thankful next year when you are fortunately (or unfortunately) arrowed for the job.
There are professional companies out there that can assure you a spectacular time but that usually comes with a hefty price tag. Unless you are prepared to pay an arm and a leg, start planning your party with these tips!
Joewin