HUONE on täyden palvelun kokouspaikka, jossa autamme asiakkaitamme saavuttamaan parhaat mahdolliset tulokset kokouksissa ja tapahtumissa. HUONen periaatteena on luottaa työkavereihin kuten perheenjäseniin. Kaikki toimintamme perustuu ihmisiin. Tavoitteemme on luoda unohtumattomia kokemuksia asiakkaillemme SEKÄ työyhteisölle.
We are young but we aim high. We are blind believer of happy employees = happy customers.
Evon Blomstedt, Founder of HUONE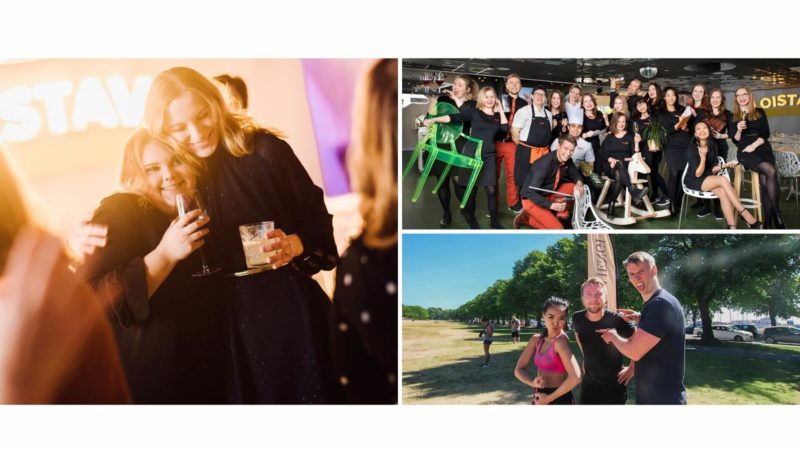 Arvomme keskittyvät ihmisiin. Pyrimme kehittämään ideoita ja keinoja, joilla ylitämme asiakkaidemme odotukset –  'Exceeding Customers' Expectations'. Ainoa tapa tehdä tämä hyvin on rakentaa sitä tukeva työympäristö. Yhdessä huolehdimme, että asiakkaamme lähtevät hymyssä suin päivän jälkeen ja haluavat tulla uudestaan takaisin. Sama pätee tiimiimme: haluamme, että jokainen työntekijä lähtee kotiin energisenä ja saapuu seuraavana päivänä mielellään takaisin.
HUONEen suunnitelmissa on laajentua maailman suurimpiin kokous- ja konferenssikaupunkeihin. Koronapandemia hidasti tätä, mutta emme ole luopuneet tavoitteistamme! Emme vielä tiedä kaikkea tarvittavaa, mutta opimme ja kehitymme yhdessä joka päivä. Siksi etsimme jatkuvasti oikean asenteen omaavia työntekijöitä joukkoomme. HUONEen palkittu yrityskulttuuri on asia, jota vaalimme ja jonka eteen teemme jatkuvasti töitä. Tapahtumamaailma on hektinen ja villi, mutta me lupaamme hauskan työympäristön, jossa mikään päivä ei ole samanlainen!
Oletko seuraava HUONE Tiimin jäsen?
Etsimme nyt vakituista Event Hostia liittymään tiimiimme huolehtimaan asiakkaista viiden tähden asenteella. Tulet olemaan osa HUONEen palkittua ja kasvavaa tiimiä, ja tulet tekemään vuoroja niin Jätkäsaaren kuin Kampin yksiköissämme.
Hostilla on erittäin tärkeä rooli osana HUONEen jokapäiväistä toimintaa. Tulet toimimaan paikan päällä asiakkaidemme kanssa, toimien pääosin tarjoilutehtävissä sekä avustamassa asiakkaitamme heidän päivittäisissä kokous-ja tapahtumatarpeissa. Tärkein tehtäväsi on huolehtia asiakkaille huoleton ja mukava tilaisuus.
Työtehtäväsi sisältävät asiakaspalvelun ohella tarjoilu- ja baaritöitä, tiskausta, tilaisuuksien järjestelyjen suunnittelua ja tarkastamista tiimin kanssa sekä tilojen järjestyksen ylläpitämistä. Mikäli olet tiimipeluri, motivoitunut oppimaan uutta, nautit haasteista ja asiakaspalvelutilanteista sekä hektisestä tapahtumaympäristöstä, olet etsimämme henkilö.
Työnkuva
Olet ravintolapalvelujemme kasvot, HUONEen lähettiläs
Ruokatarjoiluista huolehtiminen, aamiais-, lounas- ja illallisbuffet, iltapäivätarjoilut yms
Baarityöskentely, alkoholitarjoilu ja kiinnostuksen mukaan esimerkiksi cocktailien suunnittelu ja cocktailkoulujen vetäminen
Kokoushuoneiden esittely asiakkaille ja AV-tekniikan opastus (sinut koulutetaan tähän)
Keittiön ja baarien sulkeminen
Asiakaspalvelu ja asiakkaiden odotusten ylittäminen
Tilaisuuksien läpikäynti tiimin kanssa ja tilaisuuksien flowsta huolehtiminen esimerkiksi suunnittelemalla pöytäkartat lounaskattauksiin
Erityisruokavalioiden läpikäynti keittiön kanssa
Hygienia- ja anniskelulainsäädännön noudattaminen
Tapahtumakoordinaattorien avustaminen tilojen valmistelussa seuraavia tilaisuuksia varten
Keittiön avustaminen tarvittaessa
Asiakaspalvelutilanteissa välitön ja ystävällinen reagointi
Muut työnantajan osoittamat tehtävät
Odotamme sinulta
Vähintään 1 vuoden kokemus ravintola-, hotelli- tai baarityöskentelystä
Hygienia- ja alkoholipassi
Vahvat sosiaaliset taidot ja loistava ongelmanratkaisukyky
Kyky toimia tehokkaasti hektisessä ympäristössä, järjestelmällisyys ja priorisointi
Asiakkaan tarpeiden huomioiminen kaikissa tilanteissa
Kyky toimia itsenäisesti ja osana tiimiä
Asiakkaamme odottavat palvelua suomeksi ja tarvittaessa englanniksi
Tarjoamme
Jatkuvaa kehitystä kasvavassa ja kansainvälistyvässä yrityksessä
Kansainvälisen ja mutkattoman työympäristön
Palkitun yrityskulttuurin, jossa välitämme jokaisesta työntekijästä
Pääsääntöisesti säännöllisen työajan päiväsaikaan sekä useimmiten heinäkuulle sijoittuvan loman. Iltavuoroja ja viikonlopputöitä on satunnaisesti, pikkujoulukaudella enemmän
Erittäin kattavan työterveysvakuutuksen (työkykyvakuutus)
Kilpailukykyisen palkan, johon mahdollisuus vaikuttaa hyvillä tuloksilla sekä tiimibonuksella
Rahanarvoisia etuja: aamiainen, lounas, henkilöstöjuhlat (rapujuhlat, pikkujoulut, matkat tuloksekkaan vuoden päätteeksi ja paljon muuta!)
Kuinka hakea paikkaa?
Hae paikkaa lähettämällä ansioluettelosi ja vapaamuotoinen hakemuksesi osoitteeseen jobs@huone.events otsikolla "Host Hakemus".
Työsuhteen aloitus on elo-syyskuun aikana tai sopimuksen mukaan. Otamme hakemuksia vastaan 12.9.2022 asti ja aloitamme haastattelut jo ennen elokuun loppua.
Lisätietoja antaa William Montilla (william.montilla@huone.events, voit myös jättää soittopyynnön ja hän palaa sinulle pikimmiten)
(In English)
HUONE is a full-service meeting venue helping our customers to achieve the best results in their meetings and events. We are a next-generation company that runs based on trust like a family. It's all about our people, it always has been, it always will be. In HUONE, we have a purpose: We want to create unforgettable memories for our guests AND our colleagues.
We are young but we aim high. We are blind believer of happy employees = happy customers. Evon Blomstedt, Founder of HUONE
You see, a big part of HUONE's company value revolves around 'Exceeding Customers' Expectations'. We do this by creating a great work environment for our team. Together, we make sure every guest leaves happy and wants to come back again. The same applies to our team: every employee goes home happy, looking forward to the following day where they have the opportunity to make a difference.
HUONE is going to the major meetings & conferences cities in the world. COVID-19 pandemic slowed us down, but we are still going after our plans! We don't know it all, but we are learning and improving every day. That's why we are always on the lookout for talented individuals to join us. Our awarded company culture is something dear to us and we work to improve it every day. The event's world is a crazy one. We promise a fun working environment, where every day is never the same!
Are you the next HUONE team member?
We are looking for a full-time Event Host, who can welcome and host our guests in HUONE as if in their own home. You'll join our dynamic team and work in our two units in Kamppi and Jätkäsaari.
Our Event Hosts are the ambassadors of HUONE, and have the most interactions with our guests. You will focus on making customers' day as easy as possible and ensuring they are happy. You need to live and breathe customer service and be motivated at exceeding customer expectations as an Event Host at HUONE.
You will be responsible for the daily operational tasks, mainly at the dining section but also at the meeting rooms and reception. On top of the food and beverage service, we also expect you to assist in event planning and preparations with the team. If you are a team player, motivated to learn and grow, have a willing attitude and enjoy customer service, you are a perfect fit for us!
Job Description
Our restaurant service 'face' for the customers; an Ambassador of HUONE
Host customers and deliver exceptional customer service
Taking care of the buffet food service for breakfast, lunch and dinner, coffee breaks
Bar service
Showing the clients their meeting rooms and assisting them with AV (you will be trained)
Closing of units consisting of kitchen and bars
Work closely with the HUONE team to review catering orders and ensure proper setups are in place during meal times
Partner with the kitchen team to ensure adherence of dietary requirements for HUONE's guests
Follow all safety and sanitation policies when handling food and beverage
Assist Event Coordinators in setting up meeting rooms based on meeting requirements
Assist kitchen team in basic food preparation if needed
Upkeep the presence and cleanliness of all F&B areas
Handle guest concerns by reacting quickly and professionally
Other duties assigned
Job Requirements
Min. 1-year experience in a restaurant, hotel or bar
Possess Hygiene and Alcohol Certification
Strong interpersonal and problem solving skills
Excellent communication and organisational skills
Ability to work well under pressure in a fast-paced environment
Detail-oriented and observant with a focus on guest needs
Ability to work independently and cohesively as a team player as well
Our customers expect to get service in Finnish and English is our internal company language
We offer
Endless learning within a growth company and an international roadmap
A working environment in an exciting and fun venue with a team of diversity
An award-winning company culture that takes care of its people
Mainly stable daytime working hours and proper holidays
A full-coverage through our work insurance (työkykyvakuutus)
Competitive salary with a possibility to yearly raises through good performance
You know, all the important benefits: breakfast, lunch, insurance, annual crayfish party, wine & cheese evenings, annual company trips when we succeed, plus much more!
How to apply?
Apply by sending your CV and short job application to jobs@huone.events with the subject "Host Application".
The employment will start during August-September or according to mutual agreement. Application period ends 12.9.2022 and we begin interviews straight away.
For more information, please contact Operations Manager William Montilla (william.montilla@huone.events, you can also leave a call request and he will get back to you shortly).