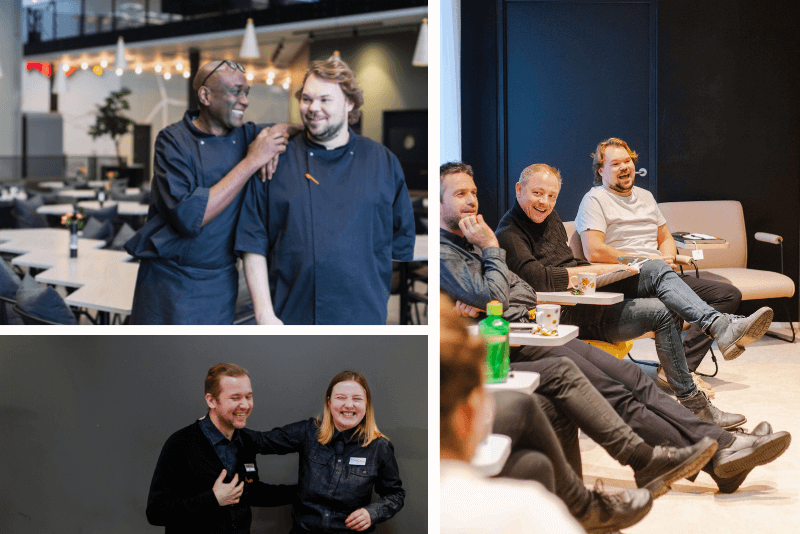 In English below
Er du det næste HUONE-medlem?
Vi søger en Restaurant Manager på fuld tid til vores dynamiske team i vores afdeling Kastrup. Vil du være vores næste teammedlem?
Som Restaurant Manager hos HUONE vil dit primære ansvar være at føre tilsyn med den effektive og gnidningsløse drift af restauranten på mødestedet. Du vil være ansvarlig for at levere en madoplevelse af høj kvalitet til konferencedeltagere, sikre deres tilfredshed og bidrage til mødestedets overordnede succes.
Jobbeskrivelse og ansvarsområder
Drift af restauranten: Administrere den daglige drift af restauranten, herunder procedure for åbning og lukning, planlægning og bemanding. Koordinere køkkenpersonalet og sikre effektiv kommunikation og workflow mellem køkkenet og restauranten.
Kundeservice: Yde exceptionel kundeservice til konferencedeltagere og andre gæster, uddanne og motivere personalet til at levere fremragende servicestandarder, sikre gæsternes tilfredshed og håndtere eventuelle bekymringer eller klager hurtigt og professionelt.
Udførelse af menuer: Sikre, at mad og drikkevarer tilberedes og præsenteres efter de højeste standarder for kvalitet og ensartethed.
Ledelse af personale: Rekruttere, uddanne og føre tilsyn med restaurant værter. Foretage regelmæssige præstationsevalueringer, give konstruktiv feedback og implementere træningsprogrammer for at forbedre deres færdigheder og viden.
Lagerbeholdning og omkostningskontrol: Administrere lagerniveauer, overvåge mad og drikkevarer omkostninger og implementere effektive kontrolforanstaltninger for at minimere spild og maksimere rentabiliteten.
Overholdelse af sundheds- og sikkerhedsregler: Overholde og håndhæve sundheds- og sikkerhedsbestemmelser, herunder fødevarehåndtering og sanitetspraksis, for at opretholde et sikkert og hygiejnisk restaurantmiljø.
Gennemførelse af arrangementer: Samarbejde med stedets event management-team om at planlægge og gennemføre store konferencer og events, der inkluderer mad- og drikkevareservices. Sikre problemfri koordinering mellem restauranten og eventafviklingen for at opfylde gæsternes forventninger.
Krav til jobbet
Dokumenteret erfaring som restaurantchef eller lignende rolle inden for hotel- og restaurationsbranchen.
Fremragende kundeservice og problemløsningsevner.
Stærke lederegenskaber og interpersonelle færdigheder til effektivt at lede et mangfoldigt team.
Solid forståelse af restaurantdrift, herunder styring af mad- og drikkevarer, lagerstyring og omkostningsstyring.
Kendskab til lokale sundheds- og sikkerhedsbestemmelser.
Stærke organisatoriske og multitasking-evner til at håndtere flere prioriteter og begivenheder samtidigt.
Flydende engelsk og dansk.
Vi tilbyder
Uendelig læring i en vækstvirksomhed og en international køreplan.
Muligheden for at skabe håndgribelige mål, der er afgørende for virksomhedens succes.
Et arbejdsmiljø på et spændende og sjovt sted med et mangfoldigt team.
En prisvindende virksomhedskultur, der tager sig af sine medarbejdere.
Løn efter erfaring og bonus muligheder.
Stabile arbejdstider og ordentlig ferie, da vi er i eventbranchen, vil der også være aften- og weekendarbejde.
Du ved, alle de vigtige fordele: morgenmad, frokost, medlemskab af fitnesscenter, firmafester og meget mere!
Hvordan ansøger man?
Hvis du er den person vi leder efter, så tøv ikke med at ansøge nu ved at sende din ansøgning og CV til jobs@www.huone.events med emnet "Restaurant Manager HUONE Copenhagen".
Giv os dit livs pitch – hvorfor er du det talent, vi ønsker at ansætte? – Skulle du have spørgsmål så kontakt Rita Kovats – Operations Manager (rita.kovats@www.huone.events)
Vi ser gerne, at du kan starte i august, men vi venter naturligvis på den rette person, hvis det er nødvendigt.
Om HUONE
HUONE – et unikt koncept
Møder er ikke noget nyt. Så snart to hulemænd samarbejdede om nedlæggelsen af en mammut, holdt de et møde. Eller de holdt et møde for at fastlægge dagsordenen for en konference om, hvordan de skulle nedlægge mammutten. Hos HUONE mener vi ikke, at møder i dag skal føles som møder mellem hulemænd.
We are young, but we aim high. We are blind believers of happy employees = happy customers. -Evon Blomstedt, Founder of HUONE
I 2012 lancerede vi derfor HUONE i Helsinki, de nordiske landes metropol for innovation. Vi gør op med de kedelige, traditionelle møders industrielle opbygning. Sammen med dig gør vi møder til noget produktivt og noget, som du rent faktisk kan se frem til. Du vil på vores møder ikke kun tale om at nedlægge mammutten, du vil opleve, at du kommer i mål med det.
HUONE kan det hele! Møder, træninger, workshops, konferencer, kick-offs, produktlanceringer, pressemøder og meget mere. I løbet af vores korte levetid har vi skrevet historie. Vi er beliggende på to lokationer i Helsinki: Jätkäsaari og Kamppi, én i Singapore, én i København og flere vil følge rundt om i verden. Vi har været vært for mere end 6000 events, vundet adskillige priser, men vigtigst af alt, bidraget til din succes.
---
In English:
We are looking for a full-time Restaurant Manager to join our dynamic team in our Kastrup unit. Will you be our next team member?
As a Restaurant Manager working at HUONE, your primary responsibility will be overseeing the efficient and smooth operation of the restaurant within the venue. You will be responsible for providing a high-quality dining experience for conference attendees, ensuring their satisfaction and contributing to the overall success of the venue.
Job Description & Responsibilities
Restaurant Operations: Manage the day-to-day operations of the restaurant, including opening and closing procedures, scheduling, and staffing. Coordinate with kitchen staff and ensure efficient communication and workflow between the kitchen and the restaurant.
Customer Service: Provide exceptional customer service to conference attendees and other guests. Train and motivate staff to deliver excellent service standards, ensuring guest satisfaction and addressing any concerns or complaints promptly and professionally.
Menu Execution: Ensure that food and beverages are prepared and presented to the highest standards of quality and consistency.
Staff Management: Recruit, train, and supervise restaurant hosts. Conduct regular performance evaluations, provide constructive feedback, and implement training programs to enhance their skills and knowledge.
Inventory and Cost Control: Manage inventory levels, monitor food and beverage costs, and implement effective control measures to minimize waste and maximize profitability
Health and Safety Compliance: Uphold and enforce health and safety regulations, including food handling and sanitation practices, to maintain a safe and hygienic restaurant environment.
Event Execution: Collaborate with the venue's event management team to plan and execute large-scale conferences and events that include food and beverage services. Ensure seamless coordination between the restaurant and event operations to meet guest expectations.
Job Requirements
Proven experience as a Restaurant Manager or in a similar role within the hospitality industry
Excellent customer service and problem-solving abilities
Strong leadership and interpersonal skills to effectively manage a diverse team
Solid understanding of restaurant operations, including food and beverage management, inventory control, and cost management
Knowledge of local health and safety regulations
Strong organizational and multitasking skills to handle multiple priorities and events simultaneously
Fluent English and Danish
We offer
Endless learning within a growth company and an international roadmap
The opportunity to create tangible goals that are crucial for the company's success
A working environment in an exciting and fun venue with a team of diversity
An award-winning company culture that takes care of its people
Salary according to experience and bonus opportunities
Stable working hours and proper holidays. As we are in the events industry there will also be evening and weekend hours in the mix
You know, all the important benefits: breakfast, lunch, gym membership, company parties plus much more!
How to apply?
If you are the person we are looking for, don't hesitate, apply now by sending your cover letter and CV to jobs@www.huone.events with the subject 'Restaurant Manager HUONE Copenhagen'.

Give us the pitch of your life – why are you the Talent we want to hire? If you have any questions you can contact Rita Kovats – Operations Manager (rita.kovats@www.huone.events).
We would like you to be able to start in August, but we will of course wait for the right person if necessary.
About HUONE
HUONE is a full-service meeting venue helping our customers to achieve the best results in their meetings and events. We are a next-generation company that runs based on trust like a family. It's all about our people, it always has been, it always will be. In HUONE, we have a purpose: We want to create unforgettable memories for our guests AND our colleagues.
We are young, but we aim high. We are blind believers of happy employees = happy customers. -Evon Blomstedt, Founder of HUONE
You see, a big part of HUONE's company value revolves around 'Exceeding Customers' Expectations'. We do this by creating a great work environment for our team. Together, we make sure every guest leaves happy and wants to come back again. The same applies to our team: every employee goes home happy, looking forward to the following day where they have the opportunity to make a difference.
HUONE is going to the major meetings & conferences cities in the world. COVID-19 pandemic slowed us down, but we are still going after our plans! We don't know it all, but we are learning and improving every day. That's why we are always on the lookout for talented individuals to join us. Our awarded company culture is something dear to us and we work to improve it every day. The event's world is a crazy one. We promise a fun working environment, where every day is never the same!