Next entrepreneur in our People of HUONE, is Dennis Olsen who is Head Chef at HUONE Copenhagen! Dennis took the lead in the kitchen in the beginning of November 2021 and dream about focusing on prevention of food waste, sustainability and satisfied guests in everything he does. Get to know Dennis Olsen better here!
What I do at HUONE is… managing our food and beverages. I make sure that food is on the table, in short, and that the kitchen is functioning and, above all, that our guests are happy with the result.
The most unusual about HUONE is definitely our community and the focus we have on the team and our mutual breaks. I have been a Chef since 2009 and have never experienced anything like this. We are very focused on what we have in our community. The venue in itself is also quite unusual. I think it is amazing that you find meeting rooms where you can relax and at the same time get curious and inspired.
My favourite room at HUONE is is definitely the kitchen. I like the interior and possibilities of our amazing kitchen. Here is everything I need.
If I were to design a room for the next HUONE unit, it would be…  it would be Food Room. There would be photos of food hanging around and of course, you would want to sit comfortably and relaxed as in our other rooms. It should feel as though you are sitting in a kitchen and themes that go along with the food and beverage you get during the meeting day.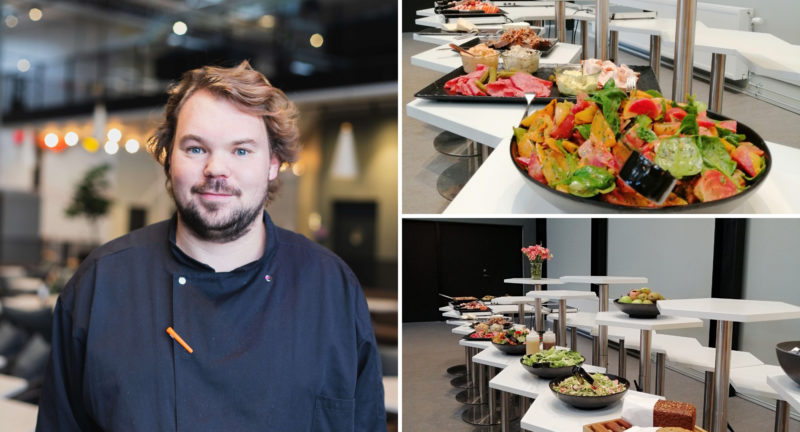 Dennis Olsen will focus on sustainable cooking and good taste – and above all, freshly made food. 
My vision as the Head Chef of HUONE is to create an amazing team that can achieve greatness. It is also very important to me to minimise food waste and be sustainable in our efforts and how we consume food. I want to be more organic and local in our selection of produce. I live in the country side myself and go to local farmers to pick up seasonal produce. I want to include that mindset in my work here.
My secret talent is to to embrace challenges with an open mind. I do not say no to things. I plan ahead as well as possible and make things happen as I go.
Three words that make me smile are My children, who definitely always put a smile on my face; my colleagues make me smile and I look forward to coming to work every day; and of course food and the happiness it brings to our guests.
My best tip for food and beverages is that you show up and do your very best to meet the needs of today's guests and always appreciate what you do. The food needs to freshly made and well-prepared. That is the key. You have to care for – even love – the food you serve.
Contact Dennis and other People of HUONE here.