Next in line in our People of HUONE series is Robin Jensen, Key Account Manager at HUONE Copenhagen. Robin Jensen was on the team back when HUONE Copenhagen launched in 2019 and is now back as a part of the sales team with a special focus on bigger meetings and events. Get to know Robin Jensen better here!
I work as Key Account Manager. I help our customers find the right solutions and rooms to fit the types of meeting they are doing. It is a big investment to arrange an external training, conference or teambuilding for employees, because they will be occupied with that activity instead of sitting at their work stations all day. That is why it is important that businesses get something in return. How can we measure this? What happens at HUONE, is that the participants quickly interact with each other because of our creative surroundings. When the participants interact, they become curious which then leads to questions and knowledge-sharing. The more questions on the table, they better chance there is for innovation. When people have had a good experience, they tend to want to tell it to their network. That way, they better recall the meeting day. It is a win-win for both HUONE, our guests and the businesses.
The most unusual about HUONE is the fact each room is different and they all have themes. They have their own individual characteristics in terms of colours, furniture and design. Some include playful elements, others are more immersive, some are obvious choices for seminars and workshops. The rooms have a creative design and are at the same time tailored by meeting professionals, and that is probably where we stand out in the meeting industry.
Mit favoritlokale hos HUONE is Blocks Room. The rooms embraces HUONE's DNA. It is possible to visualise one's ideas; by drawing on the wall or playing with the bricks. The interior invites the participants to engage with one another.
Blocks Room is one of our most popular meeting rooms, because it naturally invites people to interact. It is suitable for up to 16 persons.
If I were to design a room for a HUONE unit, it would be Space Room. In it there would be planets, a space ship one could sit in and installations that played with gravity. There's so much we are yet to explore in space that exceeds our small univers as human beings. That analogy fits going to meetings, to enhance the potential in one's employees, possibilities for growth in one's organisation etc. So this room should reflect that. It is only because of our curiosity that we keep inventing new stuff.
Working at HUONE has taught me a unique company culture. HUONE cares a lot about the fact that the employees are thriving. When we feel good, we also perform better. We have something called Sparkling Fridays which is to check-in with one another and evaluate our efforts while having a glass of bubbly. Our founder Evon and HUONE in general do a lot for charity, by for examply donating lectures and presentations to good causes, and our uniforms are made of recycled materials. Our rooms also make people joyful. I have yet to hear one person say "Oh, I have seen that concept before."
My secret talent is all kinds of sports. I also have a keen interest for wine. Maybe that is not a talent as such, but I sure am good at consuming it 🙂
Three words that make me smile are Benjamin, my son and apple of my eye; travel, because I am a hospitality nerd and value that things are high quality. I would rather travel fewer times and more exclusive. I have been a travel guide for five years and was also in the navy for five years, so I have been abroad for ten years in total; drinks, because we need to remember to party! Life's too short not to live.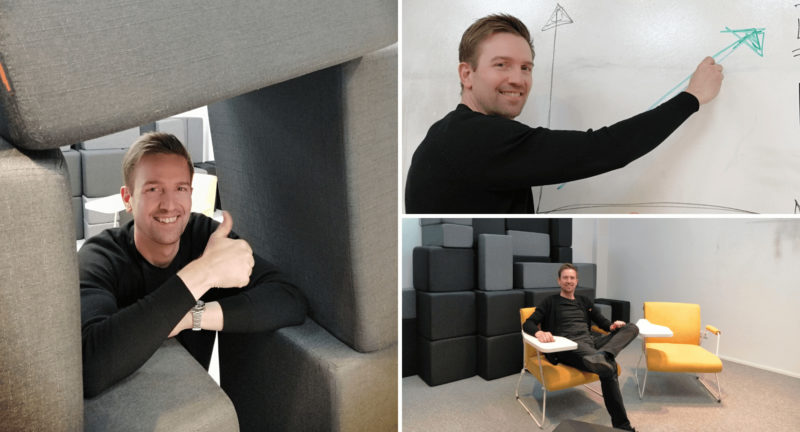 Robin is dedicated to finding the rooms most suitable for the agenda of our guests. Robin has several years of experience within meetings and events and together with you, he can create the best possible tailored meeting solution. 
Based on my experience at HUONE Robin Jensen's best meeting tip is:
It is important to prioritise seeing a venue before organising one's meeting and event. First and foremost, in order to visualise the meeting and secondly, in order to prepare the meeting booker properly. No surprises. Of course, there are always factors you can't prepare for, but then at least one knows what can be done."
Book a personal tour of house with Robin Jensen here.