Next entrepreneurial spirit in our People of HUONE series, is Sofie Rosendal who is Event Coordinator trainee at HUONE Copenhagen! Since she started at HUONE in August 2021, she has shared her great skills in good service and creativity. Sofie is known for her big smile and attention to detail, both when it comes to our guests and colleagues. Get to know Sofie Rosendal better here!
What I do at HUONE is… event coordinator trainee. I work in our reception and book meeting rooms for our guests. Besides that, I help making sure that everything is running according to plan and attend to the needs of our guests. As the first thing, I follow them to their rooms, show them the facilities and go through the agenda with them.
The most unusual about HUONE is that we are a conference center with a totally different type of rooms compared to other venues. Our rooms have their own unique story and theme. That stands out in the crowd, at least from what I have experienced.
Mit favoritlokale hos HUONE er Lakeview. There is a sense of calm in here. It is a good place to be and at the same time spacious. It reminds me of being in nature where I find peace when I leave for a weekend trip to e.g. Sweden or a Summer house. Typically, that would be in a place with a lakeview where I can simply relax and smell the fireplace. That is what I imagine when I am in here.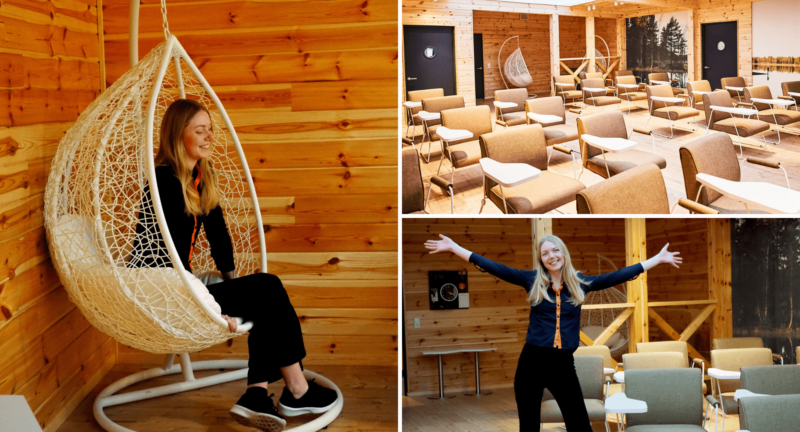 Sofie Rosendal finds inspiration in our popular room Lakeview suitable for 34 persons. The room is inspired by Finnish nature and gives a sense of being in a wooden house by the lake, all while making big decisions. 
If I were to design a room for the next HUONE unit, it would be… Sunset Room with sunset colours. It would be a bit jazzy with LP's hanging around the room, turning it into a music room with holiday vibes.  Det skulle være comfy og samtidig have et godt mødesetup. Det skal være et rum, der inspirerer til at træffe store beslutninger og samtidig er hyggeligt.
Working at HUONE has taught me what an extraordinary community between colleagues mean; the fact that we are open towards communicating on a interpersonal level during our work hours. That means a lot because our mutual sense of safety, is passed along to our guests. You feel happy at work and able to be yourself, and that is also something we feel among our guests so that they are safe helping us to become even better at giving them a good experience. That creates a closeness between meeting participants.
My secret talent is my optimistic approach to life, my career and people. I always see the glass as half full – it is too boring to see it otherwise! I love to spread joy amongst others; if people feel good, I feel really good.
Three words that make me smile are experiences, because I like to travel and to experience new things; joy because the sense of joy makes people grow; success both in terms of my career or when learning a language, when being a good friend or achieving goals.
Based on my experience from HUONE Copenhagen, my best meeting tip is 
Make sure to have icebreakers. When arriving at a meeting, it is important to have a good start of the day, for example in the form of exercises to get the vocal chords and body going. You can continue doing that throughout the day so that you activate the brain in a different way and don't get stuck doing the same things."
Meet other People of HUONE here.