HUONE is proud to welcome another superstar to join the story of HUONE: Pia Schultz joined HUONE Copenhagen team as the new Chief Executive Officer. Previously the head of Congress and Events at Tivoli Hotel & Congress Center for 12 years, Pia believes in continuous development and is excited for this new journey ahead.
Pia has truly an inspiring story of continuous development; She is an exemplary leader who has been through every step of the process in the hospitality industry; starting in an entry position as a receptionist in Scandic hotel 20 years ago, to leading the congress center at Tivoli Hotel & Congress Center, Copenhagen's one of the most prestigious business event venues. Her adventure continues with HUONE Copenhagen! 
HUONE is everything the event industry in Copenhagen needs. The creative and inspiring meeting rooms are not like anything else to be found in the market. I am excited to join the HUONE team, and be part of the journey to introduce even more conference guests in the future to be inspired at this amazing venue. – Pia Schultz, new CEO HUONE Copenhagen
Pia's over 20 years of experience in the hospitality & business events industry makes her a great addition to the team. She is excited to be a part of the growth story of HUONE and ensure the excellence of HUONE's customer experience. She describes herself as someone who's always had a "soft spot" for the meeting and hospitality industry. Before her position at HUONE, she was a part of the entire building process of the Tivoli Hotel & Congress Center and achieved inspiring results in business growth, employee retention, and customer satisfaction. 
Pia Schultz succeeds Louis Adolph, who was part of HUONE Copenhagen's journey from the very beginning. Louise is an inspiring leader who played a crucial role in the process of HUONE's expansion to Copenhagen, the No.1 meeting city in Nordics. She will remain with Pia until the end of August 2022 to support a smooth transition. Pia will be joined by Peter Mikkelsen, HUONE Copenhagen's new Operation Manager as part of the team growth to welcome the New Normal.    
Louise, current CEO of HUONE Copenhagen shares that she is extremely proud to have been responsible for HUONE Copenhagen's successful opening back in 2019, her team, and the results HUONE has made in the last 4 years. 
 In spite of the worldwide pandemic, we have successfully hosted over 1300 events in the beautiful former airplane hangar in Kastrup. I can not think of anyone better than Pia to lead HUONE Copenhagen to the top of the business meeting & event industry. I wish Pia and the HUONE whole team of bright future with many more exciting business meetings and events to come. –Louise, current CEO HUONE Copenhagen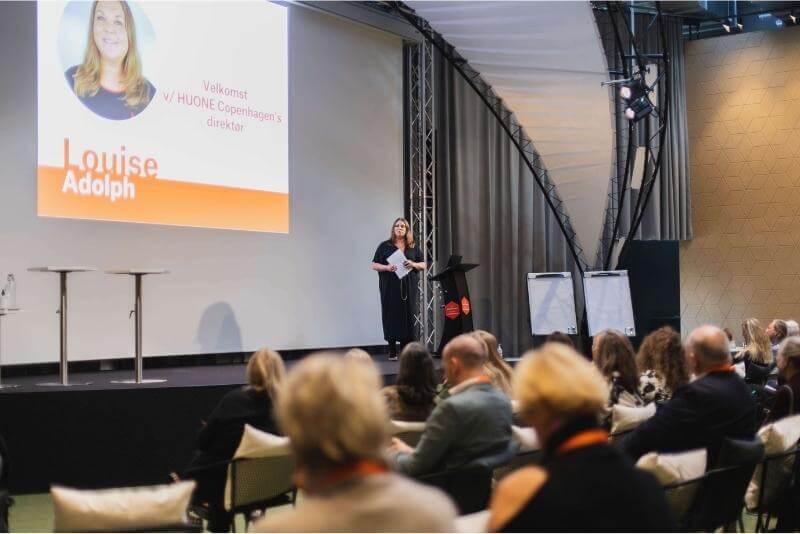 (Louise Adolph, welcoming guests at HUONE Copenhagen)
Evon Blomstedt, founder and Group CEO of HUONE, comments that while it's sad to see Louise leave the company, she is also very happy for Louise for her career development. There is no doubt that Louise's legacy will stay and she will be missed. Evon comments further on the future:  
The post-pandemic future, 'New Normal,' is an exciting time for all of us in the meeting industry. Much is being anticipated. We in HUONE are looking forward to working with Pia to take HUONE Copenhagen to new heights" –Louise, current CEO HUONE Copenhagen
HUONE ('huone' is a Finnish word for 'room') serves thousands of business meeting customers in its four full-service business event venues in Helsinki, Singapore, and Copenhagen. The award-winning concept focuses on creating a better meeting experience and success for the customer. HUONE Copenhagen opened its doors in the autumn of 2019. It is the newest and largest HUONE unit thus far.
Explore all 22 inspiring rooms at HUONE Copenhagen
###
More information & Global Media inquiry:
Hera Choi, Global Marketing Specialist, HUONE International
hera.choi@huone.events