That office-life keeps on giving! It might be part of your job, or you might have a pleasant surprise to be suddenly asked to facilitate a meeting. Facilitate… rings any bells? Where to start, what to do, how to succeed at it? We have followed quite a few meetings at HUONE, here are our insights to building a strong foundation to facilitate an effective meeting.
What Is Facilitating?
Think of an orchestra conductor. Conductor's job is to create harmony, a clear melody, an introduction to a song, build it up to its climax, and wrap it up in the end. (And keep cellists and violinists from fighting or poking each other in the eye with their bows – what a lovely throwback to childhood memories.)
Just the same way, you are there to create order to chaos in a meeting as a facilitator.
You can practice good facilitation techniques, and in return, you will make your meetings more efficient with your new skillset. Facilitating is actually easy and fun as long as you know what you're doing: quick decision making, light icebreaker or innovation. Meetings usually take place only when there is a common consensus that the group has more knowledge than a single person. Knowledge is power, but it does not automatically translate to tangible actions. You need a good process to reach your goals – this is why you need to know how to be a good facilitator. Read our insights below!
1. Facilitator Has Authority, but Is Not the Center of the Party
Facilitating – your moment to shine in the flashlights? NO! A good facilitator is visible in the meeting, but however does not dominate the conversation. Your goal is to facilitate an effective meeting – not to share your childhood stories. If you like to chitchat 'til the end of the world, learn to control your vocal flow as a facilitator. If you hate public speaking, practice a bit, since a silent facilitator does not quite qualify for facilitating. Find a good balance of how much you need to speak and chip in to the conversation to keep it flowing and on the right track.
2. What Is the Goal of Facilitating?
To facilitate an effective meeting, you need to be clear on the meeting agenda, and on its goal. Do you want to reach a common decision? Get creative? Climb Mt Everest? Know what's expected of your meeting, and work towards the goal. A good trick is to remind everyone in the room of the goal when you start talking about a new point. "We are here to decide the budget for project X, and in order to do so, we will next discuss the project timeline. What do you feel needs to be completed before the finish?"
3. Good Facilitator Involves Everyone
A tip to facilitating an effective meeting: you don't have to do everything. (Really??!) And if you're a micro-managing perfectionist who feels like they HAVE to do everything, take a chillpill and book yourself on a holiday to Mallorca.
A part of facilitator's role is to involve everyone in the meeting room. Ask someone to write down the minutes of meeting, and ask another person to keep track of the main themes and write them on a whiteboard. Make sure the floor is equally divided between the participants and everyone gets to voice their opinion. Also, ask and encourage the quieter colleagues to speak up. After each meeting point, always confirm there is ownership over the decisions made and someone has been chosen responsible to follow up on a specific meeting outcome.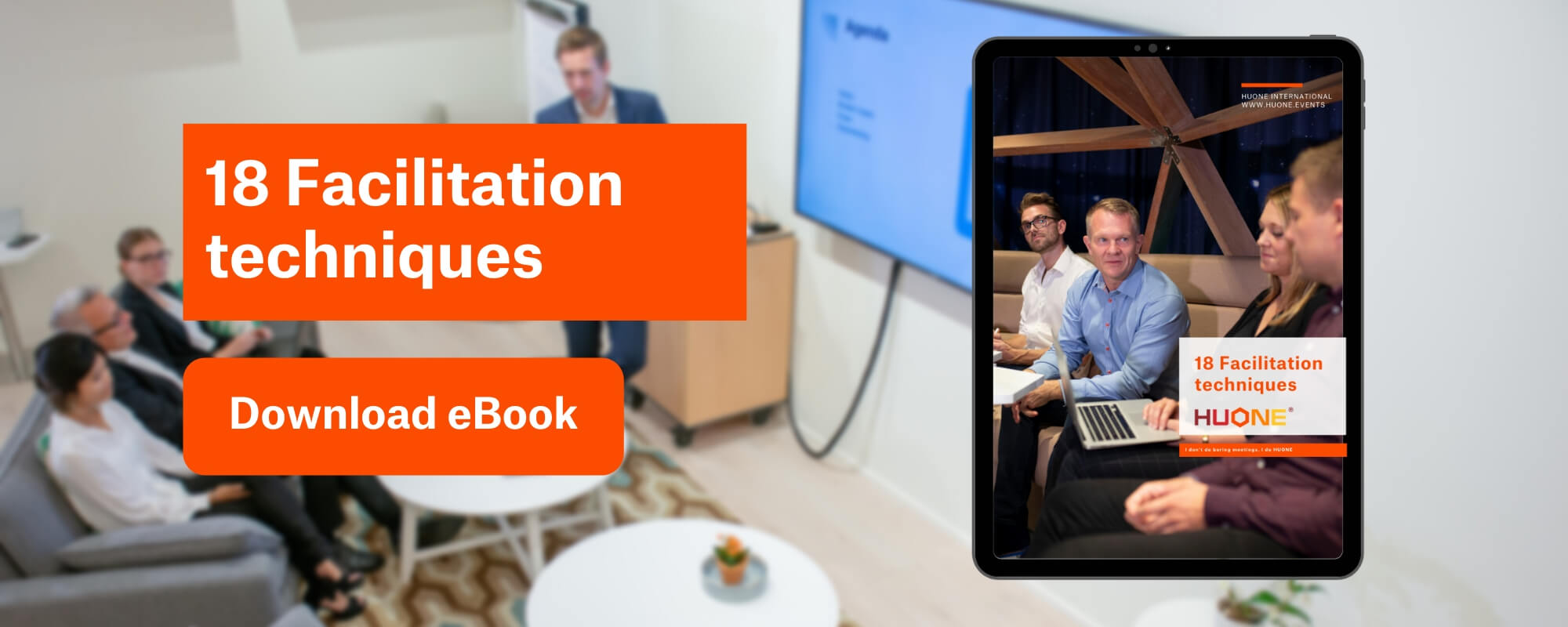 4. Use Visual Bullet Points to Facilitate an Effective Meeting
When your colleagues are speaking, always throw their point back at them afterwards to confirm you've understood what they said. This is also a great way to summarise their thoughts for everyone in the room! And on top of just repeating main points aloud, write down the main word on a whiteboard. Sounds simple, but keeps everyone focused on the conversation and you can easily go back to the conversation points when looking at the whiteboard. Likewise, taking a photo of the whiteboard afterwards is a great reminder to transcript the meeting minutes.
5. Get Creative: Facilitate Your Meeting With Tradeshow Technique
If your meeting involves many different stages and steps that need to be covered in an organised manner, try something different. Create a tradeshow! Create different "stands" that are meant to tackle a specific issue: project timeline, project goal, project resources, etc. Each stand will have one group member as the stand facilitator to lead and guide the discussion. If you're working with a bigger group of people, you can divide them into smaller groups. Tell them in which order to walk through the stands, and give them 5-10 minutes at each stand. In the end save enough time to have a group discussion on everyone's ideas. Breakout sessions are super efficient in facilitating an effective meeting!
6. Good Facilitating Minimizes Noise Pollution in an Efficient Meeting
Imagine your colleagues as toddlers who make a bit too much noise sometimes (hard to imagine right) – how to facilitate an effective meeting? Now, your colleagues hopefully respect your word a bit more than tiny bubbas (one can only wish). After someone's speech, instead of people yelling "I agree", "I disagree", "Yes BUT BUT BUT", establish a quiet way to manifest feelings. Shaking your hands in the air on your shoulder level means you're not satisfied or don't agree, shaking your hands in the air above your head means you are satisfied and agree with the point made. This way you can easily map out the group's response to different suggestions, and from there distribute the floor for next comments.
Oh my lord – you've read all the way 'til the end! Let's summarize a bit for the sake of facilitating this article well. When you are a good facilitator, you reach the goal of the meeting easier – whether that's making decisions, getting creative or action planning. You can use different energizers and icebreakers as tools to facilitate the group, or organise breakout sessions in smaller groups and task each smaller group with a different task or decision to make. A good facilitator guides the conversation, listens to everyone, encourages different opinions and summarizes well (and if anything, buys a round for everyone at afterwork). Now you know how to facilitate an effective meeting!
Pssst we organise theme seminars regularly at HUONE, sign up for our newsletter (scroll to the bottom of the page and hit "subscribe",  be in the insider loop and join for the next one)!
Functions with Breakout Sessions Grow in Popularity
*Picture: HUONE Kamppi, Container Room