Company Christmas party 2021? In Finland, everybody knows it by 'pikkujoulu.' It is a 'pre-Christmas party' every company will organise before the actual Christmas time. Now you can book a private, and memorable party with your team at HUONE. It's easy, and hassle-free because we already planned them for you! You just bring your team and enjoy the party!
Choose from two options:
---
Highlights
1. It's Private
You can arrange completely private company Christmas parties both in HUONE Kamppi and HUONE Jätkäsaari.  You will have an entire floor privately to use the whole evening. We arrange the space according to your wishes and for the programs of the day. Both units also have a private bar, and our team is on-site for the evening to ensure all goes smooth and guests are enjoying the party. We have a wide selection of non-alcoholic drinks and also ready-designed drink packages for the evening.
2. It's delicious
A big part of a Christmas party is about enjoying delicious food together! Our own chefs have designed the delicious buffet menus and offer you not the heavy traditional Christmas dinner, but international, signature dishes with a Christmasy twist! All dishes are prepared in our own kitchen from fresh ingredients.  And of course, we accommodate all allergies and special diets your guests might need.
3. It's easy to book
Everything can be arranged from HUONE Helsinki. This means no hassle for you! Organising a company event such as Pikkujoulu is not a simple task that can be done overnight. Especially, when many have skipped the party 2020 due to Covid-19, the pressure is on. That's why HUONE has worked to build a list of trustworthy, fun and exciting programs for your party from very early on.
In HUONE Jätkäsaari, we have created a Christmas Tivoli for your guests to enjoy. You can choose activities such as cocktail mixology competition, glögi bar, magician etc. from our program list, and DJ will be lifting the mood through the roof later in the night!
In HUONE Kamppi, we have left the program/theme open and flexible, so we can plan and customize it just for you.


---
1. HUONE Jätkäsaari – Ready package, just bring your guests
HUONE Jätkäsaari has Loistava-hall booked for you (60-120 guests). The theme of 2021 is 'Christmas Tivoli'! You can choose the programs and activities from our program list (which will be finalized during the summer.). Perhaps a Glögi station out on the terrace? or a signature drink designed for you, which you guests can shake themselves? Later in the evening, DJ will take the floor. 
Package includes:
Your own personal events coordinator to plan the event from the beginning to the end with you. She/he will make sure all the details are considered and the event runs seamlessly
Reception service welcoming all your guests and helping them settle into party mode!
Private space just for your group. Loistava hall will be set up for the evening (booked for 18.00-24.00). *Please note that our opening hours are according to the restrictions set by the authorities.
Event Host present on-site during the entire event
Welcoming drink to start with
Own private bar. For the little Christmas season, we also have drink packages and a wide selection of non-alcoholic options.
Christmas Tivoli program * (final program list will be available after summer)
DJ for the highlight of the evening


89€ / hlö + vat (Early-bird price, available only until 31.8.2021!)
2. HUONE Kamppi – Flexible, custom-made pikkujoulu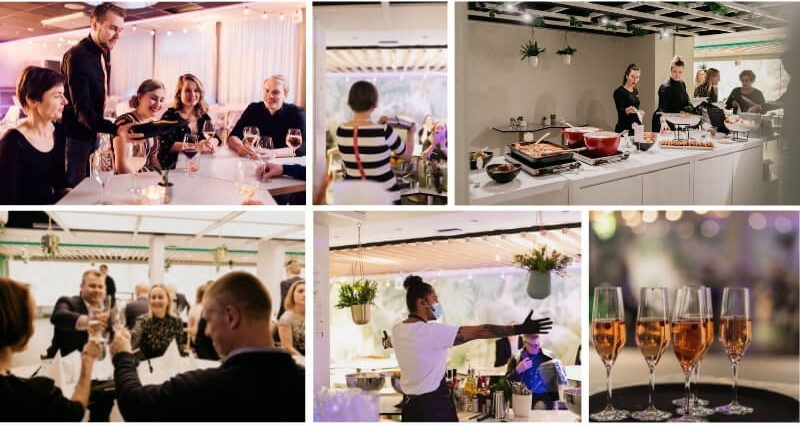 HUONE Kampi has a Garden dining hall reserved for you (20-80 guests). We customize a company's Christmas party just for your group. Your designated HUONE Event coordinator will be there to help you build the theme and program for the party.
Package includes:
Your own personal events coordinator to plan the event from the beginning to the end with you. She/he will make sure all the details are considered and the event runs seamlessly
Reception service welcoming all your guests and helping them settle into party mode!
Private space just for your group. Garden Dining hall will be set up for the evening (booked for 18.00-24.00). *Please note that our opening hours are according to the restrictions set by the authorities.
Event Host present on-site during the entire event
Welcoming drink to start with
Own private bar. For the little Christmas season, we also have drink packages and a wide selection of non-alcoholic options.
We are happy to help you plan fun programs for your group!


89€ / hlö + vat (Early-bird price, available only until 31.8.2021!)
Contact Us! Let's Have a Chat 🙂