Loistava Dining Hall
Suitable for max 150 persons
Please note the maximum capacity with 2 meter safety distance is 36 people in classroom setting and 42 people dining.  Beaming and brilliant Loistava dining hall is a large entertaining and dining space located on the second floor. It also has its own bar making it a versatile social space that's perfect for breakfast, lunch, and dinner. Not to mention after work drinks. For relaxed cocktail parties, the hall fits 200 guests, for dinner seating 130 guests. Loistava dining hall can be readily transformed to suit various events – from customer event to disco. NOTE: Please note that rental of this space also includes Magic room, which is next to Loistava.
Amenities
120″ Samsung Screen with HDMI, VGA and Displayport cords
Genelec sound system
Free Wi-Fi connection
iPad
Microphones (2 madonna mics, 1 wireless hand mic, 2 hand microphones with wire and a catchbox microphone)
Event Coordinator's support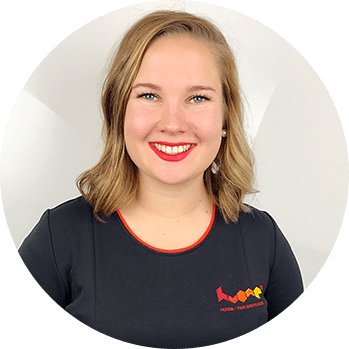 In Loistava we have seen everything from big parties, customer events to guest speakers. This is definitely one of my favorite places in our Jätkäsaari unit!
Liisi Korhonen
Operations Manager, HUONE Jätkäsaari