HUONE Jätkäsaari
15 rooms
The inspiring rooms in different sizes and designs in HUONE Jätkäsaari event venue serve various corporate event purposes, from workshops and seminars to festive functions up to 200+ guests. The wonderful summer terrace adds up the space of Loistava Hall by 400 m2. Playful room design boosts your creativity in meetings. It is easy to reach by metro (M: Ruoholahti) or by car from Espoo as well as from the city centre (tram 8, 9). HUONE Jätkäsaari is the epitome of our philosophy to provide a full-service venue for all your business meetings and functions.
Love the atmosphere and kind service. Always good to keep off-office workshops in.
– Minna Cousins
Location & arrival
Arrival info
Parking info
There are EasyPark parking areas located nearby HUONE. For example, underground parking Rokkiparkki, located in Välimerenkatu 12 (see from map below).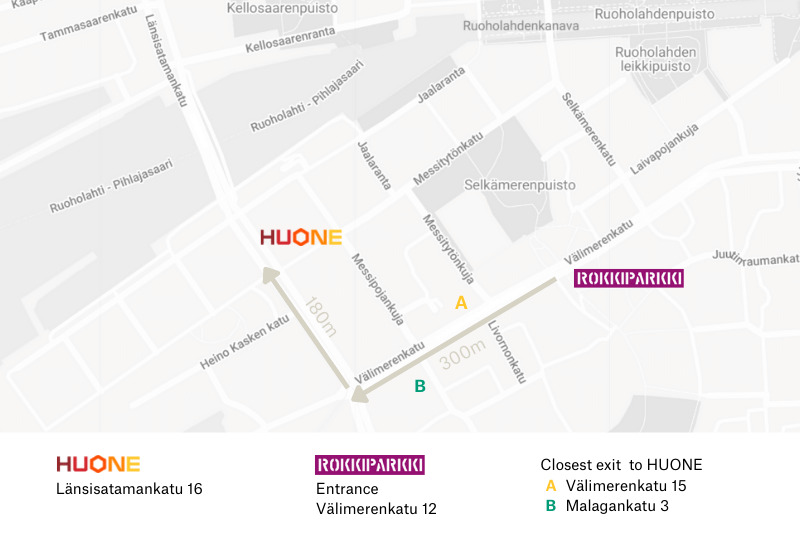 In addition, there are several 2-hour parking slots, right next to HUONE entrance as well as around the building.
You will also find 4 electric car charging stations right next to the building (Messipojankuja 3)
Entrance to HUONE
HUONE Jätkäsaari's entrance is located at the southern end of the building, next to a construction area. You will see a number 16 above the door, it's the same entrance as Aida Hotel. HUONE's reception is on the 2nd floor.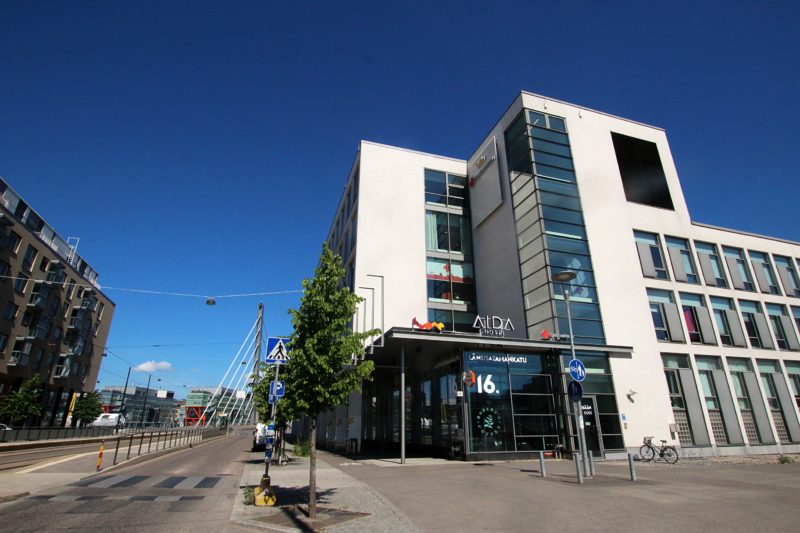 Arrival by metro
HUONE is only five (5) minutes walk from the Ruoholahti Metro Station (see map below). Guests arriving by Metro are recommended to use tram number 8 (stop ´Cruselllinsilta´)which brings you directly to our entrance.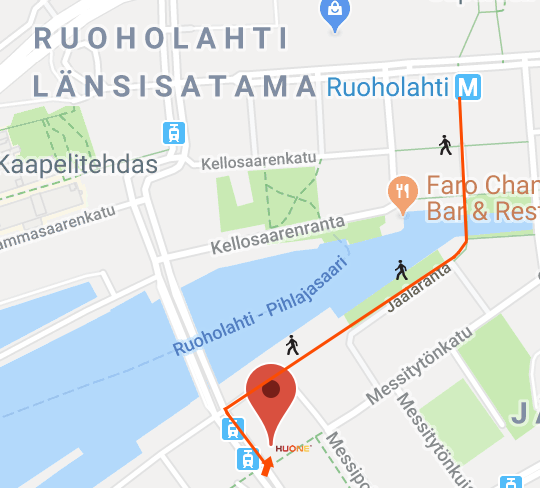 Arrival by tram
Tram number 8 takes you directly to HUONE. The tram stop is called 'Crusellinsilta' and is located right in front of HUONE. Tram number 9 also stops at 'Välimerenkatu' just a short walk away.
Arrival by car
From Espoo
From Länsiväylä follow signs for Ruoholahti. Then follow the signs for Jätkäsaari. Our address is Länsisatamankatu 16, across the bridge (Crusell Bridgem Crusellinsilta) between Ruoholahti and Jätkäsaari.
From the City Centre
From Mechelininkatu turn to Ruoholahti by driving Itämerenkatu until the corner of Länsisatamankatu. Take from the traffic lights in this corner take left  (following the tram line), continue on Länsisatamankatu over the Bridge Crusell. You will spot HUONE entrance on the left just next to the tram stop after the bridge. To park in HUONE parking slot, you need to turn left right after you have crossed the bridge.
Our address is Länsisatamankatu 16, across the bridge (Crusell Bridge – Crusellinsilta) between Ruoholahti and Jätkäsaari. HUONE is located in the first building on your left after the bridge.
See parking instructions above by clicking "parking info"