The next in line for the People of HUONE series is…Kristian Katisko, key account manager of HUONE Helsinki Team! Since joining HUONE in the spring of 2019, he has been taking care of all our key accounts. He is also famous for his poor jokes. Get to know him more!
What I do at HUONE is to manage HUONE's important key accounts. I make sure that our loyal customers are happy, and stay happy. And if they have concerns or challenges, I will try my best to find ways to help them! Disappointment is not an option 🙂 I love making sure that all the people I work with are happy, customers and coworkers alike.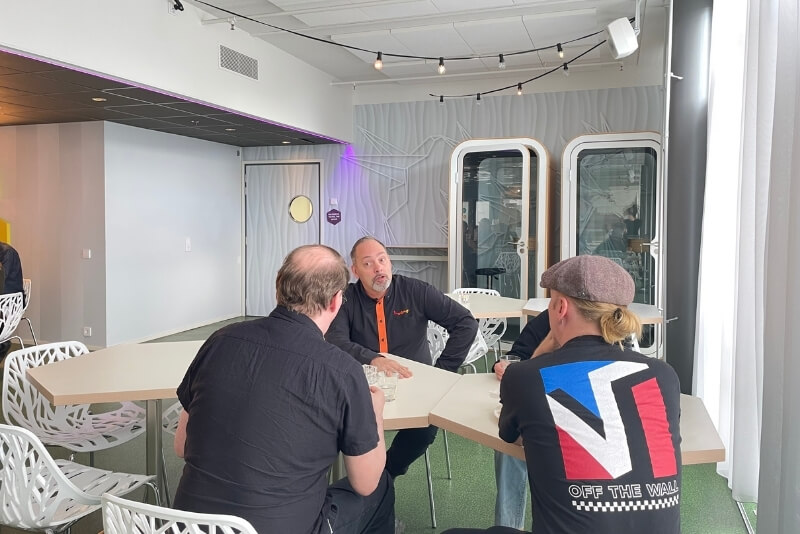 (Kisse's always talking to clients)
The most unusual thing about HUONE is the culture (in a good way!). Many companies say that they have a multicultural environment for the people to work in, but HUONE really does have one, and it's the best one I've seen. Friday afternoon roasting is also lots of fun. 
My favourite room in HUONE is Barracks. I like the cosy atmosphere, nice mixtures of different elements coming together; the sofas, chairs (and of course bunkbeds for my lunchtime nap). Wall-size chalkboards are also something that I'm very fond of!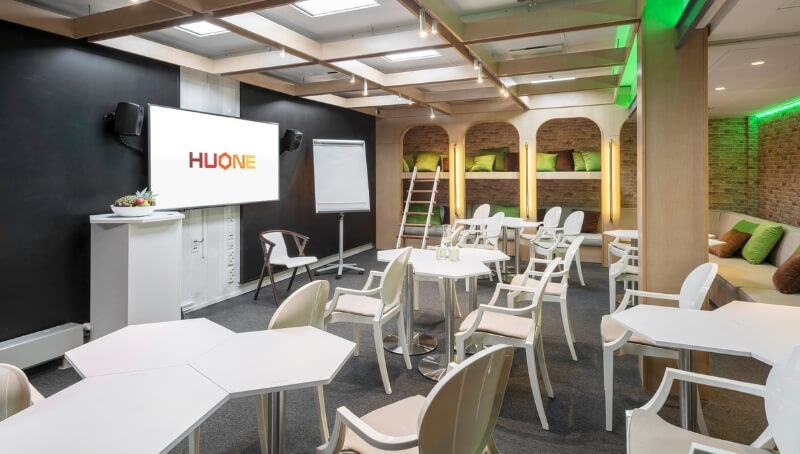 (Barracks Room in HUONE Kamppi, with dormitory-style bunk beds, sofa, and wall chalkboard)
If I were to design a room for the next HUONE unit, it would be … a regular Finnish middle schoolroom with an old-style overhead projector, old pulpetti tables, chalkboard, and karttakeppi (Long wooden map stick). I would like to have a big map of the world, the anatomy of the human with blood vessels and nerves and some other things that a classroom needs to have. It would remind customers of their time at school (not sure if that is good or bad). It will help the guest to settle into 'focus' mode, good for a problem-solving group works 😎
Working at HUONE has taught me the meaning of the team and how important it is for a company's success. You gain a lot of energy from the people around you. I'd also like to think I'm giving a lot of energy to the people around me as well. 
My secret talent or skill is to make people comfortable in almost any situation.  
Three words make me smile: April, May, and June 🌞
Based on my experience working at HUONE Helsinki, a tip for a better meeting experience is … 
to prepare advance. And if your event is in HUONE, let us help you. Do take advantage of HUONE's services such as Event Coordination. Personal coordination doesn't usually come free at other places, but it is an important part of our services, part of HUONE DNA, part of our concept. You will definitely benefit from it. And also it is important to find a partner, who's genuinely interested in the success of your day.
Connect with Kriastian