Next in line for People of HUONE series is… Siru Salli, one of the chefs at HUONE Helsinki! Siru is one of the first members of HUONE, and considered as the 'big sister' to everyone. She is also known for her kick-ass herb infused schnaps for annual HUONE crayfish party 😎 Get to know her more!
The why I ended up in HUONE is…
First I started as an extra help during Christmas party season in 2014 and from there, as a permanent part of HUONE team. I already had a career as an assistant but wanted a change in my life and turn my passion into a profession. Already from the young age, I have been interested in food and cooking. Growing up, my mother has taught me a lot about food, perhaps even more than I learned in culinary school. Despite me bing a fairly picky child, through my mother's teaching 'you must taste everything once at least before saying no and get used to the taste', I ended up being a BIG FOODIE 😌
What I do at HUONE is… to fuel our customers! I make sure our customers stay energised in-house(both physically and mentally). We prepare everything from breakfast, to dinner as well as snacks, and ensure they are tasty, fresh and ready in time. 
The best part of my workday is… after lunch. After getting the lunch out for the customers, there is finally time to breath and take a break. It's also such a nice feeling seeing all the guests are enjoying the meal together with their colleagues. 
My favourite room in HUONE Helsinki is…  Cabana-room, because of its calm ambiance. Peace and calm is a lovely contrast to the sometimes hectic environment in the kitchen.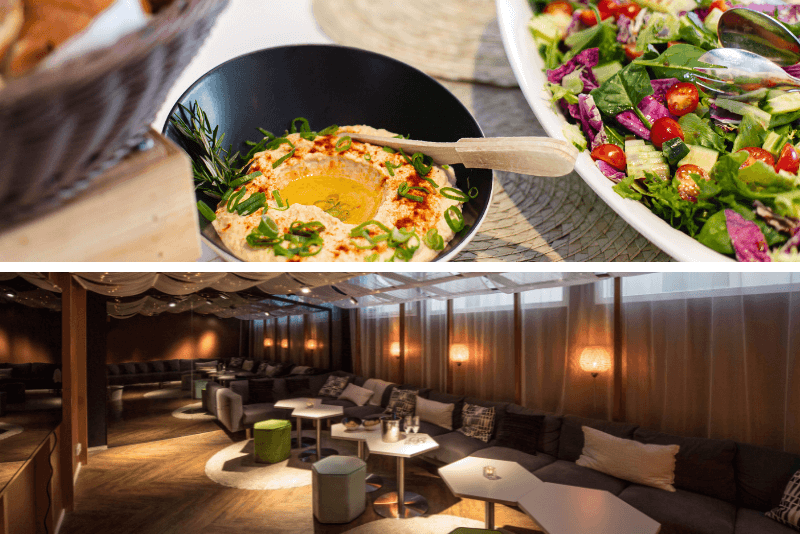 (Up: lunch in HUONE Jätkäsaari, Down: Cabana-room)
Working at HUONE has taught me…  the value of a true and rich multicultural team. Especially in a small team like HUONE Helsinki, all the good aspects of having multicultural team are enhanced  even more! I learn a lot from all my colleagues.
Three words that make me smile… are: Thank you for the amazing food! (Oops… In Finnish, it's only three words 😉 Kiitos hyvästä ruoasta!
Based on my experience working at HUONE Helsinki, a tip for a better meeting experience is … 
…to have a realistic schedule and proper breaks. Agenda should always be planned well ahead and the set-schedules  should be respected, since everyone is investing one's time. You might also end up running out of time for proper breaks and delicious servings of course!
Check available rooms at HUONE Helsinki