Team Christmas lunch at HUONE strengthens the team spirit: a private, cosy and inspiring space with AV equipment, a four-course table-served delicacy menu and the opportunity to involve remote participants in a hybrid format. Christmas involves caring and giving thanks, which is best conveyed at the meeting.
Team leaders and managers of today share a challenge: how to end the year on a high note and create something engaging and fun that's worthy of people's time (and make it safe)? As the day darkens and the holiday season approaches, the question is in mind of many.
Christmas Lunch 2020 at HUONE Helsinki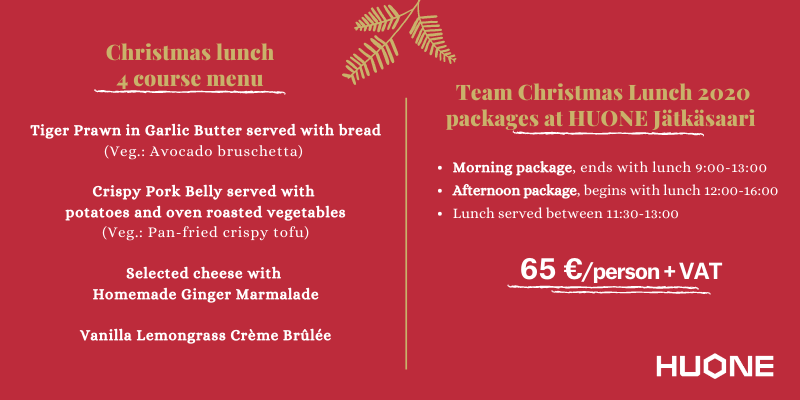 Reasons for organising your team's special Christmas lunch at HUONE:
1. Delicious Christmas Lunch menu & additional drinks from the bar if desired
Team Christmas Lunch 2020 package includes a fragrant mulled wine as a welcoming drink – with spirit or non-alcoholic.
An appetiser, main course, cheeses and dessert, a delicious four-course menu is designed to take you to a tasting trip around South Asian countries. Lunch is served in plate portions to your private space, instead of a buffet. We are happy to recommend wines to go with the course.
If you wish, you can also order additional drinks such as wine, beers or cocktails  from our bar (including the famous non-alcoholic cocktails at HUONE!)
2. Safe Team Christmas lunch at HUONE
We vouch for a safer meeting.
Private space: Christmas lunch for the team will be served in your own cosy but spacious room, taking into account safety distancing.
Plated portions: Delicious food is served in plate portions, instead of a buffet
Designated staff for your group: Your group will be served by one staff
Read more about HUONE's safety measures during covid-19.
3. Cozy private space for Christmas lunch
At HUONE, team Christmas lunch is held in a space where there is no need to dodge other groups, as you would, in a regular restaurant.
By selecting a private space, you indicate the caring of the participants.
By choosing a different and inspiring environment, you create a special memory for your team during the Christmas lunch.
4. Modern AV equipment and own event coordinator
All of HUONE's inspiring rooms have modern AV equipment:
Combine the occasion with presentations, a fun program, a performance presentation, etc.
You can involve everyone! People can join remotely and not miss out the special day (ask us more about hybrid arrangements if necessary)
Your own event coordinator will assist you from the start to end. He or she will welcome you/your guests and be at your disposal at all times, for example, in case if you need assistance on hardware and catering issues.
5. No hurry, no interference
You should enjoy the team Christmas lunch with time, as the occasion is extra special this year.
Team Christmas Lunch 2020 package includes the use of the space for 4 hours: half a day (morning 9: 00-13: 00 or afternoon 12: 00-16: 00) for lunch
Contact
Fill out the form or call +358 (0) 20 785 1440
during these difficult times, fun moments together and sharing experiences are important for everyone. Therefore, social interaction should not be completely ignored, but safe alternatives can be devised for large gatherings, "- the director

Mika Salminen

,

THL