2017 was a dramatic year. As an immigrant living in Finland, who is so damn proud to bring Finnish awesomeness to the world, witnessing Trump being elected president was cruel. While I see we live in the globalised world, where we are supposed to see a unity in diversity, there are those who feel better to be celebrating hyper-nationalism. Beyond that in 2017, our lives are in full swing of social media, new technologies and a large wave of millennials entering the job market. A transformation is in the air, our lives are changing.
HUONE is also transforming from a start-up to a high-growth company. It is always very astonishing to see how much can really happen in one short year. 2017 had begun with a huge relief, exactly one year ago, as we were only able to gather the final funding for Singapore in the last minute. We felt entrusted by investors who shared the global vision we had, but at the same time, also felt the heavy weight on our shoulders to bring HUONE to another continent. It was a mixed feeling of responsibility, immense pressure, anxiety and excitement. After all, opening in Singapore was not just an expansion, but a proof of concept in Asia.
The year was more than opening HUONE Singapore,
it was a full year of learning and progress.
Everyone knows 2017 was about making HUONE Singapore work. Once again, with any new mountain we decided to climb, we have learned a great deal. It seems, the tougher the challenge is, the more we learn. Different culture, bureaucracy, regulations, way of working, customer behaviour and etc. I am so amazed in retrospect that after all that, it all still comes down to one factor –people.
The power of our people.
Miracles happened in Singapore. Obstacles aside, I have to admit the level of success we have achieved is something I could not expect. At the same time, while both of the founders were spending time in Singapore, the Helsinki team also accomplished wonders, which I do not want to forget. We have grown and have taken a big step forward as a group; in calendar year 2017 only, we have doubled our turnover from the previous year and grown from a 10 persons start-up to 30 persons global company with an endless prospect.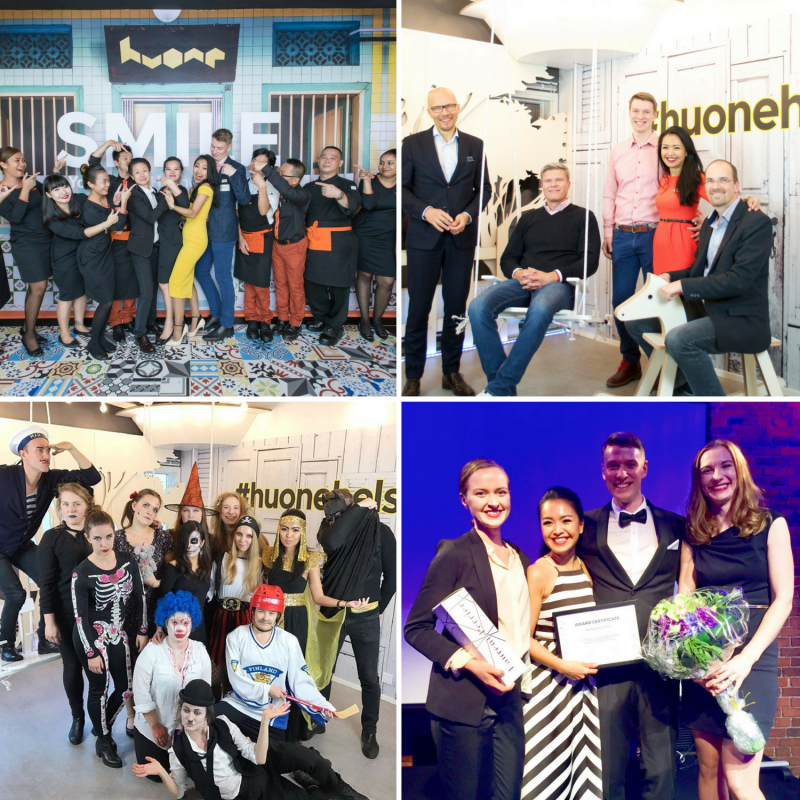 In November 2017, HUONE has turned 5 years old. During my speech, I said 'the biggest accomplishment for my entire career is not to be on the cover of Forbes, but to have had the ability to put together these teams and to have the honor to witness them performed miracles.' You must not be surprised that my biggest learning of the entire year was this: we must only hire and retain the people who share the same values with us.
In October, HUONE was recognised as the 'Most successful Multicultural Company in Finland 2017', the award I am personally most proud of. I can see HUONE is no longer just a dream of Jussi & Evon, it has become a dream of everyone in HUONE. There is so much potential in HUONE to make an impact in this world.
As I am writing this article, I realised how much I love this Year-End-Reflection. No matter how dark and desperate I was at times, in the end I can only see the goods and the successes we have made together. Last year was a long, exciting, tiresome, stressful, 'jetleggy' year for me, yet I cannot believe, in these first days of 2018, how excited I am that this year is THE YEAR to begin opening the next 10 HUONE units.
I take this opportunity to sincerely thank those of you who have been tirelessly working, supporting and being a part of the HUONE journey. Let's continue to kick some serious ass this year too (so I can write another lovely Year-End-Reflection of 2018 to you guys).
With love,
Evon