Welcome to HUONE in Kastrup, Amager Strandvej 390. HUONE offers creative spaces for business meetings and events and caters to business guests from all over the world. Here, events and meetings become a unique experience you will never forget. The guests' HUONE experience started special as the event opened with the founder and CEO, Evon Blomstedt, singing The Little Mermaid on a stage. 
Meetings used to be boring. We knew we needed to add something new. Something different. Very different. That's why we started HUONE in Finland to offer something better to the market. After our expansion to Singapore, the world's biggest meeting city, we decided to go to the Nordic Region's # 1 meeting city–Copenhagen. You cannot imagine how happy I am to stand here today and sing the song from The Little Mermaid, a movie I've watched countless times as a child and which has given me hope, in the country where the story is created. In the future, I want to see HUONE in more places around the world so meetings are no longer boring for anyone – Evon Blomstedt, founder and CEO of HUONE.
For Evon, the story 'The Little Mermaid' was something very special. HUONE in Kastrup also has a room inspired by the story called Mermaid Room.
HUONE Copenhagen – the fourth unit that brings people together
HUONE International opened the door of the newest HUONE unit in Kastrup with a grand opening party on August 27, 2019. CEO Evon Blomstedt gave a heartfelt opening speech and the ribbon was cut to commemorate the official opening. Almost 300 guests explored the space and 20 innovative meeting and event rooms, which all had a little surprise matching to the room's theme such as finger food, entertainment and live music.
HUONE is expanding globally. HUONE in Kastrup is the newest unit, and this unique event and meeting venue is in the former SAS hangar. The raw and dull concrete space has transformed into 20 fantastic full-service meeting and event rooms designed to provide a space for collaboration and innovation. The rooms can accommodate from 9 to 200 attendees. HUONE in Kastrup is ideally located – just a stone's throw from Copenhagen Airport and only 15 minutes metro ride from Nørreport station and only 5 min walk from Kastrup Metro station.
What do guests think of HUONE Copenhagen?
Guests enjoyed exploring all 20 inspiring rooms. Each time the guests entered a new room, it offered a different experience with its purposeful and innovative designs. In addition, many commented on space's attention to details – even the restrooms are very well thought through, several commented.
Finnish ambassador, Vesa Vasara, joined the occasion as a guest of honour. He shared during his speech that he spends a lot of time in meeting rooms and therefore knows very well about the market in Copenhagen: 'I've experienced many boring meeting rooms, where you can't even hear anything because the acoustics are so bad. You lose a tremendous amount of your valuable time. The rooms here have a very high level of quality design. They are all designed with good acoustics and comfortable furniture. It really supports the work which needs to be done'. He was very impressed with the premises, adding: 'I have seen pictures of the premises and known the concept for a while. But it's so much better in reality!'.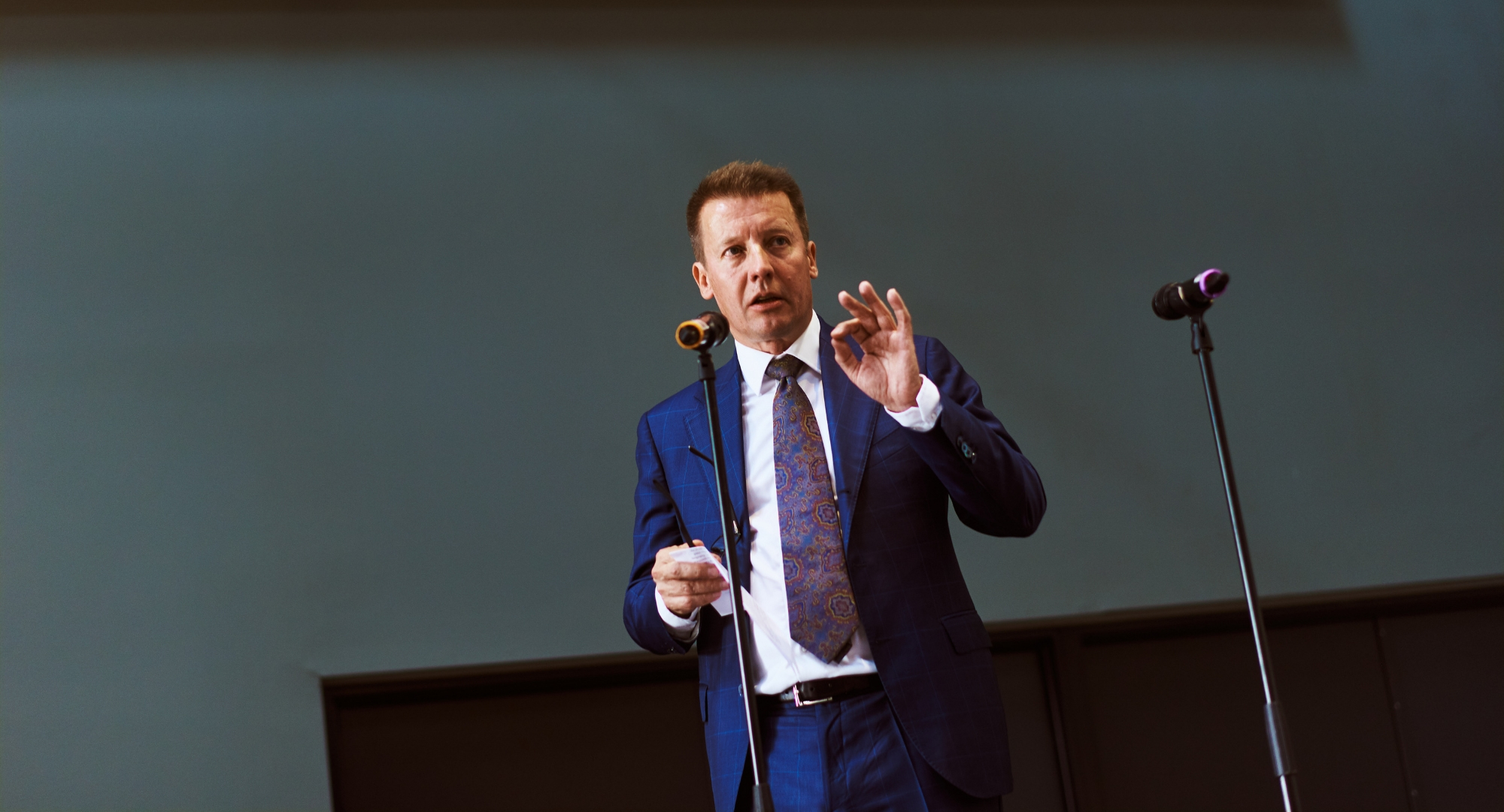 The Finnish Ambassador, Vesa Vasara, keeping his speech in the Grand Opening Party.
'I love it! It is fantastic how you have managed to incorporate the Copenhagen lifestyle into the premises. You can really feel Copenhagen, 'said Donatas Zavtrikovas from DMC Denmark. "I'm also very impressed with the premises,' added his colleague Petio Petkov. Donatas and Petio are business consultants and often arrange events for their clients. So they understand the importance of the space fitting to one's needs. They love the place so much that they have already made several inquiries for their future events.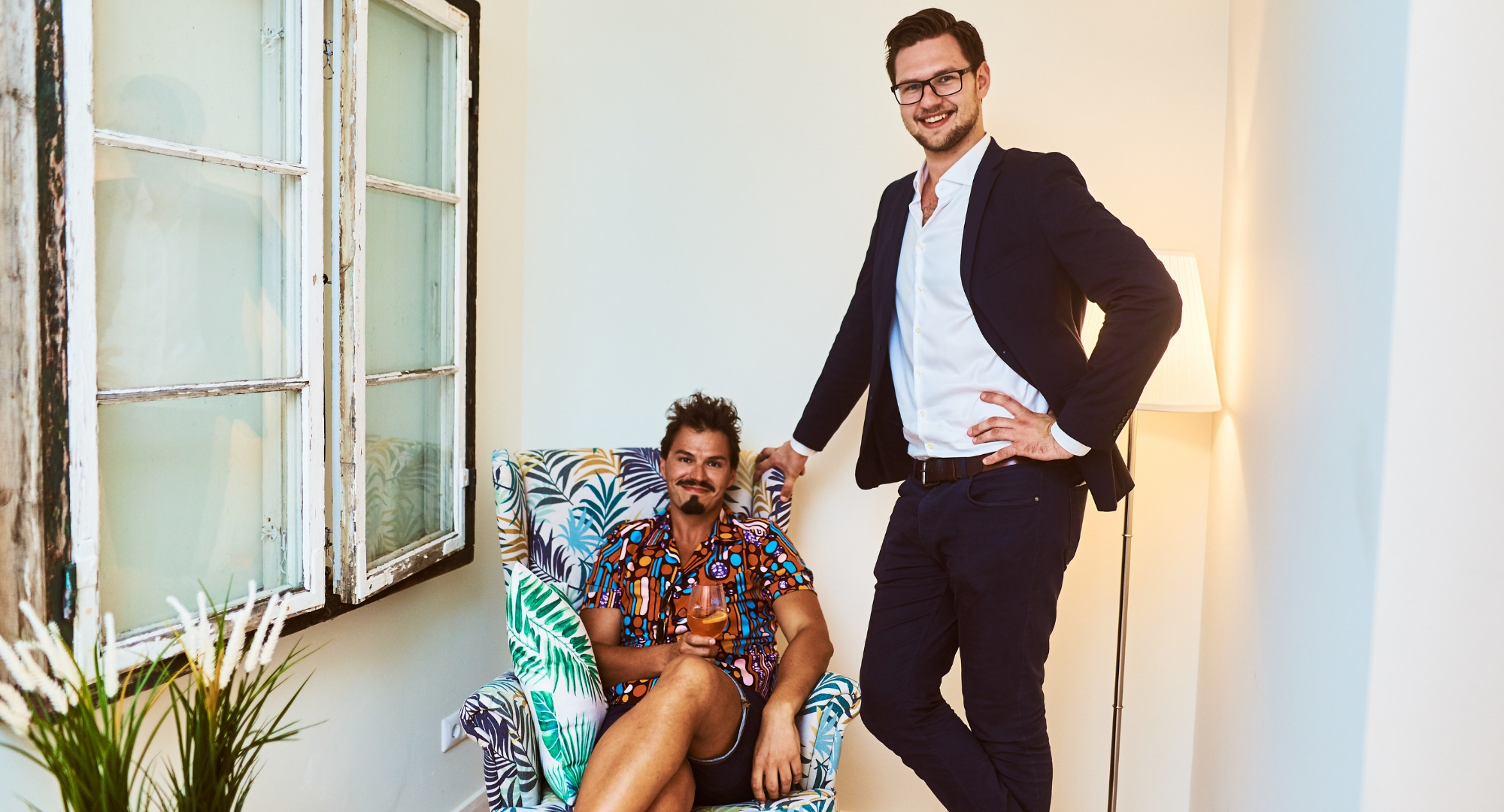 'I'm so impressed with the space!' 'I love it!' From left: Petio Petkov, Key Account Manager at DMC Denmark and Donatas Zavtrikovas, Project Manager at DMC Denmark in Hut.
'I've been to many five-star venues, but HUONE is a five-star plus a five-star venue!' said Sven Heidelberg – member of ICC, International Club Copenhagen. Sven previously worked as Head Manager for Tivoli for over 40 years. He has organized countless events and hosted concerts, meetings and much more. He is passionate about promoting Copenhagen and Denmark, so he continues to organize events for various organizations. When he walked into the Festival Room, he immediately imagined the space with an orchestra concert.
In the Theater Room, we meet Jessie Nielsen and Lennart Amdan. Jessie, who often books meetings, commented 'sometimes you just need something different. Here, it is really nice that you can get away from the boring meeting rooms and immerse yourself in some new, creative'. Lennart said he could notice that there is a lot of thoughts went into each room – a very important factor that can frustrate him at many other meeting rooms.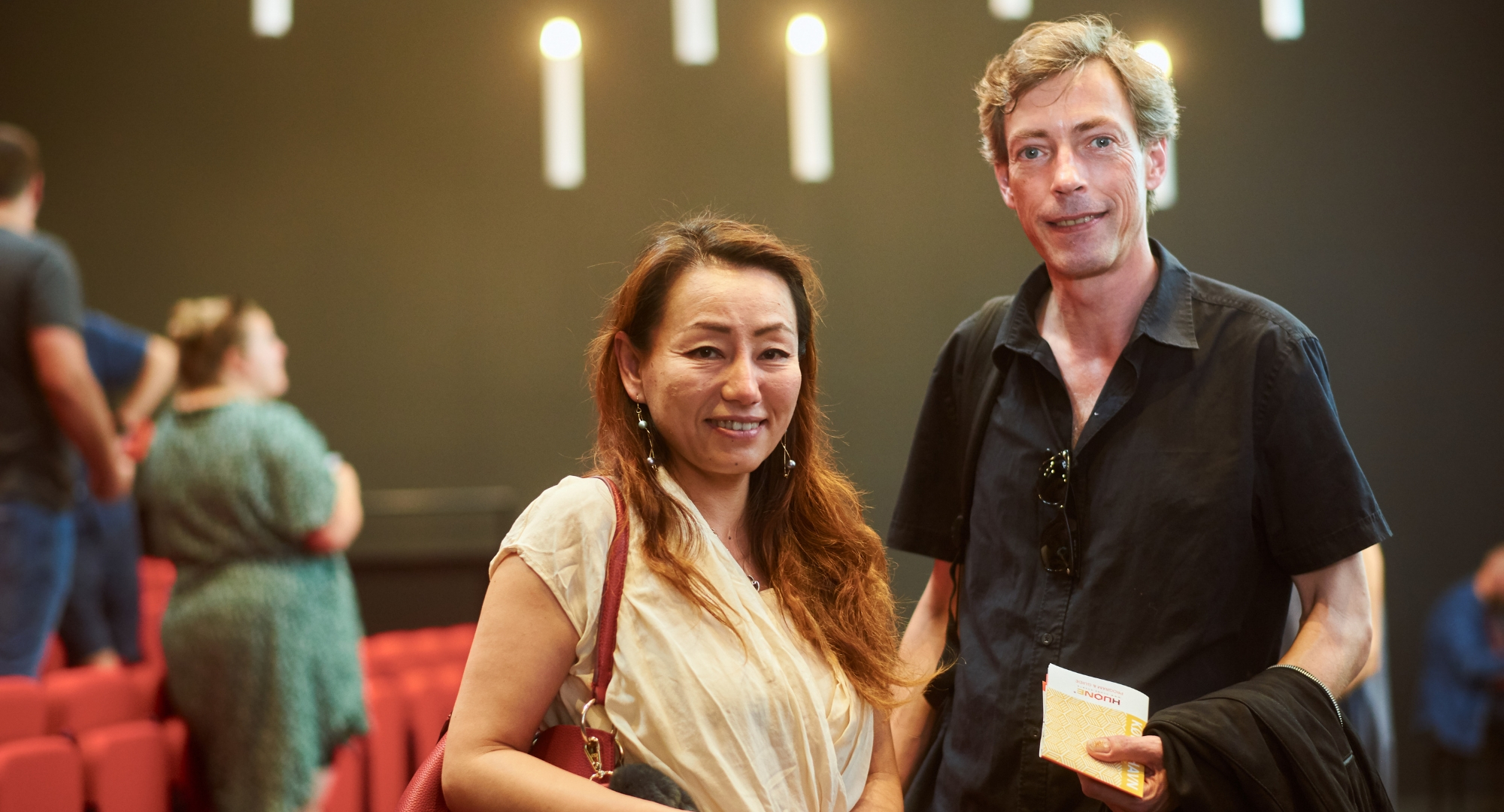 "New, creative premises." From left: Jessie Nielsen, Project Manager at Liberty International and Lennart Amden, Specialist at Liberty International in the Theater Room
'Sometimes you need a sparring partner. A team coordinator who can help you reach the goal in your event or meeting. This is where HUONE stands out from the hotels, 'said Morten Bingen Jacobsen, State Police. Morten often flies participants in for meetings and therefore the location close to the airport is ideal to save time: 
'You win at the location too. You minimize your transporting time as you are so close to the airport'.
'The atmosphere is absolutely fantastic. In fact, I would say it feels totally homely.' said Henny Wilfert. 'The rooms are really well furnished with good chairs. And each room can meet different needs,' said Dorte Wier, who often lacks functional and inspiring meeting rooms. Both were amazed at how all came so well together in HUONE.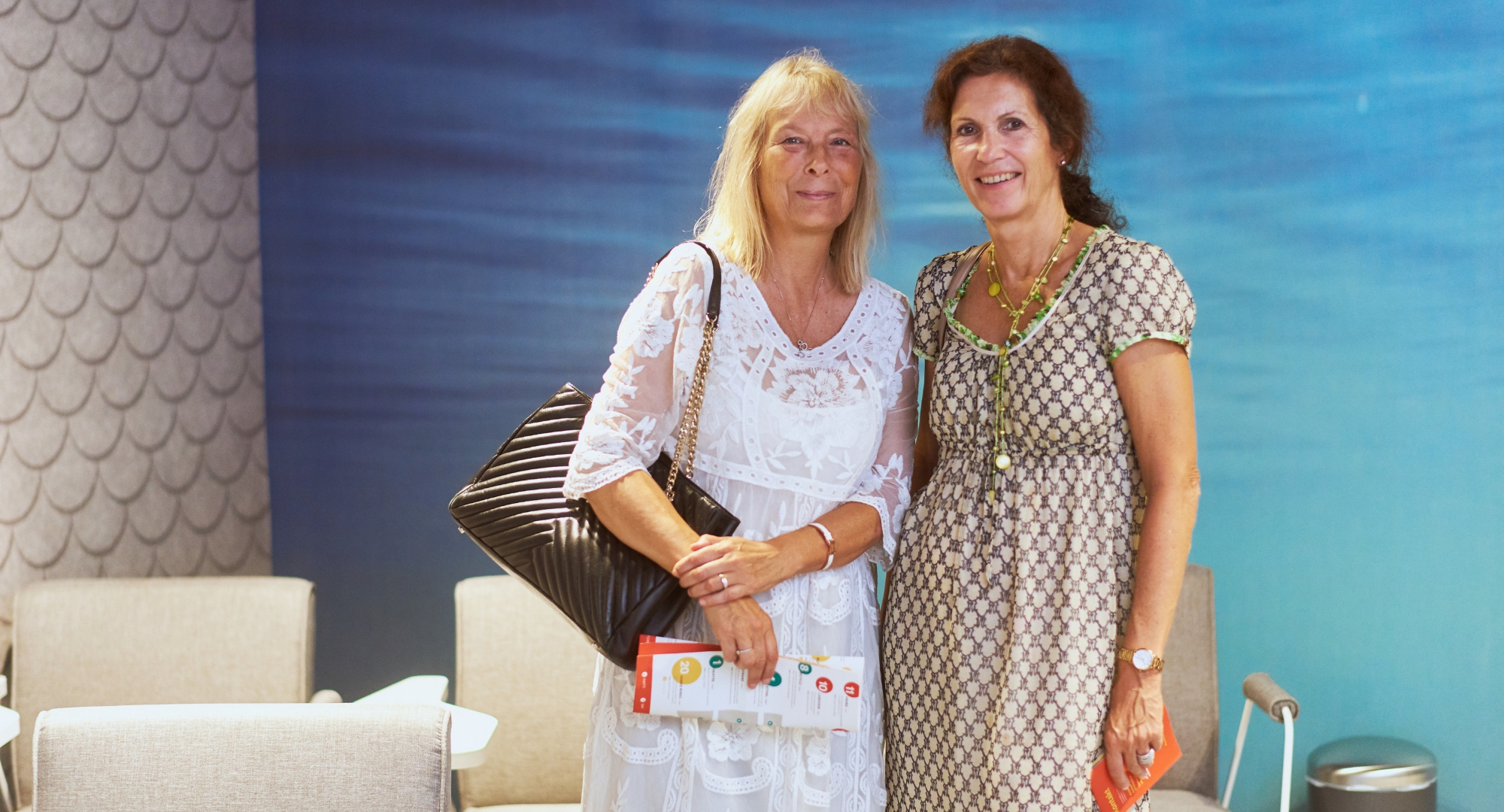 We love it!" From left: Dorte Wier, Partner at Wier and Siboni and Henny Wilfert, HR Manager at BAM Denmark in Mermaid.
The Strand Room was one of the evening's most popular rooms. Here, in the best summer style with sweeping softness, is perfect for the warm summer evening. The room was praised for its beautiful color and amazing lighting that descend into the room from the large skylights.
Lakeview also won many hearts. One of those who chose Lakeview as their favorite was Carina Mikkelson of Naviair. In each room she explored, she tried to imagine what it would be like to have actual meetings in that room. 'In Lakeview, I felt like I was out somewhere – I absolutely love the lighting in the room!'.
Also, Lapland was popular for its intimate atmosphere. The room is designed in beautiful, dark colors. Here, you can imagine the Northern Lights in Lapland, Finland by looking up at the beautiful ceiling where the Northern Lights are spray painted – a stunning work of art. In the room, there was gin tasting from the Kyrö Distillery Company – a Finnish gin that has previously been voted the world's best 'gin & tonic'.
The Blocks Room is a perfect example of how HUONE sees meetings. The venue is designed to encourage interactions, and it's the perfect place to experiment. Here, many guests were fascinated by the huge writable walls. You can arrange the room any way you like with the blocks, then write and draw together with your team, which will enhance collaborations as well as creativity.
Magic, live music and fruit jigsaw puzzles
Among the many surprises of the evening, guests experienced some magic! The magician Sunny Cagara amused the guests with magic tricks in the various rooms. DJ entertained the crowd during the evening in the Mezzanine Lounge, beautiful performance was on in Theater room by a pianist Zier Romme Larsen, and a concert in Festival. HUONE is all about creating a better meeting and event experience for your guests. Consider adding some of these activities for your next event at HUONE to make it more memorable.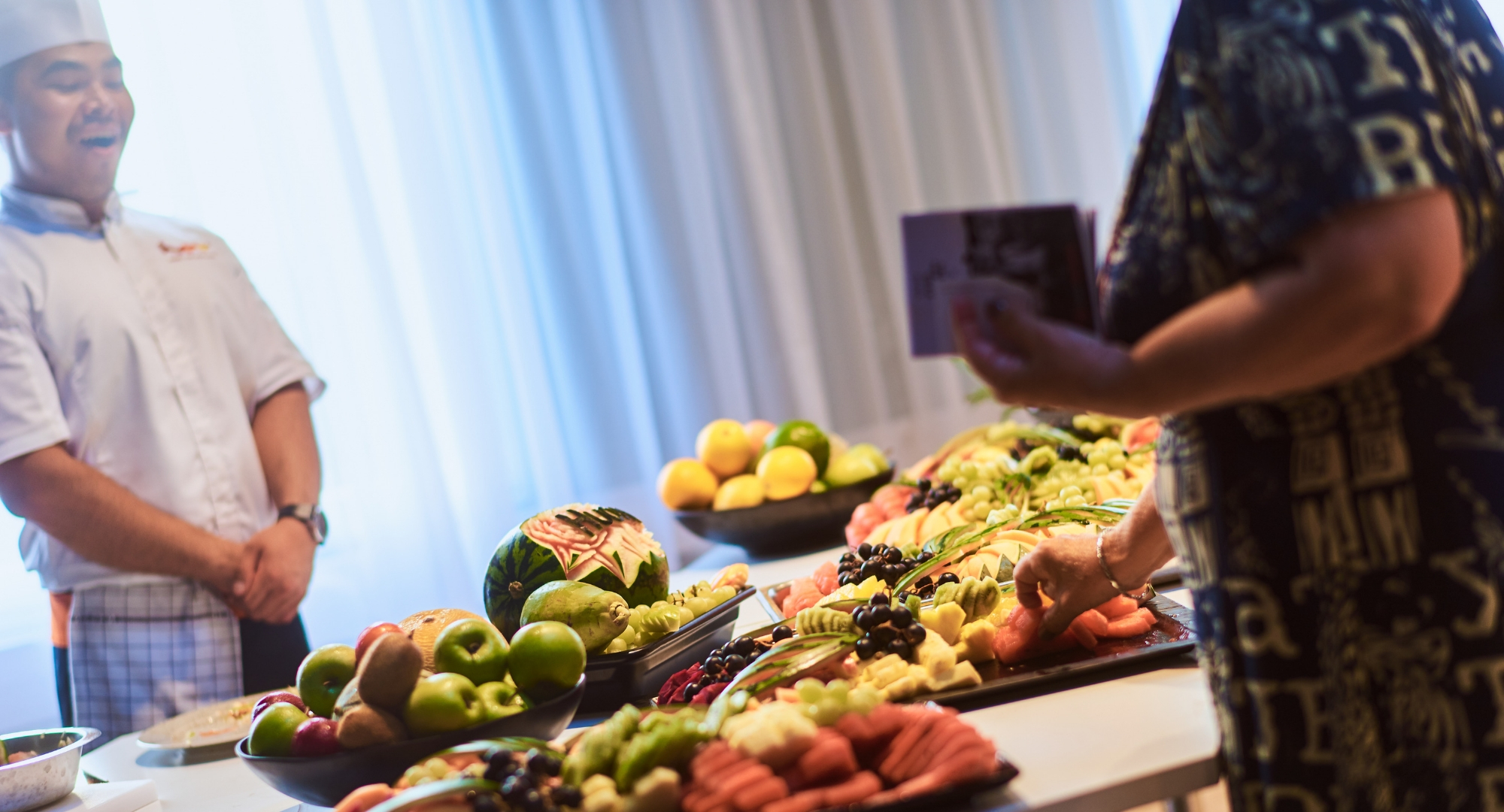 In the Puzzle Room, Asian-style cut fruits were served by HUONE's own chef, Jay Somkiet Sooklud from HUONE Jätkäsaari, Finland. He flew to Copenhagen to attend the opening party and to bring some fun into the room with cut fruit puzzles.
From an old airplane hangar to "Business hub of Copenhagen"
Almost a year after signing a deal with PFA pension group, HUONE Copenhagen's door is finally open to provide creative meeting and event spaces for businesses as well as high-quality services for Amager Strand business hub. Thylander Gruppen manages the Amager Strand business community on behalf of its landlord, PFA pension group.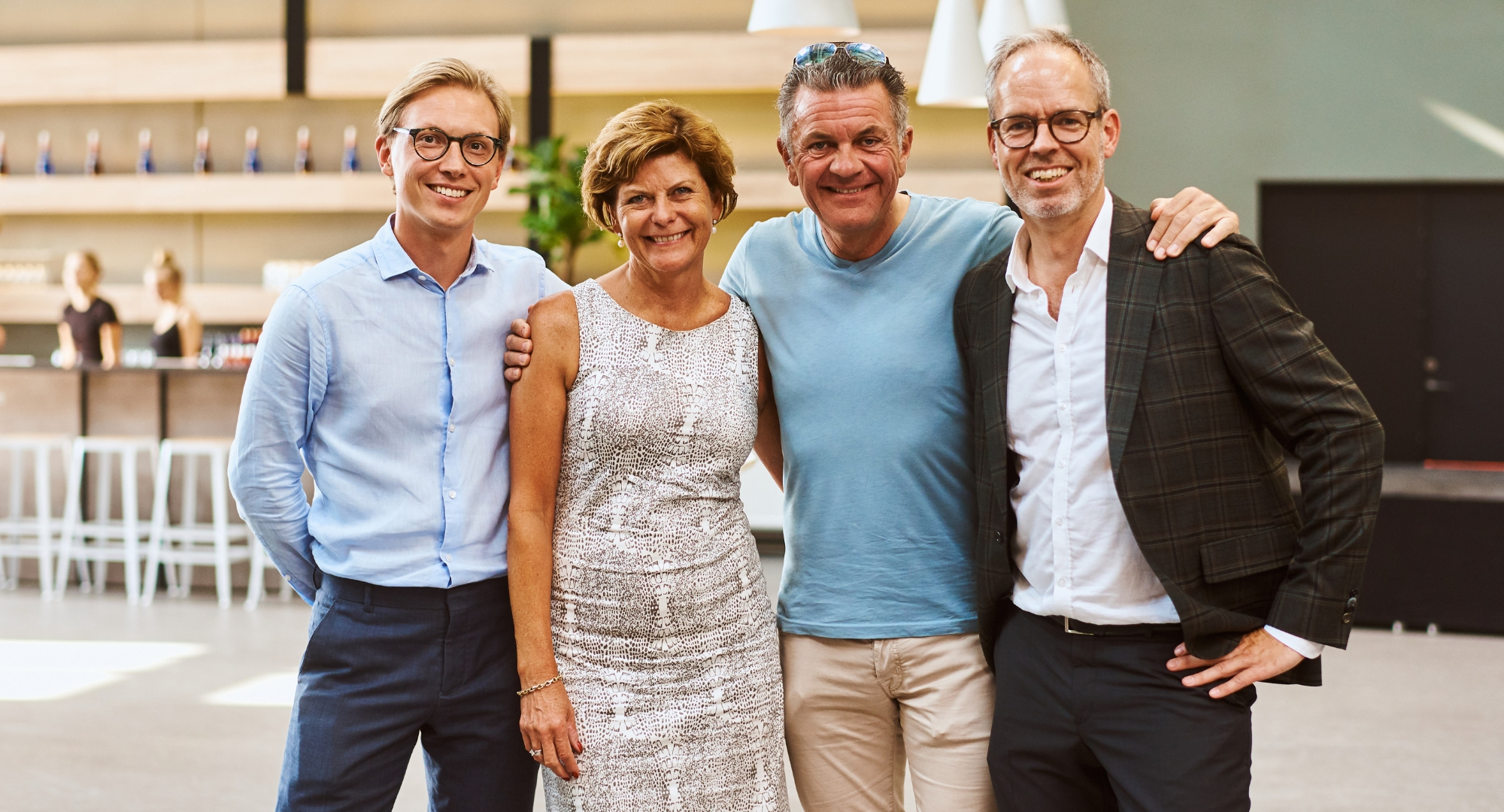 "Perfect for international events."(From left) Kim Revald, Technical Asset Manager; Solveig Rannje, Partner & Property Director; Lars Thylander, Chairman of the Board; Kristian Krogh, CEO
Lars Thylander, the founder and chairman of the Board, and Kristian Krough, CEO of the Thylander Group, both only remembered the site vaguely from about two years ago; The time when it was a mere industrial location with undervalued potential. They couldn't hide their astonishment as they toured around the venue during the VIP event with Evon Blomstedt.
"it is hard to believe how the place has transformed" Kristian commented at the end of the private tour. He picked 'Lake View' as one of his favorite rooms for its calming atmosphere. Lars emphasized on the great location of HUONE Copenhagen with its easy access to the airport, especially how it is perfect for the international crowds.
Kim, Technical Asset Manager, who has been involved in the development of Amager Strand since the project's initial planning phase, mentioned that HUONE definitely exceeded the expectations of many:
"I could see the value it brings to Amager Strand's business community. It has become something so attractive for prospective tenants. Current tenants already love it!"
HUONE is successfully operating three other units, two in Helsinki, Finland and one in Clarke Quay, Singapore.