Every year, HUONE Copenhagen provides facilities for a wide range of meetings and events for Danish and international companies. This August, and up until September 2, it has been the location for one of the world's largest car manufacturers, Volkswagen, and their major global launch of the car maker's ID. Buzz. The new Volkswagen model has been presented to more than 700 media representatives in HUONE's very special creative meeting and event facilities. 
HUONE's facilities match Volkswagen's new brand design
A major and important launch of a new car model requires something very special. And it is no coincidence that Volkswagen chose HUONE Copenhagen for their launch of the brand new ID. Buzz. Britta Hoffmann, Event manager for Volkswagen Commercial Vehicles notes:
"HUONE Copenhagen simply matches Volkswagen's new brand design. I believe that our styling is perfect and HUONE's concept is modern and hip. That's exactly where we wanted to be! The fact that we were able to incorporate our small rooms with the large ones and that we were able to include the Mezzanine or use the small meeting boxes made it so much easier to also have small side meetings, and it is such a flexible solution. At the same time, we want to be on top of things. HUONE rented out premises to other companies as well while Volkswagen was there, which was not a problem – we didn't want to be exclusive, rather wanted to be at a lively place". 
Volkswagen chose HUONE Copenhagen because of its sustainable profile, good location, and high level of service
In addition to the good location close to Copenhagen Airport and offering a high level of service, Volkswagen also chose HUONE because of its sustainable profile. 
"Since entering the Copenhagen meeting and event scene in 2019, HUONE Copenhagen has worked towards creating sustainable events and reducing the environmental impact. We have for example installed 20 recharging points in our parking lot and we have installed solar cells on the roof. We have also had a strong focus on taking social and economic responsibility in the local area. And recently, we received the renowned Green Key environmental certification, which the entire team at HUONE is extremely proud of".–  Pia Schultz, CEO, HUONE Copenhagen 
Volkswagen confirms the importance of HUONE Copenhagen's green profile and its proximity to the airport.  Britta Hoffmann, Eventmanager of Volkswagen Commercial Vehicles comments:
"It is very important to us that HUONE Copenhagen has a Green Key certification. As we presented a car that is electric and in which materials are recycled, HUONE matched us really well. Our guests will be sleeping at hotel Nyhavn 17, which is also Green Key certified. And since we have been working towards ensuring that the launch in its entirety is a CO2-neutral event, it is important to us that both the event venue and the hotel are environmentally certified. It's also about location. Short shuttle connections from the airport; only takes 4-6 minutes, which is of great importance to us. We usually search for event venues located close to airports, which makes it convenient and easy for both our guests and for us" 
HUONE Copenhagen was transformed into a Volkswagen universe on a weekend
HUONE offers inspiring meeting rooms for business meetings and events and it caters to business guests from all over the world. HUONE breaks the 'normal,' traditional meeting concept and gives business customers the opportunity to create their very own universe in HUONE's 20 creative meeting rooms. Since its grand opening in 2019, it has hosted more than 6000 events and won numerous awards internationally.  Pia Schultz, CEO, HUONE Copenhagen, elaborates:
"Volkswagen is a shining example of how HUONE can add and transform meeting facilities to match exactly the company's needs and wishes for any event.
Volkswagen transformed HUONE Copenhagen's indoor and outdoor facilities into a colourful and futuristic venue for the ID. Buzz Media Event. They transformed HUONE's Dining Area, Terrace, Ferris Wheel Room, Blocks Room and Origami Room in one weekend, with the help of their German event agencies. The rooms were transformed into colourful settings with a structured atmosphere as a fusion between summer gardens and futuristic elements as well as the association of mechanization and modern life. 
"Volkswagen has chosen to build on our themed meeting rooms. The Ferris Wheel Room, which already has the framework decorated with a Danish Tivoli Gardens atmosphere, and the Origami Room and Blocks Room with their cubic design go well with Volkswagen's concept design. The 3 rooms are used for workshops by Volkswagen for their guests, who are guided through the car's details. A room contains a design sketch of the car with data on the height and length of the car, and how it works. There is also a monitor where you take a look into the car to see how it works underneath all the machinery."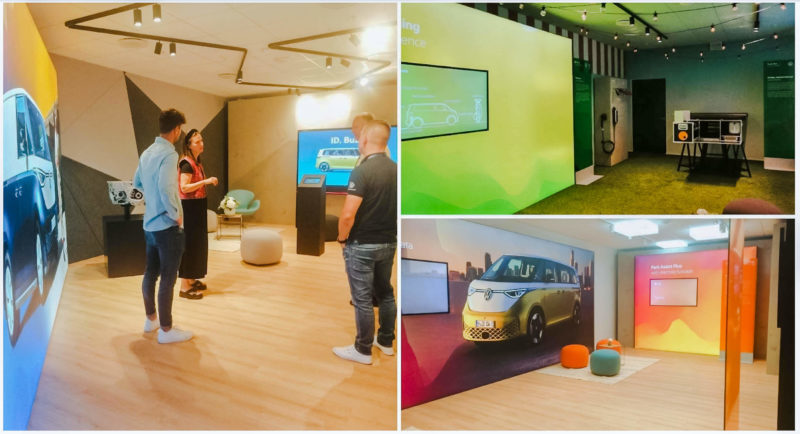 (Image: Origami Room, Ferris Wheel Room, Blocks Room)
The story of the new innovative ID. Buzz from Volkswagen
The new innovative ID. Buzz is the focal point of Volkwagen's global launch and is the first microbus from Volkswagen that has been developed fully electric from the beginning. The ID. Buzz model is solely manufactured as an electric car and is designed based on the van version of Volkwagen's microbus. It is multifunctional, fully connected, and completely reimagined. An electric microbus gives you a new definition of space, with an interior that partly consists of recycled materials. It has extensive connectivity and digital features such as the smart ID. Light.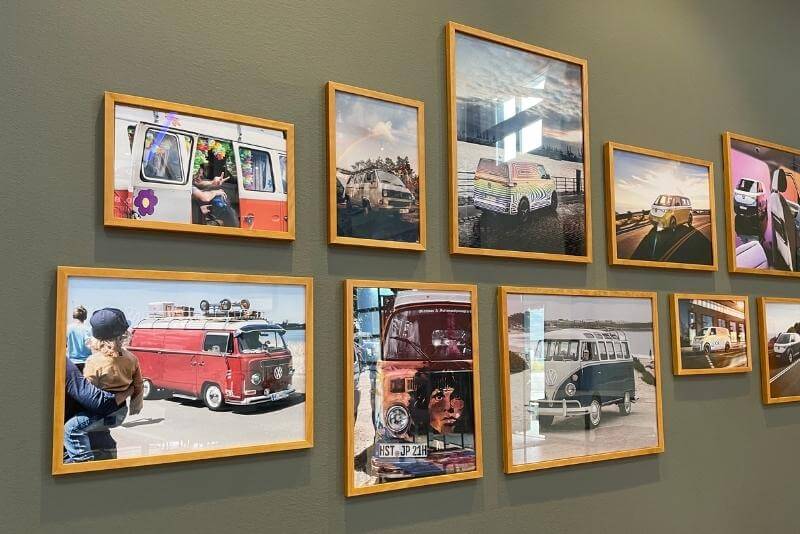 Christian Buhlmann, Head of Product Communication for Volkswagen Commercial Vehicles shares:
"Everyone knows the T1 car from the 1950s and 60s. We have chosen to pursue this concept of maximizing inside space on a minimal footprint, and at the same time have tried to make this car as environmentally friendly as possible. It's fully electric, the design is smart and our media guests here in Copenhagen have the possibility to test drive the cars.