'Welcome to HUONE Kamppi, Malminkatu 30, powered by HUONE!  HUONE caters for business guests from around the world and offers creative spaces for business meetings and events. We run our units like hotels. This new location in Kamppi will become a landmark thanks to the outstanding service we provide. Imagine coming to a meeting and being greeted by a smiling receptionist, a place where you can enjoy breakfast and lunch prepared fresh on site. Before rushing off in the evening, you can still grab a beer and unwind. HUONE brings creativity and excellence into a meeting place. When you go to a new town, and you need coffee and wi-fi, you go to the closest Starbucks: my vision is that when you'll visit a new city and want to host a meeting, you will ask 'where is the closest HUONE?'  – Evon Söderlund, CEO and founder of HUONE.
Third HUONE unit brings value to the address
HUONE International inaugurated its new location in Kamppi district, Helsinki, with a grand opening event in late October 2018. After the words of CEO and founder of HUONE Evon Söderlund and the ribbon cutting ceremony, some 100 VIP invitees enjoyed live music and delicious finger food, in addition to guided tours to the meeting rooms, the undisputed stars of the night.
The new HUONE Kamppi at Malminkatu 30, Helsinki, is the newest addition to the expansion. The office building is powered by HUONE, which operates the reception and two floors of meeting and event rooms, one in the basement and one on the second floor. The premises are ideally located right in the centre of the capital, a few minutes away from metro and train stations.
What do people think about HUONE Kamppi?
'It is so convenient to reach,'  Tiina Harmaja from Business Coaching Center and Ara Hopia from Kulmia Group Oy appreciated.' Both being business consultants, they know how each room could cater to different needs; they have been to HUONE Jätkäsaari, and next year Mr. Hopia will bring a group of directors to HUONE Singapore. 'I am really looking forward to our first event in HUONE Kamppi,' accompanied Ms. Harmaja.
'One would not believe we are actually in the basement floor,' Sanna Nurminen and Tytti Pelkonen, from Haaga-Helia University of Applied Sciences marvelled. 'Great use of lights and colours. It looks so spacious. This place could be perfect also for celebrating pre-Christmas parties.'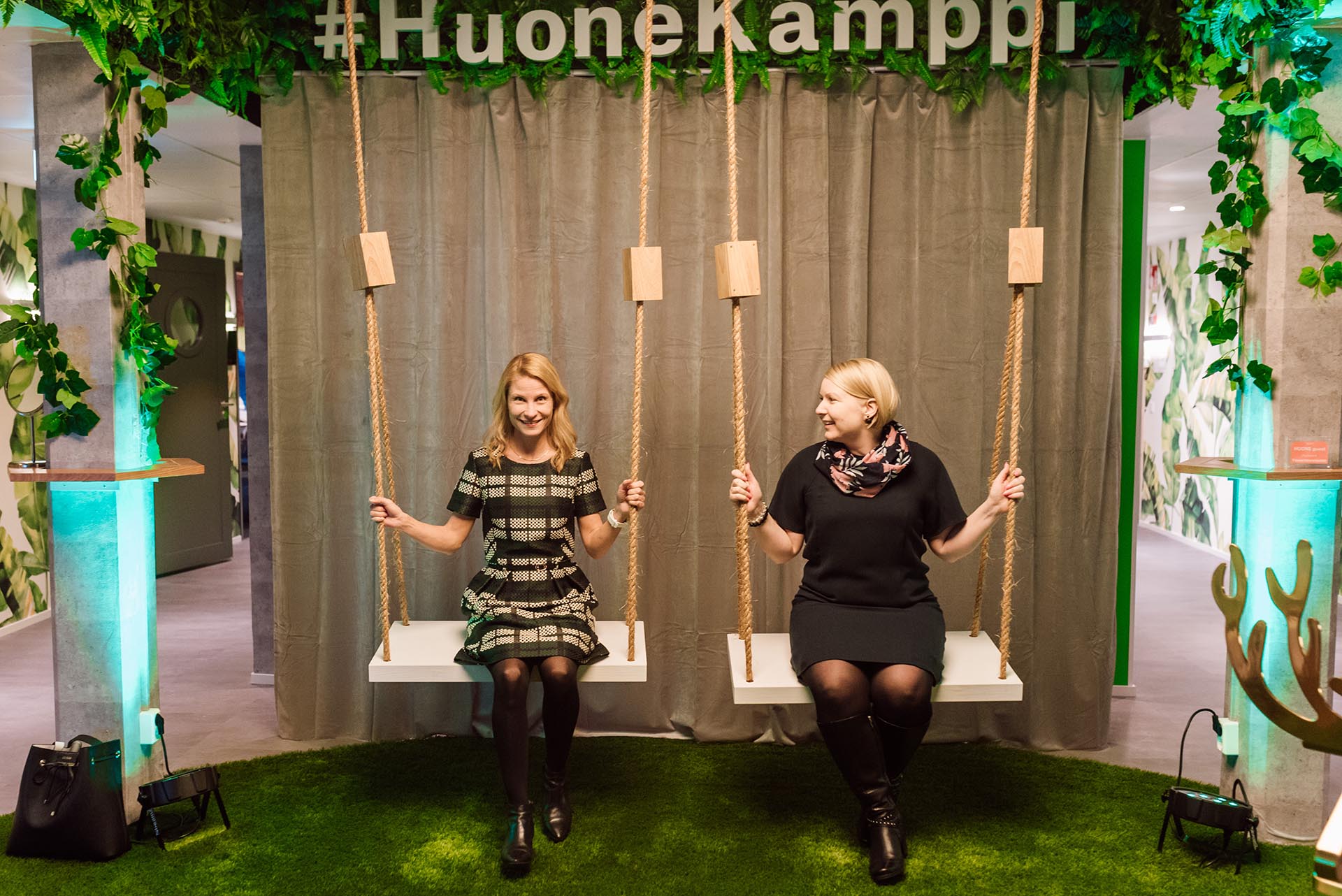 'Great use of lights and colours', comment Sanna Nurminen and Tytti Pelkonen in Garden.
'This is the new place for businesses: it is fresh, it is different, it can cater for all kinds of different events,' said Esko Reinonpoika Alanko, Chairman of the board of Micromedia, a long-term client and supporter of HUONE.
Guests enjoyed walking through the new rooms, 10 in total, all offering a different experience and accommodating different needs with their functional, yet creative and innovative design.
'My favorite room is Pier Room: background noise disappears, and the atmosphere is quaint and peaceful,' stated Miika Lipiäinen, from Kyrö Distillery Company, the producer of the world-famous Napue Gin, winner of 'the world's best gin for gin & tonics' for two consecutive years.
Pier Room was also the pick of Lasse Mäkelä, CEO and Co-founder of Invesdor: 'It's perfectly sized for board meetings, it's such an intimate place, it has a feel of the sea, one can reminisce about the summer sailing trips.'
'Oversized Room was my favourite,' commented Patrick Buss, from Siru Innovations,  'because it's a little bit crazy. Such a daring concept overall. These people have guts!'
'My absolute favorite is Playground Room,' Ray Lindberg, Head of product management at CBRE said. 'The playfulness is perfect for breaking the ice when you are in a group where not everyone knows each other well, for example for a team building event.'
'At HUONE, it's the little details that make the difference; nothing is left to chance. Even the flip charts look good in this room', wondered Markko Varnas, Chairman of the Board of HUONE in Container Room.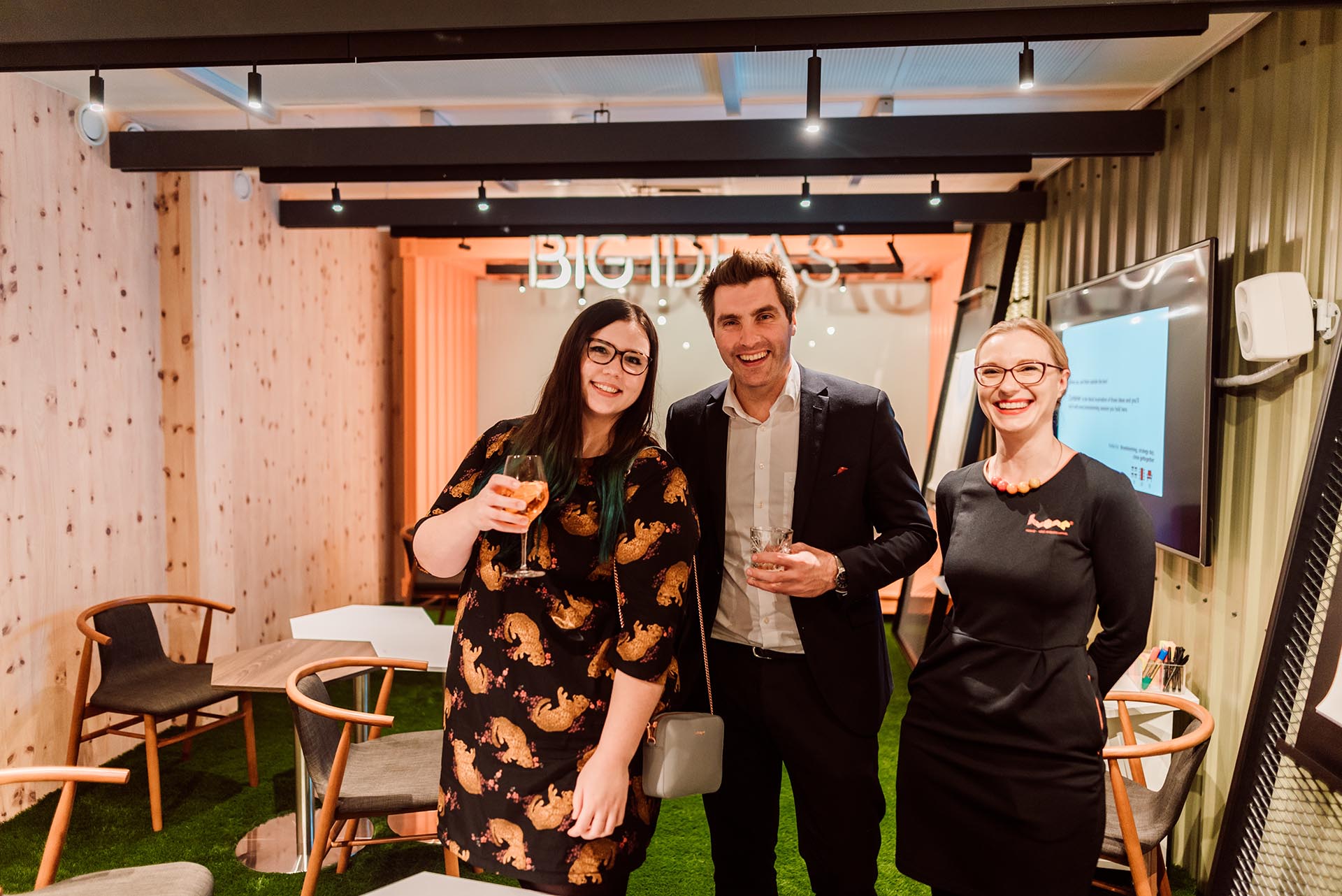 Caught by the camera in Container room. ´HUONE calls for interactions, gives the possibility to forge new acquaintances, and new ideas can come up.' say Saara Rostedt and Karri Tomula. To the right CEO of HUONE Jätkäsaari and HUONE Kamppi Laura Tomula.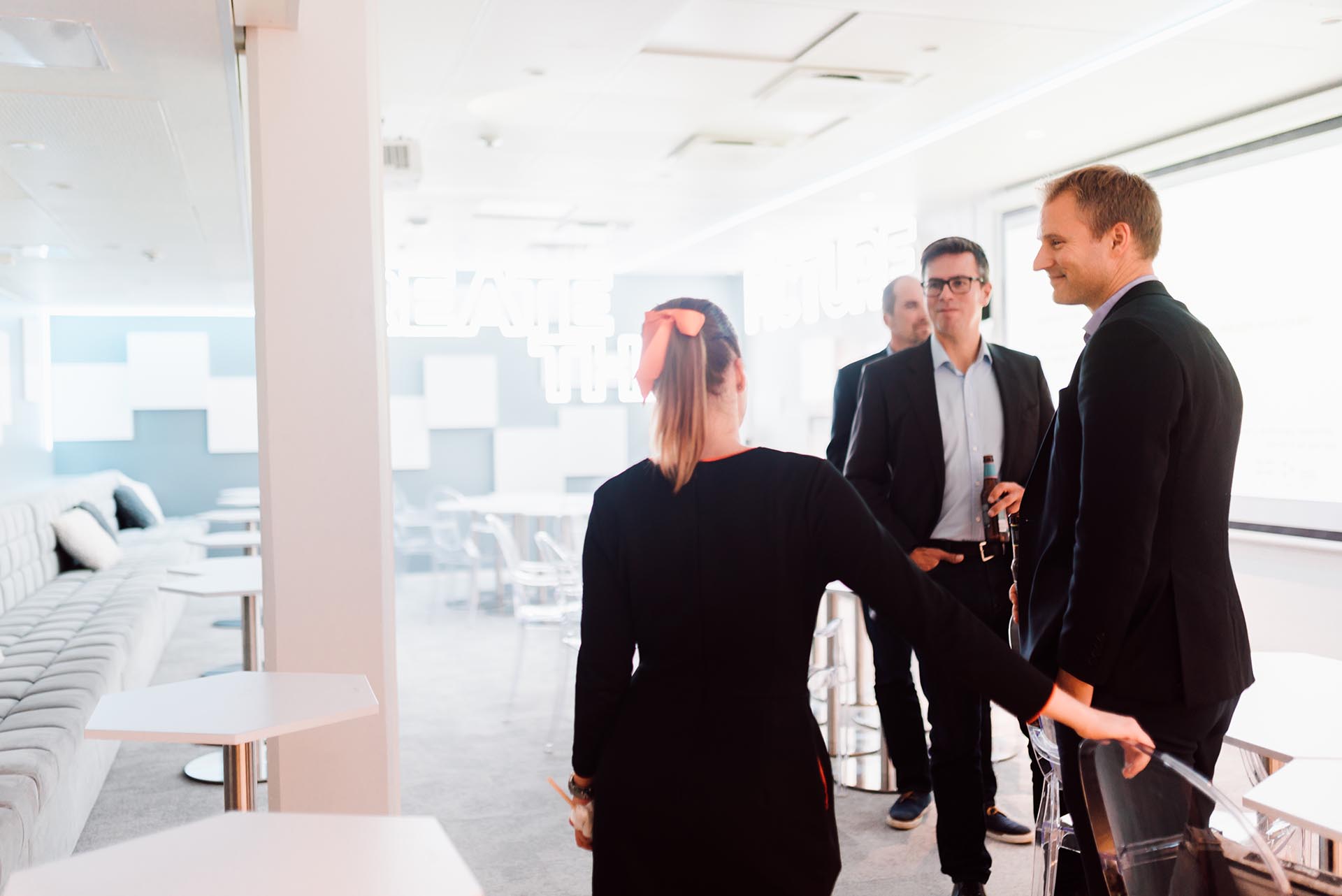 ´Canvas room has a futuristic feel, where you can actually see how the future will look like. A room, where one comes to work to achieve results.' Markko Varnas, Lasse Mäkelä and Ray Lindberg in Canvas room.
'Canvas Room all the way,' said Karri Tomula, Advisor at KPMG and Saara Rostedt, from the marketing at Lomarengas.'It's a room that has a futuristic feel, where you can actually see how the future will look like. A room, where one comes to work to achieve results.' They saw the entrance hall called 'The Garden' as one of the main attractions of HUONE Kamppi. 'The open space challenges the Finnish business culture,' they agreed. 'People are busy with their meetings in different rooms, but then everyone eats here, or has a coffee here. This space calls for interactions, it gives the possibility to forge new acquaintances, and new ideas can come up.'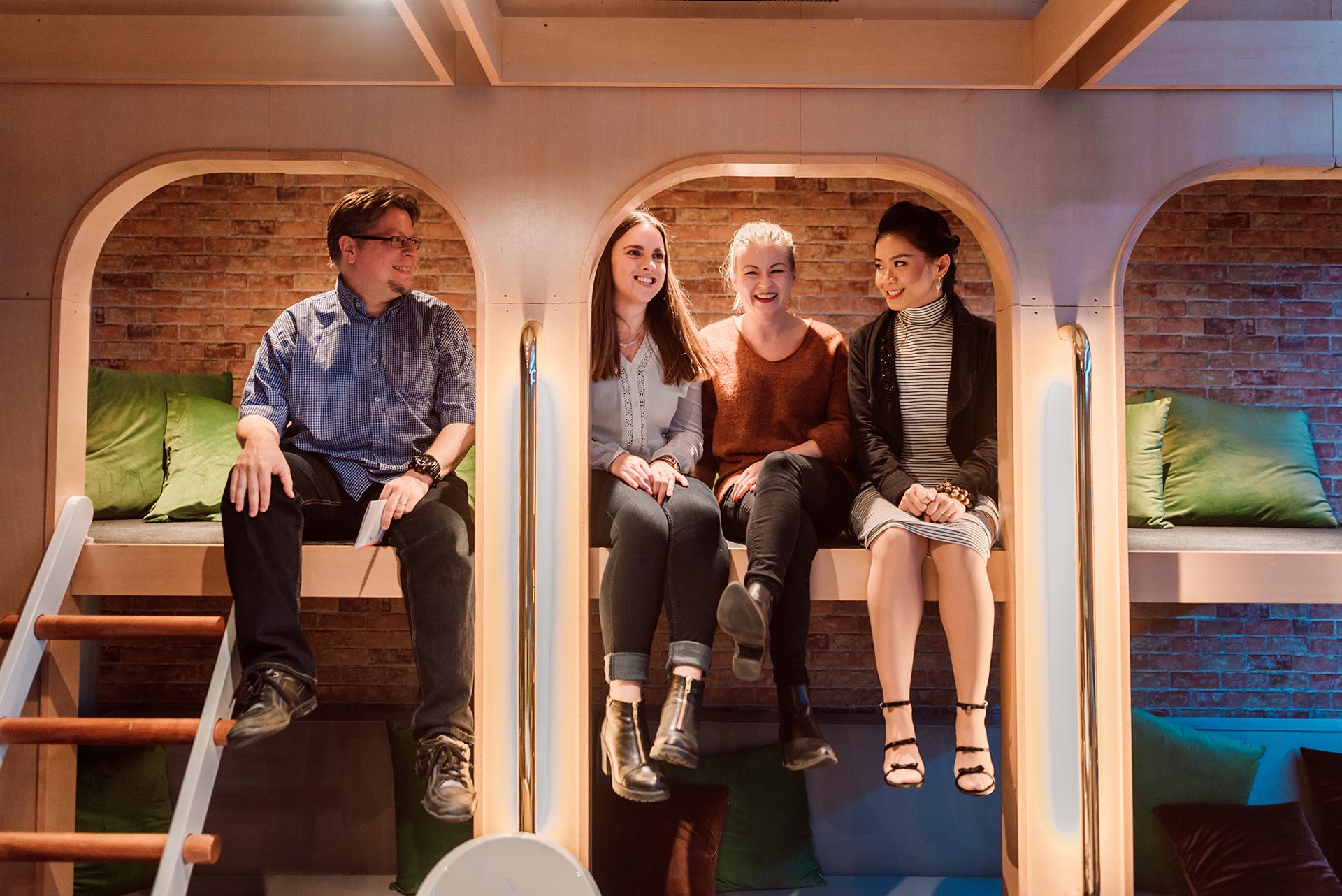 New perspectives. Patrick Buss, Dina Sjöholm (Speakers Forum), Laura Laitasalo and Eva Wong climbed up the ladder in Barracks room.
Beer, whiskey, and magic
Among the attractions of the evening were two programs that HUONE Kamppi proposes for events, Beer Buddies and Close Up Magic. Beer Buddies is a new concept, where beer is paired with premium whiskeys, a tantalizing experience. The activity took place in Barracks Room, the room with a cozy, inspiring and laid-back environment. Magician Joni Pakanen entertained guests with close up magic tricks in Dragon's Den Room. The ever so helpful HUONE staff arranges these and other customer experiences as add-on programs, for example, for a team building day at HUONE.
From misery to "unbelievable"
HUONE Kamppi is the third unit HUONE International is opening. HUONE Kamppi provides reception, restaurant, business meeting, and event services in the premises owned by the leading Nordic asset management company Aberdeen Standard Investments.
Ville Raitio, Nordic country head for Aberdeen remembered the miserable state when they first visited the building, and saw the abandoned office environment that was was not attractive for any tenants. They understood the immediate need for a partner who would see the potential of the space and add value to the investment by both transforming it and bringing in value-adding services. The obvious choice rose soon: 'We need to get HUONE here.'
'The partnership between HUONE and Aberdeen is important for both parties', he said, 'and the work HUONE has done with these premises is unbelievable. Take the basement for example; it was in a terrible shape when we first got here, and now it's airy and light, and it doesn't feel like a basement at all.'
HUONE is successfully operating two other units, one in Jätkäsaari District in Helsinki and one in Clarke Quay, Singapore. HUONE aims at expanding and operating eight to ten units worldwide by 2020.