HUONE is the World's first Events Hotel, a new service concept that may not be easily understood by its name. Instead of doing the ordinary company showcase video the team behind HUONE decided to innovate. They did an original song, with lyrics stating the company values and music video showing the fun spirit that the company wants to share.
CEO ACTING, INVESTOR RAPPING, CHEF SINGING AND THE ENTIRE COMPANY DANCING!
In the music video you will see the CEO, recently awarded PwC's Most Valuable Entrepreneur in Finland, Evon Söderlund acting and dancing like a little girl around the facilities of HUONE. The singer, the sister of the CEO, is the head chef of HUONE, not only preparing lunches and dinners for the guests; she also performs in HUONE occasionally. Even the rap is handled by an actual investor of HUONE. At the end of the video the whole HUONE team joins in for dancing and partying.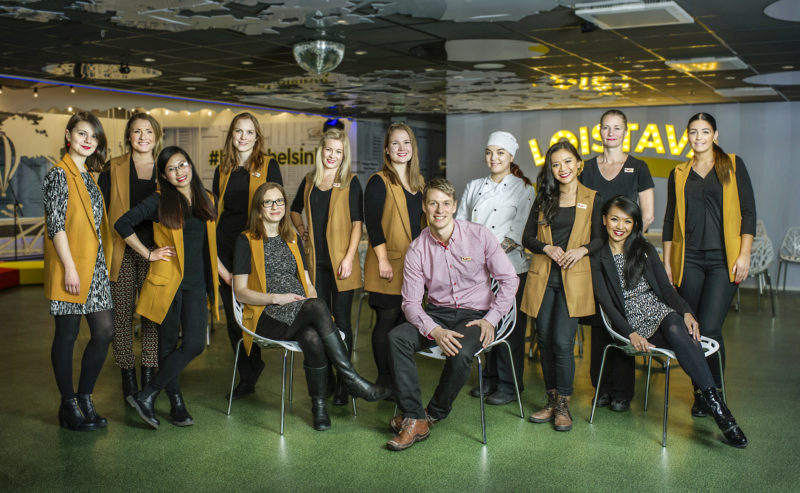 In the start up phase, in order to present the concept in a more visual way, the company produced an animation video to show their services and concept. The animation wasn't a success and the company's first year was also rough. A year after, HUONE decided to produce a proper filmed and edited company introductional video. This video was well received but didn't generate more attention to the business.
This year the start-up just finished an expansion to its business, tripling their size. This time the company wanted to push the limit by making a truly unique company intro video. Instead of doing the 'same-old-same-old' why not do something fun together – a proper music video!
A video that showcases the company values, involves the whole team and promotes their slogan: Making business events FUN. Now that's how you do it!
TRY HARDER CAN BE FOUND ON SPOTIFY AND YOUTUBE. 
TRY HARDER by Eva Wong feat. Riku Wong
SONG: Ilkka Saarinen
LYRICS: Ilkka Saarinen, Evon Söderlund, Riku Wong
It's a room, it's a space, we're breathing air
It's a life, it's a dream, it's love to share
It's above, it's beneath, it's inside out
It's a silent whisper, yet a shout
I wonder
Why why be so so serious
I wanna
show show it's all mysterious
Chorus:
Tic tac tic tac, the beat is up
We're gonna
Flip flop, hip hop, and never stop x2
It's beyond the walls surrounding us
A creation made with love
It's a space, it's a place we wanna share
So get a room and learn how to care
The big is getting bigger
and the small ones small
millions of opportunity in front of the door
Try harder come on
who doesn't worry
you have nothing to lose
no time to be boring
This system ruled by poverty
This system ruled by inequality
money can't buy you love my brother
so let's try harder (to) take care of each other
I wonder
why why be so so serious
I wanna
Show show its so mysterious
oh oh oh oh ingenious
no no no no
no no no not tedious