Thank you for believing in us and we won't let you down!
As an HUONE Owners' Club member and the holder of this card, you are entitled to the following: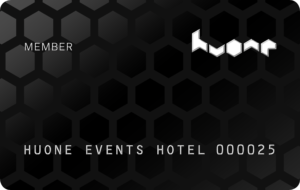 1. Unlimited* access to utilise HUONE's co-working space with complimentary hot beverages.
2. Invitations to owners' trip for the launching of every new HUONE unit around the world.
3. Invitations to special Owners' Club events locally.
*Based on availability. Please contact the local HUONE prior to your visit to avoid disappointments. Cardholder's photo identification will be asked upon arrival to confirm the authenticity of the visit. Cardholders are not permitted to bring guests for the use of the co-working space. 
Terms & Conditions: This card is personal and non-transferable. The HUONE Owners Club membership cards are only issued to owners owning five(5) shares and more. HUONE reserves the right to revoke the membership cards, and is under no obligation to give reasons for doing so. Removal from our mailing list can be requested at any time by emailing info.fi@huone.events. If your card becomes lost, stolen or damaged, you should contact us immediately. 
---
Upcoming events
The next Annual General Meeting will be held in early November. An official invitation (via email) will be sent out at least 1 week before the meeting. For more information please contact Trang Pham via email: trang.pham@huone.events.