Have you ever had an awesome idea for a stellar product launch? Or maybe you're thinking of hosting a hackathon or brainstorming session to help you excel in the coming year. And after hours of precise planning you've finally decided on an event, where you know you'll completely blow the socks off your fellow colleagues, friends or even bosses? But then you look around at the available spaces and all you see are dull and boring environments, completely unsuitable for your environment. What do you do then?
At HUONE, we believe that great ideas require great and creative spaces in order for them to truly come alive. We believe in 'Return on Meetings', that's why our rooms are specifically designed to awe your participants and disrupt the image of a traditional meeting room. At HUONE, we don't just do meetings and events, we specialise in creating an experience for your guests.
Our spaces allow you to do more than just cramp your employees in a boring room, our rooms provide tools for your participants to unleash their creativity. Ever been to a brainstorming session and have no more paper to pen down your ideas? Well, we have to huge blackboard for you to do just that in our Runway room. What about product launches? When was the last time you went to a product launch where it took place inside a Forest room?
Or if you're looking to plan a more formal event such as a board meeting. Have it in our intimate Nest room, where we have a cozy and intimate space to bring everyone closer together. If you're planning a Seminar or Workshop, you'll definitely need an eye-catching stage like the one we have in our Theatre room. The Theatre room allows you to capture the attention of your participants and ensure that all eyes are on you. (and not on their phones)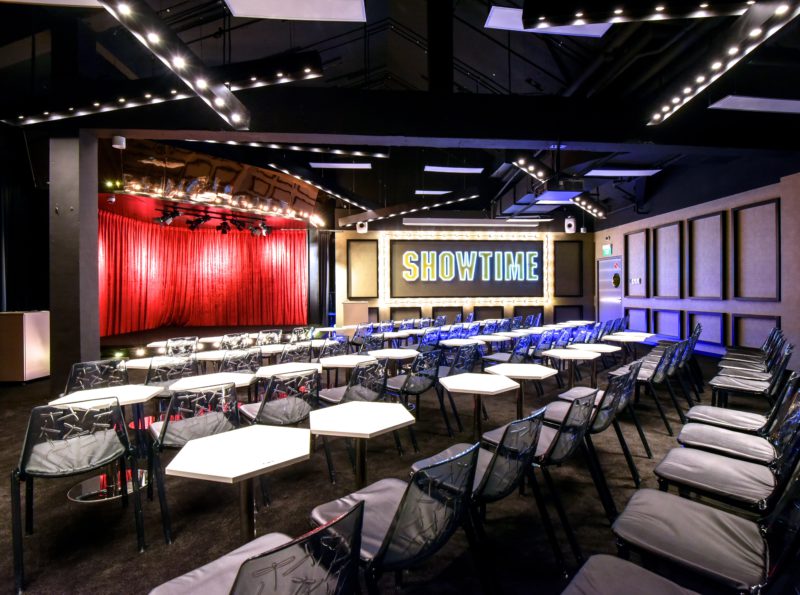 Maybe you've saw a great team building activity online and wanted to try it out, well swing by our Swing room where we have installed swings to help alleviate the stress from work. Corporate functions to help your employees unwind after a stressful day are also welcomed, if you want something more than just your normal celebration our attentive Event Coordinators are full of ideas to make your next corporate function stand out.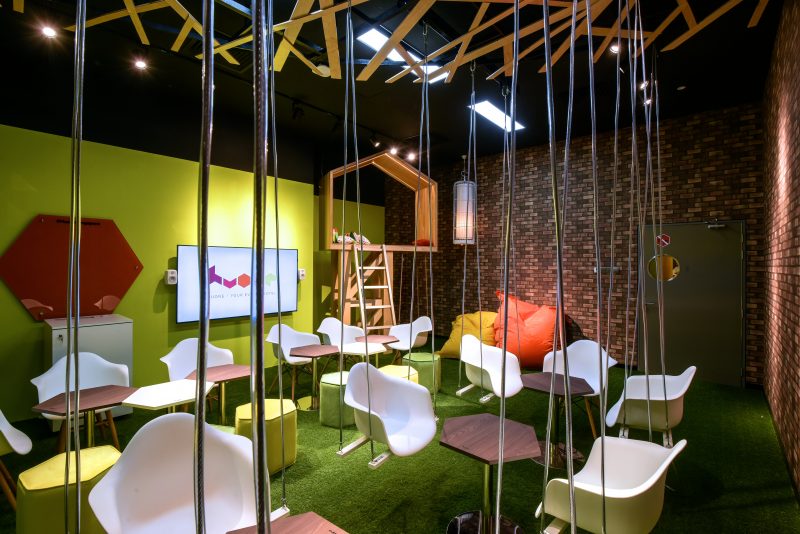 HUONE is more than just an event space, we are an all in one solution for your every business need. Our rooms are intentionally designed to give the room flexibility to fit just about any purpose or theme. Beside the elaborately designed rooms, HUONE provides your event with copious amounts of food and beverages and more incorporated into your functions without a second thought. To top it all off, HUONE does all this without a middlemen so that you have a smooth and successful event.
Use our contact form or call +65 6255 4793  and we'll help you find the perfect room for your next meeting!