Exclusive Dinner Tapas and Canapes Menu
A Joint culinary collaboration between HUONE Singapore and 3 Embers, where a creative venue meets a creative culinary experience! The presented menus were specially curated by the award-winning and renowned, 3 Embers Chefs, Eric Teo and Teo Yeow Siang, along with the HUONE culinary team. Guests can have their meals in one of our 11 thematic rooms, or alfresco style overlooking the iconic Singapore river in our 9 private balconies! These exclusive menus are only available till the 31st of January 2020!
Seasonal Menus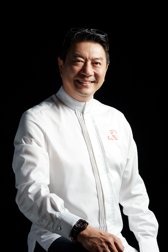 Chef Eric Teo | Managing Director, 3 Embers 
Chef Eric's reputation precedes him. As a renowned figure in the culinary world and beyond, it's easy to let his work speak for itself.
His achievements include: 3-time winner of World Gourmet Summit Executive Chef of the Year, Mentor and Deputy Head Judge of Food & Hotel Asia Culinary Challenge, Culinary Auditor for F1 Grand Prix 2018, Golden Chef Abalone, Guest Chef on MasterChef Asia 2015, and the first Singaporean to be appointed president of the Singapore Chefs' Association from 2005 – 2013.
Chef Eric has also cultivated strong relationships in his esteemed network of government bodies, MediaCorp celebrities, and global event organisers. Along with a wealth of culinary experience and his infectious energy, Chef Eric has become the go-to advisor for large-scale events, here and overseas.
Despite the long list of accolades, Chef Eric is nowhere close to being done. Taking on the role of Master Mentor with Asian Culinary Institute Singapore, there are few more qualified to set the standards of culinary excellence in Singapore.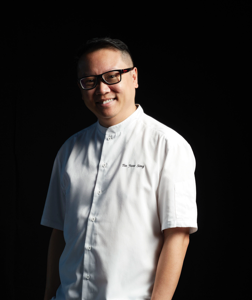 Chef Teo Yeow Siang | Culinary Director, 3 Embers 
As a relentless innovator, Chef Siang works to pursue his passion, not the accolades. Yet the praise and recognition from the culinary world keeps coming.
They're best represented by Chef Siang's gold medal collection, amassed from some of the world's most prestigious culinary events. As a member of the World Champion team at the Expogast Culinary World Cup 2014, Chef Siang led Singapore to a double Gold medal performance at the Culinary Olympics 2016 – one of the world's most prestigious culinary competitions. Under his leadership, the Singapore National Culinary Team went on to be crowned overall champion, marking a first in local history.
Chef Siang's best creations are inspired by local delicacies. He enjoys bringing out the distinct flavours of our heartland classics, and elevating them through diverse textures and extraordinary presentations. Chef Siang considers himself an ambassador for Singaporean cuisine. As part of his personal mission to showcase the best of Singapore's offerings, he walks the walk by also sourcing from locally farmed produce.
Leave your contact information and we'll be in touch!