HUONE is turning 10!  The startup journey is full of obstacles, so have many to thank. And we believe that now, more than ever is time for us to unite and share the love. This is why we would like to mark this important year by GIVING BACK! HUONE Singapore is giving out 2 awesome team days and offering a free celebratory cocktail for all meeting guests in the month of November 2022! 
1. Win a Team day at HUONE Singapore
Team day includes a full-service HUONE package (value up to $1,000€*) 
A space catered for the group* 
Freshly cooked meals & snacks during the day (depends on the agenda of the day, for example: 
Free flow of coffee & tea during the day 
Reception service 
HUONE Event Host on-site for the group
Personal Event Coordinator & Event consultation (1hr)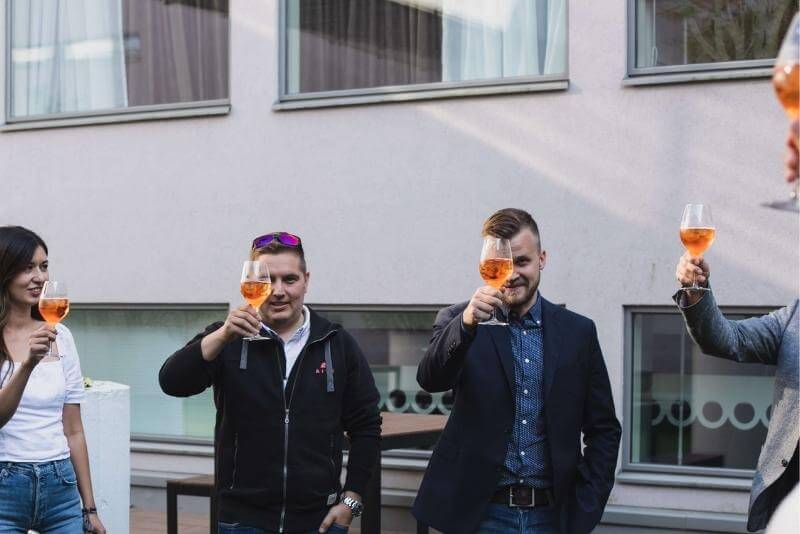 How to participate?
Check the original campaign post on our LinkedIn page and do the following

Like this post 
Tag a colleague  in the comment &
Comment: 'WE'RE IN'

Answer the survey by clicking the button below
*Anyone who's working in a team of up to 10 people can participate in the campaign.
Survey to participate in the campaign 
Announcement of winners
The winners will be announced in the third week of April on HUONE Singapore's Linkedin page. 
2. A cocktail on the house for meetings during November 2022
Everyone is a winner during November 2022! For any full day booking in the month of November ALL guests will enjoy:
A house pour of their choice, including our specially concocted mocktail (or cocktail) for the occasion, OR a sharing platter for 5 of chicken drumlets, onion rings, fries (between 5 pm to 7 pm)
---
*Terms and conditions
The competition is organised by HUONE Helsinki, HUONE Copenhagen, and HUONE Singapore.
Winners will be announced during the second week of April on the HUONE official website. By participating, the participant understands that the announcement of winners will be done publicly, which will include the company name(s). All the winners will be contacted and informed individually.
Only those who completed all the 4 actions described in the instructions above will be considered. Participation is free of charge and does not require any purchase of the company's products.
Room allocation will be done by HUONE Singapore based on the availability of the unit.
The team day event must be organised by October 30th, 2022 on weekdays, subject to room availability of the HUONE units. Price includes the above-mentioned items and HUONE is not liable to cover any other costs related to the team day.
The team day event cannot be redeemed in cash.
The difference in the actual package price value will not be compensated.
The purpose of this giveaway campaign is about boosting companies' team morale, hence it cannot be used for a private event (e.g. birthday event)
The program of your choice is subject to availability (e.g. if the first choice is not available, we will do our best to arrange the second option).
Personal data will be processed according to HUONE's privacy policy. LinkedIn, or any other social media platforms, are not sponsoring, nor part of this competition.
HUONE does not accept any liability for any damage, loss, injury, or disappointment suffered by any entrants as a result of either participating in the prize draw. In all events, HUONE's entire liability is limited to the value of the prize.
HUONE shall be responsible for the lottery tax, if any, in accordance with local legislation.
Terms and conditions apply to all participants and by participating one agree to all terms and conditions. HUONE retains the right to amend these Terms and Conditions at any time.