You're in a meeting and the phone starts buzzing. You look at the screen to see who it is, and it is an important call. You do not want to disturb the meeting and at the same time, can not talk to this person in front of your colleagues. What do you do? Flee to the toilets, or go outside shaking off the cold on the street? or try to answer the call quietly hoping no one listen?
Our attention span is getting shorter and it is worse than a goldfish. This means minimizing disturbances at the office and in meetings more and more important. Continuous interruptions make it difficult to near impossible to settle down and concentrate. What's worse is that this thwarts work progress and any goals for the day go out the window.
One effective antidote to this ever-present challenge is Framery, a soundproof telephone booth/meeting pod. Framery's superior soundproofing system ensures that your meetings do not interfere with the office – and office noise does not interfere with your meeting. The Finnish-made Framery booths have become an oasis of tranquillity in modern offices. You can use the box when you need a moment alone or with your colleagues during your meeting or event at HUONE.
Framery booths are freely available for customers to use for calls, skype online meetings, development discussions, etc. You can retreat and remain undisturbed, and the glass doors make it easy to spot which booths are occupied and which are free.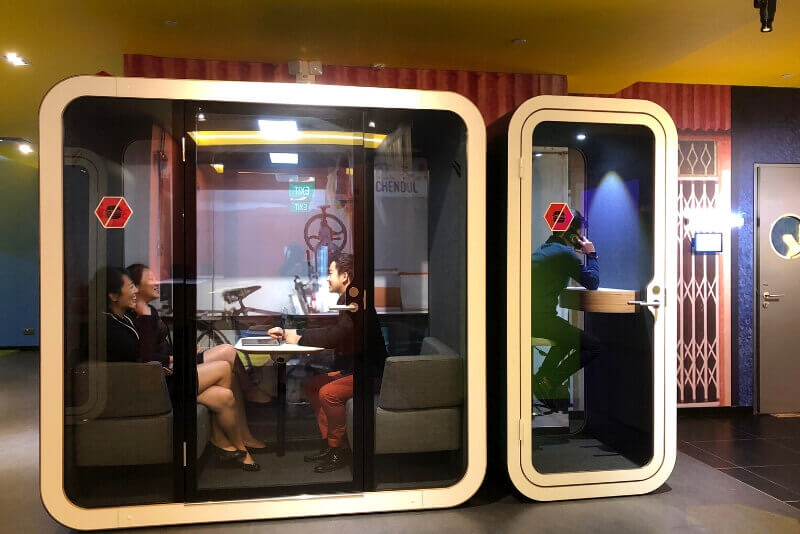 (Image: Framery booths in HUONE Singapore)
Find the perfect room that will help you achieve your meeting goals!