Did you let out a sigh with relief when 2020 was finally over? I did too. Sure, HUONE would keep on fighting the ongoing pandemic and it'd have to cope with the ever changing regulations, but things were getting better, I thought. Little did I know that in the forthcoming year I would also be fighting a very personal fight with cancer.
The news of breast cancer in February 2021 was a complete shock to me – I was a healthy 36-year-old with no history of such cancer in my family. I realized very quickly that I would need time to focus on my treatment and the battle ahead. But what about HUONE? I had never really thought of a Plan B, but now I was forced to, in the middle of a pandemic. 
When is it ok for a CEO to announce that he/she has cancer? Steve Jobs hid his pancreatic cancer for nine months. Warren Buffet was quick to tell the world he had prostate cancer. Whose example should I follow? This is the question I thought I´d never have to ask myself.
Someone told me early on, that I was the biggest risk in my own company. Everything revolved so strongly around me and my vision for HUONE. To be honest, I didn't like hearing this at the time, but in hindsight, this comment must have planted a seed in my mind. I knew I needed people I could trust, so I went in search of the best people while building a high growth company internationally.
Today, the HUONE Board of Directors consists of a group of brilliant individuals, all versed in their particular fields of expertise. I am lucky to consider them all my trusted mentors. All four of the HUONE destinations, Jätkäsaari, Kamppi, Singapore and Copenhagen have hardworking, loyal and self-imposed employees that I am very proud of. 
Throughout the years, I had covered the risk of me being like Steve Jobs – the only one holding all the cards. You know, for the 'in case I get hit by a bus' -scenario that I thought was never going to happen. So when I stood stunt hearing the news that I have breast cancer, without hesitation, I informed the HUONE board and investors about my diagnosis the very next day. Like Buffet, hiding this wasn´t an option. I am a CEO, but I am also a human. A mother. A wife.
"Transparency is always the best option."- Evon Blomstedt 
I am forever grateful for the love and support from the people I have been lucky to surround myself with in HUONE. I had full confidence that they would have my back, and I could take the time I needed to fight cancer. 
To my fellow entrepreneurs/leaders out there with no Plan B, I would advise not to rely on the knowledge of just one person. Have trusted people around you. Share your responsibilities as well as your knowledge, let others step up and show what they´re made of.
After 8 months of battle, I am now cancer-free and have only one surgery left to overcome. Having just finished my treatment, physically I am still not 100%, who am I kidding. However, my spirits are high and I have the most compelling urge to rebuild HUONE. Coming back to work and normality since November 2021 has given me so much joy!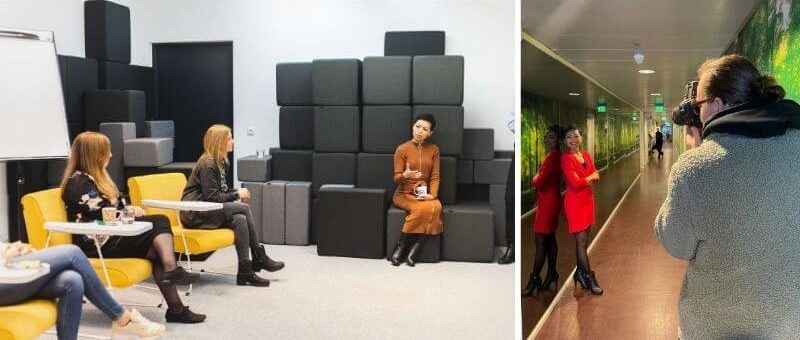 (Left: during orientation for HUONE Copenhagen's new members, Right: back into PR scene)
Cliches like "life is short" and "you only live once" have a new meaning for me now. I believe we can all make an impact on our lives and the story of HUONE is the impact to which I am committed to making. I want to see how far HUONE can go, and no pandemic or cancer can stop me. I am not done!
I´ve heard people say if HUONE can survive the pandemic, it can survive anything. I wonder what people will say now?
In the 2020´s year-end letter, I wrote: Only together, we can overcome this. This continues to be true, only this year on a more personal level as well. HUONE would not have survived without the people as committed to HUONE as I am. This year, in my weakest moments, I reminded myself of how successful I am. Not because of money or fame, but because of my ability to gather the best people around me. People who stood by my side and never gave up, for better or worse, both professionally and personally.
HUONE 2021 in Numbers
In 2021, we've hosted:

17,253

guests (

102%

of last year)

In 2021, we've hosted:

2,210

meetings/events (

150% 

of last year)
In 2021, we've hired

17

new team members (last year, we'd lost 45 team members)

9

out of 10 customers recommend HUONE to a friend/colleague
Whatever the numbers say, to me HUONE is a rare diamond in the making. 20 months of pandemic beating, and we are still standing. I am a proud CEO, returning to work with fierce values and a work ethic powered by the strength and gratitude of a survivor. Hey 2022, bring it on.
I see us all as survivors. We´ve made it through some tough years together. We are all still impacted by government safety regulations and the fear of rising health concerns. Living in reactive mode takes a toll in the long run. We have all lost something, but we are in this together as a society, as human beings, as a team. None of us are alone. There is always hope, even if the vision of the future is still a bit uncertain. I can see the light at the end of the tunnel, and I hope you can too. That said, please Santa, get me a crystal ball for Christmas!
My message continues to be: HUONE is not giving up. I am not giving up. 
If you are wondering how you could help, you could start by planning the next year! We cannot wait to host your company event, as we are responsible for upholding the strict safety measures providing a safe place for you to meet. You can book your kick-off, training, workshop, or team day with us. Let's walk together towards the end of this tunnel!
With your safety and our beloved HUONE in mind, on behalf of the entire team in HUONE, I wish you a relaxing Christmas and a Happy New Year 2022!
With love,
Evon Blomstedt
Founder and Group CEO of HUONE
Check availability easily online 24/7