Is the future of business events really hybrid? or virtual? Many studies suggest that hybrid will become the new normal for business events. A significant drop in business travel is also likely to last, which will play a part. On the contrary, there are also many who believe the face-to-face meetings will be back, and hybrid & virtual meetings will play only a marginal role in the big picture. Here are 3 reasons for the latter. 
Future of Work is Hybrid
Whether we like it or not, remote working is here to stay. More and more global corporates, such as Deloitte and Google, are downsizing their offices and playing with the idea of a more 'permanent' work-from-home model. According to the BCG study, almost all remote employees recognise at least one benefit of remote working. However, with apparent side effects such as lack of motivation, team spirit, and risk to productivity, many findings such as the BBC Worklife suggest the future of work will be 'hybrid.' Which means, companies are trying hard to optimise the working model (which will most likely to include both remote work and in-office work), instead of just waiting for the pandemic to disappear 100%. So does it mean the future of business meetings and events is also hybrid?
Future of Business Meetings is NOT Hybrid
The 'future of business meeting' is the topic of today. Many say face-to-face meetings will be back, and that it is already happening. In this article, we take HUONE Singapore's as an example, as the country has been managing the Covid-19 situation stably since the autumn of 2020. We present a few concrete examples from Singapore, with the help of Ian Wu, CEO of HUONE Singapore.
Quick update on Singapore's Covid-19 situation:
Singapore was hit by Covid-19 first, as early as January 2020. Like many other countries, it has gone through travel restrictions, safe-distancing measures, gathering bans, venues and restaurant closure since the beginning. As the image below shows, the effort for containment of the spread of the virus, started to pay off. Singapore has been praised for its amazing work of minimizing Covid-19.  

Reason 1. Hybrid Meeting comes with challenges
Hybrid meetings could be more complicated than many think. In September 2020, the Singapore government lifted the ban on trainings and smaller corporate events. Since then, HUONE Singapore has hosted numerous hybrid events and here are some of the challenges they have learned:
"For about 5 months, a hybrid meeting was a default. Almost every group wanted a conference camera and a speaker, which we were offering at that time for free. However, there were repeating challenges we could notice with these hybrid meetings"– Ian Wu, CEO of HUONE Singapore.
The lack of Engagement
The most common challenge is to keep everyone engaged during your event. Many groups start to lose their online participants slowly. For example, there was a corporate event with 50 on-site participants and around 300 participants joining remotely. One of the very clear signs of this challenge is when you see the dropping number of black squares on the screen. This means the event is not so engaging for the online attendees.
Group size limit
The first challenge brings you to this second challenge: the group size. Having your audience engaged is the key to a successful meeting, and it doesn't happen easily with a very big crowd. The only time one sees a hybrid meeting working well is when the group size is not bigger than 20 total, and there is an experienced facilitator making sure that everybody feels involved. You can hear the facilitator trying really hard using the online participant's name 'Hi Don, so what do you think about  Eric's point?'  Obviously, it won't be very easy to do the same with 50 online guests.
Space limit
High-quality audio and visual is one of the most important elements in a hybrid event according to the recent survey conducted by HUONE Helsinki. 'For a high-quality hybrid event, you need a completely soundproof room with stage lights. Which means you need a professional studio' Ian shares. The challenge is that production studios (imagine a TV newsroom) are extremely costly, and they are not made for two-way communication.
Reason 2. The future of business events is about (higher) quality meeting experience
During the year 2020, many learned that we do not need to use a whole day to fly and to have 1-hour business meeting. Everyone had to learn and get used to having remote meetings; Some actually found out there are benefits of having a virtual meeting and it works for a certain type of business events such as saving travelling time. However, many are also tired of this 'virtual world' and learned that for some type of business events, it is just not the same.
Organiser and participants both expect higher quality and efficiency
So, we may not need to meet face-to-face for every single meeting; Future business meetings will be more focused and will have clearer goals. One has to remember that now that there will be always an option for 'opting to attend remotely.' Each business meeting and events need to have a clearer purpose, and a role for everyone so the participants feel it's worthwhile to attend. One shouldn't be afraid of taking advantage of the hybrid option either. For instance, internal training about a new software feature might work just as well online. What about the onboarding event for new recruits? what about a B2B networking event?
Reason 3. We are human beings
We, as human beings, have a strong desire to be part of a group. It's called a "campfire DNA." Businesses, collaborations, and innovations do not happen without people. And business meetings and events play a crucial part in this. 
I started taking the reception duty (at HUONE Singapore) during Covid-19, which meant that I'm the first person to greet our customers…It's truely amazing to see the customers' faces when they walk in; Everyone's face light up at the sight of their colleagues (many for the first time in a while in-person)– Ian Wu, CEO of HUONE Singapore.
Ian also shares that many global companies in Singapore started introducing a 100% work-from-home model like many others. But some of these companies became royal customers of HUONE Singapore, because they had realised that some things just need to happen face-to-face.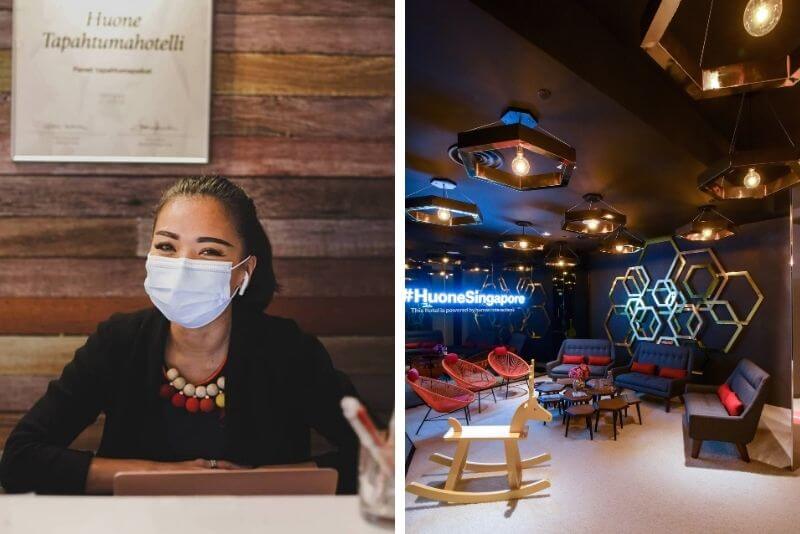 We asked Ian for his advice for a hybrid meeting(for the brave ones)!
"The hybrid meeting will be around for a while at least as a part of bigger events in the future. However, for the best return on the investment, there is no doubt that it needs to be planned well. Think about getting the basics right such as etiquette for meetings. Please do not have a weekly Monday team meeting with 30 people as a hybrid. "