You spoke, we listened...and we act! Save your spot to test HUONE Hybrid Meeting Studio in June for FREE! HUONE is creating its own hybrid meeting studio, based on the recent survey result, and our first-hand experience hosting and attending various 'hybrid' events past year.
It's been a full year since the start of this pandemic. For many, adjusting to 'new normal' working life has been a rough journey with many trials and errors. HUONE Helsinki implemented very extensive safety measures from very early on, June 2020, which was the time when the seriousness of the pandemic was not shared with the most public yet. We adjusted the capacity of our meeting rooms, started offering single-portion meals instead of a buffet, changed the service process, and started offering virtual meeting solutions. There was too much uncertainty. All we could do was to be agile, pivot and communicate; We tried to stay focused on HUONE's mission: to help our customers to have better meetings.
1 out of 5 of our clients has used HUONE's hybrid meeting packages since August 2020. We know that the figure is probably higher with many using just their own laptop or small conference speaker. We witnessed the challenges many companies go through with virtual meetings, listen to their frustrations, concerns for the upcoming months and a year. We decided to do something about it: create the easiest, most interactive, and functioning hybrid meeting studio. 
Jump to
HUONE Hybrid Meeting Studio
What's the difference compared to all the others out there?
We are creating a hybrid meeting studio, not a virtual meeting streaming place (of course it is possible).
HUONE is a pioneer in implementing meeting design elements to create an excellent meeting experience. The same applies for remote participants.
Priority No. 1 is the high engagement. Designed to enable communication between on-site and remote participants.
No frills. No need for extensive preparations beforehand, we ensure a high-quality event with less work
Multiple cameras and live sound mixing
Technical support on-site
Maximum capacity with 2m safety distancing 12pax, 1m safety distancing 30pax on spot and hundreds remote.
Survey Result: What people want from a hybrid meeting studio
HUONE Helsinki recently conducted a survey to find out the following. 
How are we working in 2021 autumn?
How future meetings and events in organisations look like? Are there differences in what we organise? 
What do people value the most in their future business meetings and events?  
Here are 5 things we learned from our survey. 
1. Most expect to take Hybrid Working Model: some office days + some home days. 
Over 80% responded that they will most likely work both at the office and at home—Hybrid model. No one expects to go back to the office 100% (at least in the autumn of 2021) even if the restrictions allow. Although many more are returning to the workplace as we are starting to see the silver lining with Covid-19 situation, most likely, a hybrid model of remote work will continue.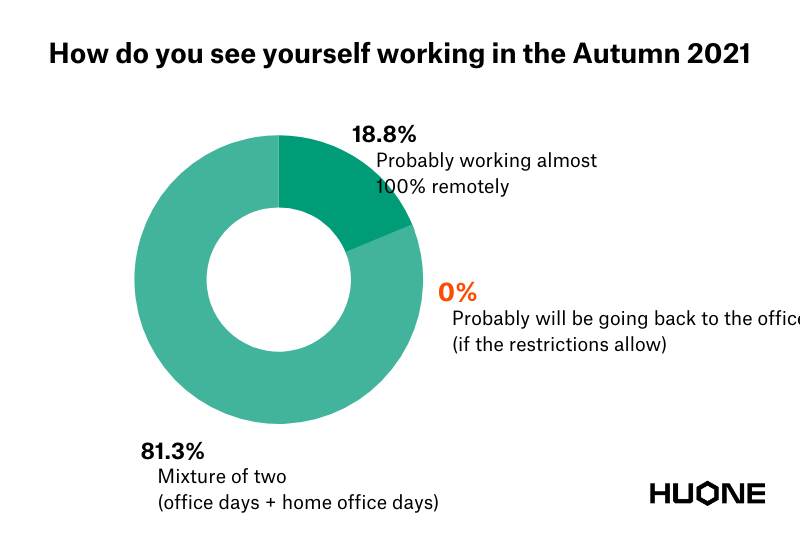 2. Host meetings and events will continue but in a hybrid format. 
HUONE Helsinki's meeting rooms cater for most business meetings and events. Common meeting and event types include regular team meetings, management meetings, trainings, workshops, seminars and so on. According to our survey, most of them will continue, but in a hybrid format.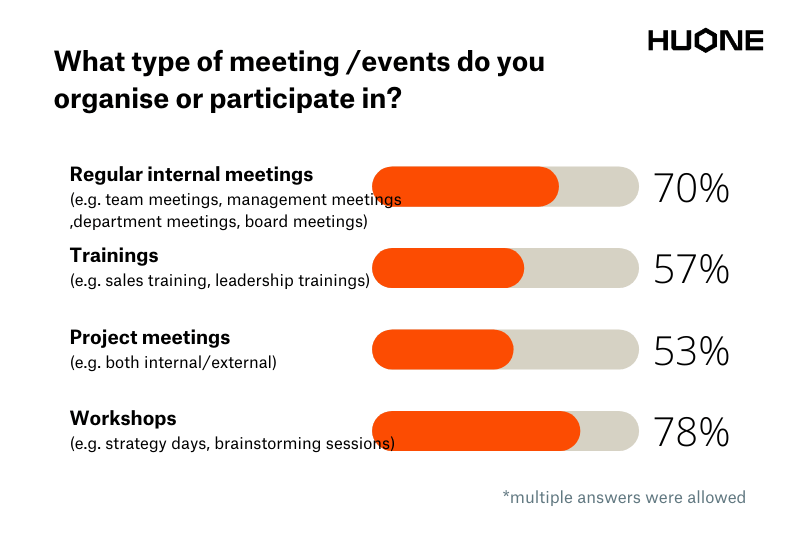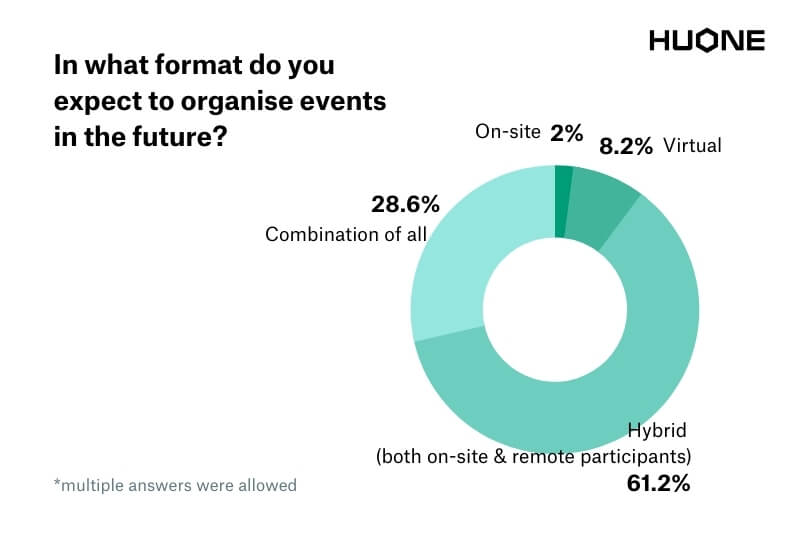 3. Hybrid meeting is no longer an option, it is a must. 
Think of it this way. Now, after a full year of Covid, EVERYONE knows how to attend an online event! This means, there will be always someone who will be joining your meeting, or event online. It might sound like bad news but, this also comes with many opportunities: how about inviting that speaker you've always wanted with less time & cost restraint, or recording your sessions for your future trainees!  

4. Engagement and High-quality visuals & audio are most important
Not much surprise here.  We dare to say that high engagement level and high-quality A&V are the key elements of a 'successful hybrid event.' and 'great meeting experience.' That's also what makes events and meetings fail. Who doesn't have an experience of leaving a webinar, online training, or a lecture just because it was not engaging (in other words, it was 'boring'  for you as a remote participant). How about somebody saying 'you are muted' or 'I can't hear you!'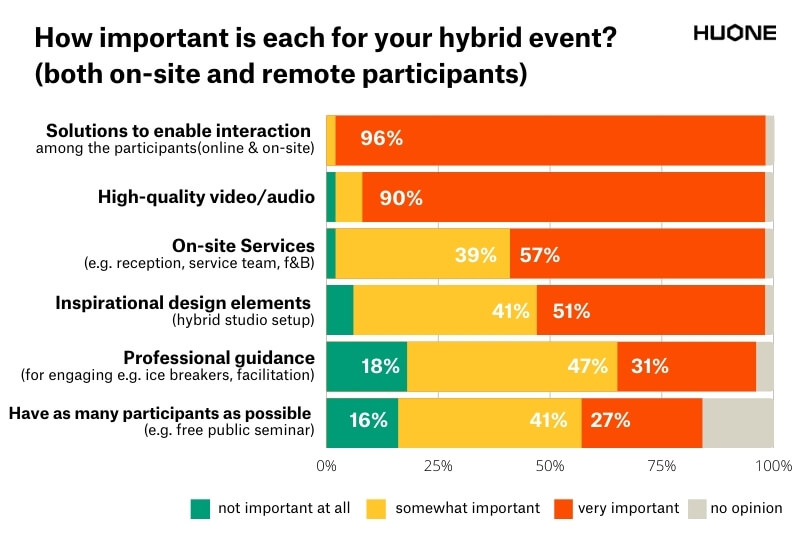 Sign me up for a free test round!
* For the lucky winners, we will organise a free test day in June, which can even be a real event you organise.