Today, we are living in a time of revolutionary change, a disruption. This is a time when new products and services are flooding into the market, when science, technology, and healthcare make advances at an increasingly fast pace – a time when globalisation is at its peak, when more information is generated and shared than ever. At a time like this, growth in meetings both domestically and internationally is inevitable.
Below I have put together a few trends that, in my view have emerged relating to work, meetings and events. Many can already be seen today. It is obvious that we need to review our current offering and address the upcoming needs of the meeting industry.
1. Downsizing of workplace 
Spaces are expensive. Corporates understand that this second biggest monthly fixed cost after salaries (for most) is affecting the financial results of their business. Many are reducing office space by sharing desks, promoting working remotely from homes as well as eliminating or downsizing the meeting spaces in-house. We are even seeing an increasing number of office-nomads. These solutions are switching rent from fixed cost to variable cost. Meetings are happening in spaces where it is bought on demand, resulting in an increase in demand for meeting venues.
In addition, it is worth noting that there is an increasing demand for co-working spaces as a solution to expensive office rent. Popular among start-ups, it is a different way of working as the work environment is vibrant, full of other start-ups across different industries. They collaborate and share expertise, connections and facilities among each other.
2. Live, work and play 
The style of working has evolved from formal towards business casual in modern societies. People are starting to understand that work is a big part of life. In many ways, work is a lifestyle. Working remotely from home has become increasingly common where the relaxed home setting is the normal work atmosphere. Evidently office settings are also moving towards the more colorful and relaxed. An excellent example of this trend is Google offices around the world. Companies are also putting more emphasis on people and their wellbeing at work. People's welfare, creativity and productivity have become the biggest assets of any company.
3. Meeting rooms are boring 
Today many spend most of their work time in meetings. Too often the meetings are being held in boring meeting rooms in-house or in hotel facilities. The trend of booking an unconventional venue e.g. cinema, restaurants, cafes, bars, outdoor parks etc. is rising to boost creative thinking and inspiring meetings. Yet the hustle of organising such 'pop-ups' is time consuming and costly.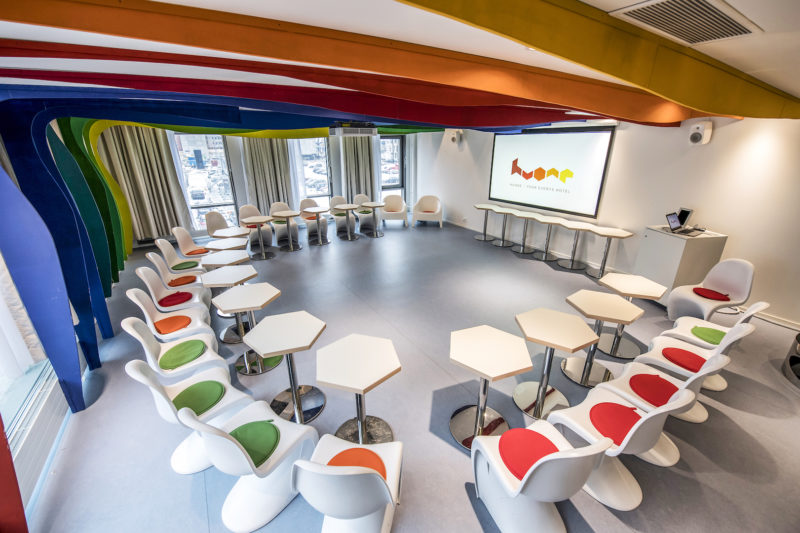 4. The impacts of technology advancements 
Technology has impacted the meeting industry in the last decade with tele-conferencing, Skype, mobile apps etc. It hasn't, however, decrease the need for business travel. On the contrary, it has highlighted the importance of the human touch: building trust by meeting face-to-face. The next big thing, Virtual Reality, will also have an impact on the MICE industry.
Big informative events like conferences where one speaker speaks to a mass audience will need to embrace change. Most of today's content is free and available online. Virtual reality presents an alternative for the participants to participate remotely anytime anywhere. This raises an increasing need to meet, network and collaborate in other smaller events where human interaction is the key agenda.
5. Events are downsizing and focusing 
Event organisers are shifting the focus from 'how many attended the event' to 'who attended the event'. The true value lies in the quality of attendees, not the quantity. The same goes for event content. Most are willing to spend more on the right-targeted attendees in smaller events where the attendees are better connected and receive the most relevant content. Attendees are running out of time. The key criteria for choosing which event to attend is therefore being in the right place, with the right people and getting the most relevant content.
// Evon