There are meeting trends that appeared during the pandemic and will stay. The year 2020 was definitely challenging for the event industry. The struggle is still real, but now that we have settled into the new year, it is important to look forward and plan for the better. What did really happen during the pandemic, and what do they mean for the business meeting and event industry? Here, we share 'case HUONE' and our learnings for business meetings of the future. 
**The data used in this article is from HUONE Helsinki. It's gathered over the 10months period, March-December 2020, and compared to the same period of the previous year.
Watch the short summary video here: 
1. Number of physical business meetings & events has dropped.  Big time.
This one is no surprise. In HUONE Helsinki, we hosted 536 meetings and events during the pandemic, which is only 25% of the previous year's number.  HUONE had to handle 1534 meetings/events cancellations since March 2020. Most of the cancellations were due to the Covid-19.
Some say, 'the rabbit's out of the hole' suggesting that the remote work actually works, and there's no need for physical meetings. However, the darker side of working remotely has also surfaced (such as zoom fatigue). Studies suggest that physical meetings and corporate events are an essential part of running a business, executing projects, and most importantly, building meaningful human-to-human relationships. 
2.

Smaller group size for regular business meetings and events

Group size for business meetings and events also became a lot smaller during the pandemic. The average group size for HUONE Helsinki became almost half; it went from 17 to 9pax. This was due to various reasons such as the government restrictions for gathering, company's internal guidelines, the rise of remote employees and etc.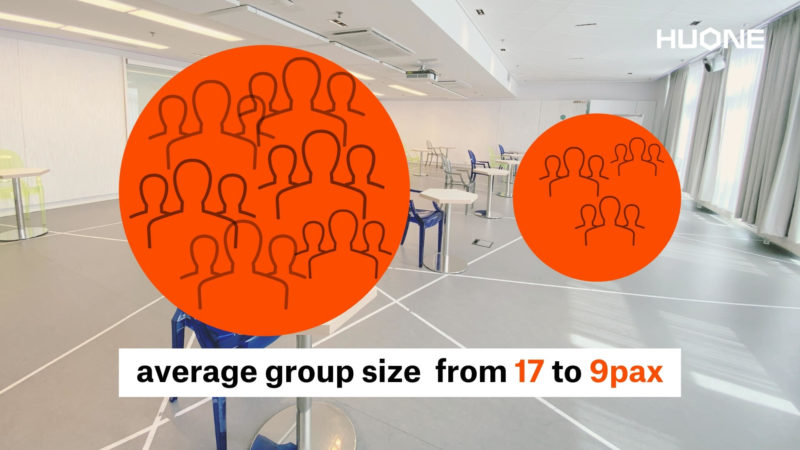 3. Events over 20pax
consist of only 10% of the total 
Of course, there were no gigantic events. However, the percentage of the events that were over 20 pax was significantly lower than what we had expected; only 1/10, compared to the same period last year. Despite the small number,  this meeting trend is not here to stay. We expect bigger events will return post -Covid, as corporate social events are a crucial part of building a company's culture and motivating employees.  
4. More 'internal' events and meetings 
The type of meetings and events companies organise was also clearly affected. Most meetings were internal events such as team meetings, trainings, management workshops, board meetings and etc. Corporate events such as company anniversary parties, dinners and after-works had to be postponed or cancelled due to the pandemic. In 2020, almost no seasonal gatherings such as summer parties, Christmas parties happened. 
Taking bigger advantage of the physical meetings will be a trend to stay because more studies suggest that physical attendance is especially beneficial for events such as collaboration work. Other examples can include company orientations (especially onboarding) team-building day, as well as seasonal/project kick-offs.
5. Demand for hybrid/virtual solution: a business meeting trend to stay 
Meetings and events at HUONE with hybrid or virtual solutions consist of 17% of the total. The figure here only includes those with HUONE Helsinki's hybrid meeting packages, which was introduced in September 2020. (Using the basic A/V system in a HUONE's meeting room with one's own video conferencing tools such as zoom and google meet is not included). We can only assume the actual number would be much higher if we count all the meetings/events with the remote participant(s), which is the definition of a hybrid meeting. 
6. New customers: more SMEs (Small and Medium Enterprise) need a safe meeting space
Companies that have been visiting HUONE during the pandemic are more from SMEs rather than big corporations. This is largely due to the clear need for a safer and bigger space with adequate meeting A/V. The demand is expected to grow with more companies downsizing their office spaces.    
We have also learned that bigger corporates tend to have stricter guidelines regarding physical meetings and events, which was the case in Finland too with HUONE's key customers (most are among the top 100 companies in Finland.  
7. Major pillars for creating a better meeting experience have not changed
Meeting trends can change, and evolve, however, the main elements of a 'better meeting' stays the same. HUONE's organiser survey result shows the same (between March and December 2020). The major pillars for creating a better meeting experience have not changed; Companies still want a functional, but inspiring space with a high level of customer service. 
HUONE's purposeful & inspiring meeting space, exceptional service standard, as well as delicious & nutritious meals have been most praised.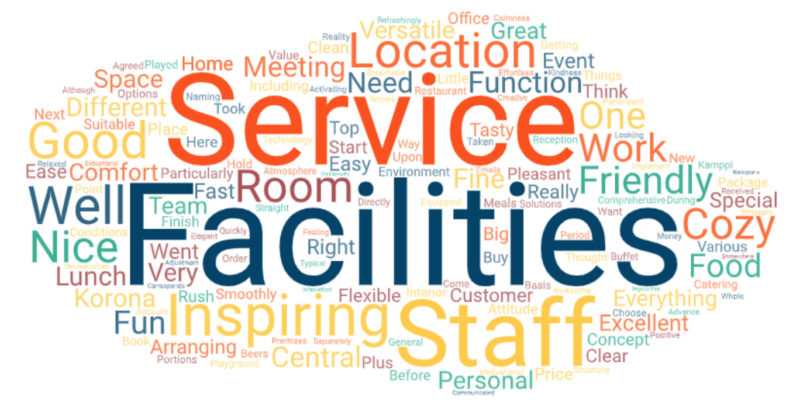 8. S
afety & flexibility: n
ew meeting trends come with new customer value
HUONE has been focusing on offering #safermeetings since the beginning of the pandemic. HUONE's meeting experience has been different but the service level was kept high, keeping its NPS score at a stunning 76 despite the difficult pandemic time. It is an exceptional number compared to the industry standard 29.  HUONE's extensive safety measures have stood out to many from the early phase of the pandemic. 
Based on the organiser survey, during the pandemic, companies started seeing more value in having a reliable, safer space. This is the business meeting trend we can predict to stay at a certain level. More focus on risk management, safety measures, and higher hygiene standards from customers are expected. Also, with so much uncertainty ahead, the flexibility and easiness of organising were the other attractive factors (e.g. with an online reservation system). 
Learn more about Hybrid Meeting