Let's organise a kick-ass company Christmas party 2021. It's been a while! Most companies have adopted hybrid working policies during this year, and this flexible working is being embraced as a future of work. A special company event such as a Christmas party is a rare opportunity for a team to meet face-to-face, rekindle the sense of belonging and bond in a casual setting. Here is a HUONE's guide to help you organise your company pre-Christmas party for 2021.
---
Basics
for planning company
Christmas party 2021
If you are not sure where to start, start with these: 
1. Listen to people before start planning 
Do gather wishes from people in advance. This is the most important factor when planning a company Christmas party but often neglected. Also, reviewing the feedback on previous Christmas parties(nice job if you have done it after the previous Christmas parties!)  might give you some ideas. The biggest mistake you can make is just doing what one person wants (usually the boss)  
2. Make time to Thank People 
You might be focused on finding the best, most exciting programs, but don't forget to include some time to thank your people. Speeches might sound boring, but it is always there for a reason. Especially when it can happen in person,  it will make a difference.  It is also a great opportunity to celebrate employees who have gone above and beyond during challenging times. For instance, the award ceremony can be easily incorporated during the company Christmas party. 
3. Act fast(er) 
Most companies start making a set plan for the Christmas party after summer, but it's not a secrete the hunt usually starts already in the spring/early summer. This year, 2021, the search for the perfect company Christmas party package and venue will be quite competitive as many have been waiting for it. Let's not also forget that there have been a lot of postponements from the previous year because of the meeting restrictions.  
---
Best Venues for Christmas Party 2021
One of the most common mistakes when it comes to organising a company Christmas party is to hold it in the office. Then where should you have it? Keep in mind the following 🙂 
1. Plenty of Space 
You wouldn't mind being a little bit cramped during the party usually; Often it's part of the evening and it is better than having too much space(awkward…). However, this year, avoid cramping too many people in a small place or sharing a venue with too many other partygoers. Choose a venue that can provide you with a private, dedicated spacious area. 
2. Unique Venues
Space influence our behaviour greatly. You do not want to go for a dull, boring space after almost 18 months of virtual events. Choose instead, a unique and different space to set the mood right from the start for your group. HUONE is an award-winning creative business meeting & event venue perfect for small to mid-size business events.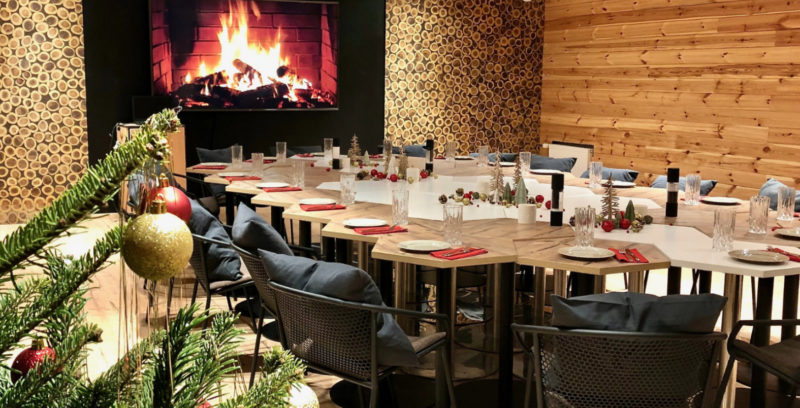 (Christmas party set up in a Lakeview room, HUONE Copenhagen)
3. In-house Kitchen  
Where does food come from for your party? Is the kitchen in the same space or is it coming from somewhere else through a catering service? The fewer people involved in the process, the better. And of course, there's always a last-minute request or dietary requirements left unnoticed, which need to be catered. It would be much easier to do so if the food and beverage is part of the venue where you can make those requests on-spot, without compromising the quality. 
4. Fewer Middlemen, the better 
Is there an available program provided by the venue? Or Do they have partners they work with regularly? Does the venue staff help with planning? You don't have to juggle alone! It is possible to have everything organised with only one or very few contact person(s). This also means a smaller risk for miscommunications and last minute panics.
5. Double-Check Change and Cancellation Policy 
There has been so much uncertainty over the past year. Before committing a big sum, it is better to be certain about plan B.   
---
Program Ideas Christmas Party 2021
For this year's company Christmas party, pay extra attention to entertainment and program ideas. We recommend having more organised social programs and entertainments that encourage interactions, rather than just an open bar, and late-night dancing.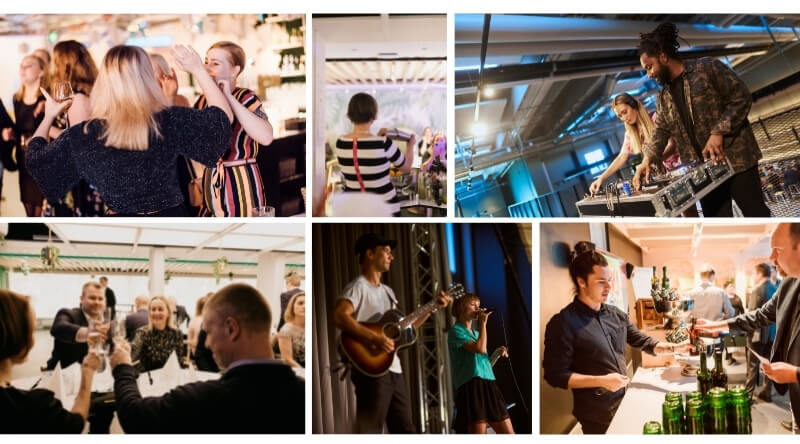 Don't be afraid to mix up the day & evening, Business & fun
Rather than a full-on party format, consider combining the day program with some evening ones. It is probably the first time in almost 2 years your whole company will get together IN-PERSON. So some internal day agenda with light talks and programs(e.g. awards), and make a smooth transition to the evening program.  
Mixology competition
Cocktail school is fun but you can up the game by preparing 2-3 stations and divide the group into teams for them to get creative! Teams will have their own mixing station, create something special, and present their new creations to the Head Mixologist(or the boss). You can be judged by the story behind the drink, presentation, and taste!
Whiskey/beer tasting
Calling all the beer and whiskey lovers! Make up for the lost time! This is a great program, which can be done after a meal or accompanied by little snacks. The host will lead you through the specially curated selection of whiskies or beers. While enjoying them with your nose and palette, you will also have some fun and learning about each whisky or beer along the way. Don't forget the non-alcoholic options. 
Bring the magic back
Looking for a unique performance for a party? A magician is not just for kids! It is a great unique option for a company Christmas party. Challenge and surprise your skeptical colleagues! It is an excellent option if you also want a lot of interactions between the performer and the audience. You might be surprised how much laughter, suspense and wonder magic brings to a room!
Christmas murder mystery
Does your team love to solve problems (good problems)? Then this is the perfect activity for your group! Everyone will get their own character and start solving a murder! All characters will have their own storylines and aspirations, fun is guaranteed and you cannot avoid some back-stabling, conspiracy and rumours.
Live music
Everybody misses the feeling of the beats! For Christmas parties, usually good live bands are most wanted. If you couldn't find a suitable one or the budget doesn't cut it, then make sure to take care of the 'MUSIC' part in some other ways. You can even create your group's own playlist and request the venue to play them! 
Dance Lesson 
Instead of a dance floor with music, how about a warm-up with an hour of easy-going dance class (e.g. Salsa basic steps)? Fun guaranteed! It is an active and fun activity that is great for everyone's self-esteem and a massive mood booster! 
Theme party
Is it going to be Gatsby's Roaring 1920s? Or classic ugly Christmas shirts?  Or Afterski theme? It really doesn't matter what it is because the Christmas spirit will automatically make the mood! But be creative, ask around! And share with us what your company came up with this year! 🙂 
Team building games 
If you are thinking about games to play during the party, consider if the activity brings opportunities for people to communicate, to get to know others (also those from another department), and to collaborate! It is a company party and a rare chance that everyone will be in one place. So, instead of letting people group themselves into corners, let's encourage them to interact with each other! If you need some ideas, ask our team at HUONE! 🙂
---
Christmas Party Menu
Food & Beverage service style for Christmas Party 2021
Having a big buffet and an open bar might be something we are used to as a staple food & beverage service style for groups. Make sure you check with the venue beforehand, how the queue is handled, if there can be multiple buffet lines, if individual portion serving is possible, etc. No one wants to wait in a queue for 15mins.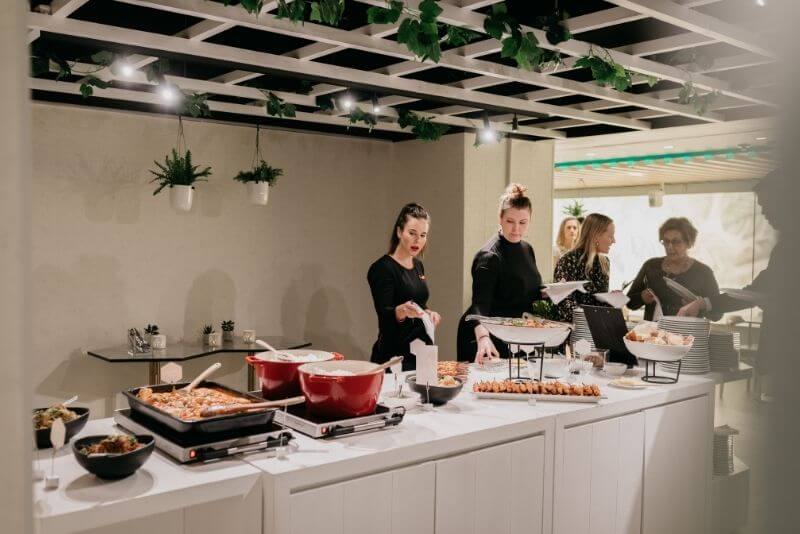 Timing & Amount of Food
Think about the timing of the food based on the overall schedule. Plan the serving time well so no one goes hungry (or hangry?). For instance, if the expected arrival time for the guests is at 4 pm and the dinner is served at 6.30? It might be a good idea to prepare some finger food to go with drinks before the main. 
Christmas Lunch 
With increasing awareness of the work/life balance of working from home, we see a rise in daytime social events. How about a casual Pre-Christmas company gathering over a long lunch? Schedule your Christmas party for lunchtime, say 12 – 4 pm. Lunchtime events have a lighter feeling than evenings and your staff can decide whether they go elsewhere, or go home, after that.
A twist to a Traditional Christmas table
Why not try something new? We all love the traditional Christmas food because it's a big part of what makes Christmas gathering 'Christmasy!' However, it does not mean there isn't room for some twists and surprises to keep the occasion up-to-date. Also, people don't want to have the same Christmas dinner 5 times. 
---
Budget for Christmas Party 2021
An on-budget
Christmas Party is possible! 
Not all Christmas should be full-on and fancy There are ways to organise great company Christmas parties on smaller budgets. If you need to prioritise, focus on food and drinks. You can save by being smart on logistics, such as choosing a venue at a central location, so no need to worry about transportation. Also, rather than hiring a performance or entertainment for music, use free streaming services such as youtube. The same goes for a program, instead of paying extra for an external service, you could organise one internally; Secret Santa/gift exchange is an easy and fun option (you give a budget for a small gift for everyone to bring to the party). 
+ Tip
In general, part of the cost for organising Christmas parties should be tax-deductible; for example, renting a space, food and beverages, and a program fee could apply. So do check the local legislation. Often there are conditions such as the programs being directed for only employees (not spouses) and the cost is reasonable.