HUONE Copenhagen, the most creative event and meeting venue in Copenhagen, has now joined the Green Key network of certified establishments. HUONE Copenhagen is part of HUONE group, which operates in 3 different countries, Helsinki, Singapore, and Denmark. 
Copenhagen, Denmark (August 16th, 2022)
HUONE offers creative spaces for business meetings and events and caters to business guests from all over the world. Originally from Finland, the group has a strong focus on people, culture, and the environment the venue is part of, hence in recent years, it has taken even more significant steps towards hosting sustainable events.
Opened its doors in the autumn of 2019, HUONE Copenhagen transformed the old SAS airplane hangar into 20 fantastic full-service meeting and event rooms–aims to become the "Business Hub of Copenhagen." It's designed to provide a space and full service needed for collaboration and innovation.
(Image: Lakeview room in HUONE Copenhagen)
HUONE Copenhagen, the first HUONE unit to receive Green Key certification
HUONE Copenhagen is the first out of the four HUONE units to become the Green Key certified conference facility. On the importance of receiving the Green Key certificate, Louise Adolph, the CEO of HUONE Copenhagen has said: 
As a new player in Copenhagen business meeting and event sector, we strive for excellence in everything we do. It has always been our priority to do the best we can in order to promote sustainability in the event industry. – Louise Adolph, the CEO of HUONE Copenhagen
Louise also shares "I am truly proud of our first Green Key certification, especially after a long delay with the pandemic. Following the Green Key criteria has allowed us to review our operational procedures and encouraged us to communicate the topic more in-depth with the whole team. We were also able to come up with many initiatives to integrate our guests and customers for raising awareness on the importance of integrating environmental and social factors into operations."
Evon Blomstedt, the founder of HUONE, also shared the excitement of the news:  
"HUONE Copenhagen is our newest and proudest HUONE unit. It is the essence of our experience of hosting almost 20k meetings, rightly so, for the No.1 meeting city in the Nordics. – Evon Blomstedt, the founder of HUONE Group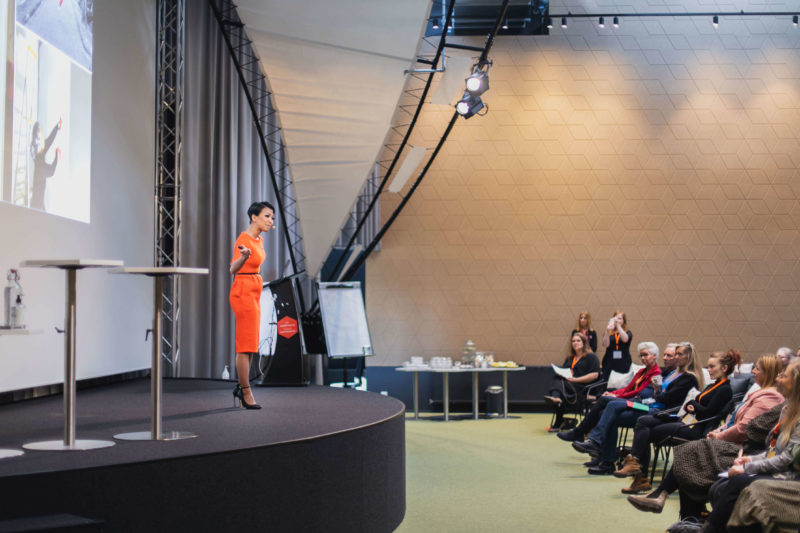 (Image: Evon Blomstedt, speaking at HUONE Copenhagen HUONE & Friends event)
"…Although we are still a small player compared to big hotels, we have been striving to do our part for a more sustainable meeting industry such as excluding beef from daily menus and paying extra attention to our communication. I'm very excited to see HUONE Copenhagen officially join Green Key certified conference facilities and be part of the city's effort of becoming the front runner in hosting green meetings, conferences, and events"
HUONE Copenhagen's efforts toward more sustainable events
HUONE Copenhagen's effort towards more sustainable events focuses on the environmental impact of the services it provides as well as the social and economic commitment to the local community. 
As for the environmental commitment, HUONE Copenhagen is located in a facility that aims to be one of Copenhagen's most sustainable buildings with solar panels, waste sorting/recycling, and district heating and cooling. Water and energy consumption are monthly monitored to control and create an action plan for future improvement. Waste management effort is in place for recycling, communication with guests, no single-use tableware and more. Moreover, the venue has focused on the actions to reduce carbon footprint with procurement/menu design, for instance, 'No Beef Policy.'  
Finally, as for the social and economic commitment, HUONE's creative DNA is founded on a strong belief in the individual's strengths and personality. The company has a strong emphasis on diversity and inclusion as well as paying attention to the well-being of employees and creating a safe work atmosphere for the team. Read more about sustainable events at HUONE Copenhagen.