I first heard about the coronavirus from Singapore in early January 2020. I thought it was another SARS-like incident that will affect our sales heavily in Singapore only. We adjusted the Singapore sales forecast with my team to brace for impact. Little did I know, we were about to face a global pandemic. 
No start-ups could have been prepared for this
Back in January 2020, my management team and I were in the middle of in preparing for a funding round, which was going to allow us to further expand the HUONE group, following our high-growth path. It was an exciting time. When Singapore sounded the alarm on Coronavirus, we were reacting immediately to brace for losses in Singapore.  In Finland, I warned our investors in our Annual General Meeting, that this 'Coronavirus' could be a big risk for us. Two months later in March, the news about Italy's coronavirus outbreak was out, and the rest is history.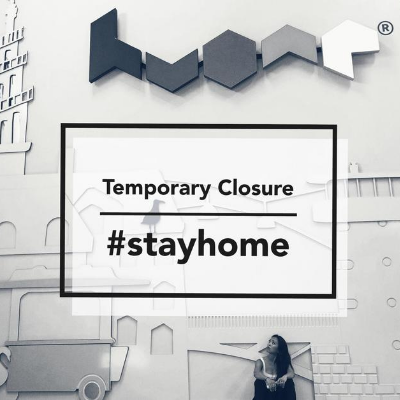 All of our 4 units were getting the full impact; cancellations started pouring in, in the middle of our highest sales season. From mid-March to June, our revenue was almost zero, instead of our forecasted 2,5M€ turnover. Suddenly, the nice 'hockey stick' growth we were supposed to show from last year's 4M€ Group revenue to this year's 50% growth of 6M€ revenue vanished. Instead of showing off our success, we were piling up losses.
My 'To-do-list' changed drastically too: lay-offs, furlough, landlord negotiations, lawyers, cancellation policies, investor communication, cash crunches. All of these, while 65 employees in 3 different countries facing different stages of the pandemic. We were in a crisis, not something I had imagined writing the 2020 new year's blog. 
Every crisis has a silver lining 
Over a screen, I was announcing the company-wide layoff to our Finnish team of 30 people with two lines of tears on my face. I was scared. I had no clear answers. I wasn't sure if HUONE could survive this. 
This crisis brought a sense of unity, a sense of togetherness as well as agility.
In the months leading up to today, I witnessed numerous acts of kindness, understanding and fighter spirits from my team, board, investors, suppliers and more. I applaud my CEOs abroad, who stepped up and led the local HUONE without much support from the mother company. Without being there ourselves, the understanding of the local sentiment is very vague, we can only rely on news reports and phone briefing. These CEOs managed the crisis with their local restrictions, negotiated with local partners, comforting and leading the local team to come together in this challenging time. This is a true test of leadership. To lead the team under uncertainty, to overcome a crisis, to fight for company survival. 
Today, despite the unstable job security and industry outlook, we managed to keep most of our jobs and a team of fighters. We carefully opened all HUONE locations in our countries with a set of strict 'Safer Meetings' procedures. We benchmarked the best preventive practices from all the 3 countries. Everyone in HUONE is ready to roll up their sleeves and no one is complaining. With the extent of our safety measurements, we can do what we are best at: helping our customers to meet.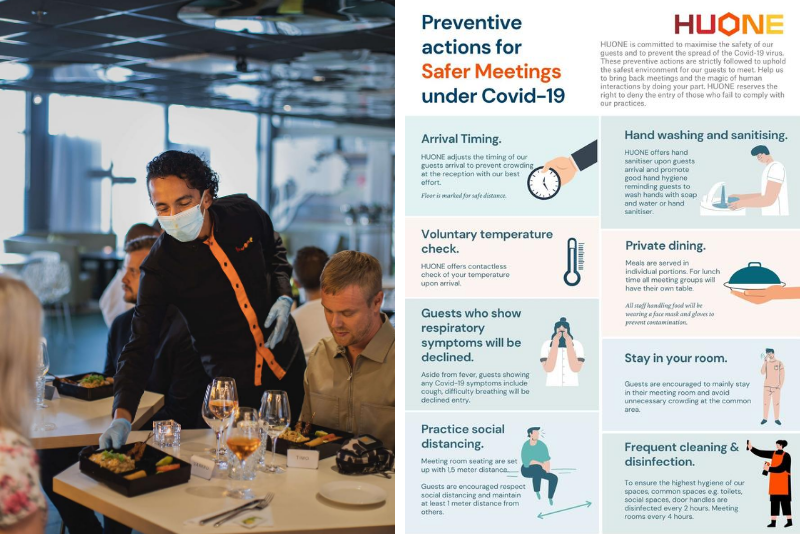 So, what does one needs leading through uncertainty? 
Nobody is in this fight alone. I learned over the years, in times of hardship, the strength within many reveals. People don't need leaders to give all the answers, but they need a clear direction. 
Honesty is crucial, both with your team and your customers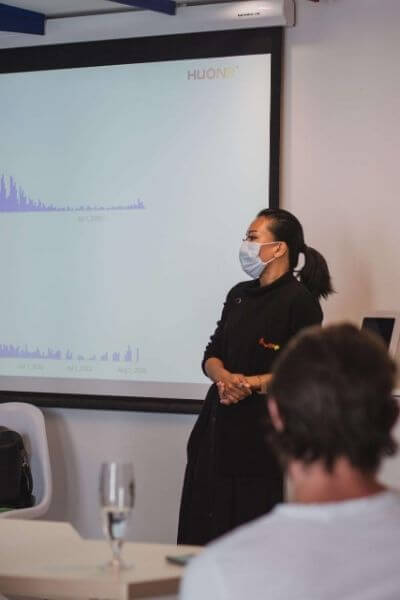 I trust my team 100%.  Even when I am vulnerable and I don't have all the answers, I am honest and transparent with them. The honesty extends to our customers as well, admitting that we are short of hands, and the unique HUONE meeting experience is adjusted to accommodate 'safety first.' This pandemic is not over yet and we should not act like it is. One needs to adapt to the situation as they come in the most agile and flexible way. 
Don't get me wrong, HUONE is not doing well at all. We are struggling very much at this very moment.
The message here is, we are not giving up. We are doing our best to fight the virus spread AND to stay afloat as a company. So, by all means, do consider booking HUONE as a safer place to meet. We can use some support from all of you most definitely.
I hope by sharing this, you know that you are not alone. We are all in this together. Together, we can overcome this.
Last but not least, stay safe and healthy! 
With love,
Evon Blomstedt
Founder and CEO of HUONE
Read more about our safety measures and book your next meeting at HUONE!