"HUONE is a safe place to have meetings. They are professionals."  This is what we aim for. Now, more than ever, as a pioneer in the meeting industry, we understand that we have to step up our game and provide safe solutions for our customers. During this unusual time, we need a little bit more space than before, which is what HUONE can offer. We have a safe space for you, your team, and your company.
Both Units are Open for Safer Meeting
Both HUONE Kamppi and Jätkäsaari are now open. We have done several measures to ensure safe meeting in our locations.
Guests are encouraged to adjust arrival timing to avoid crowding
Disinfectant available throughout the venue
Voluntary temperature check at the entrance
Individually portioned meals (breakfast, lunch, dessert etc.)
Rooms are arranged with the safety distance
Disinfecting regularly throughout the venue
Guests can purchase masks at the reception
Guests showing any respiratory symptoms cannot enter the venue
Our employees have been trained to work during a pandemic
NOTE: To ensure everyone's safety, HUONE has adjusted room capacities and the minimum rentals until further notice. 
Our Terrace is Open for Your Meeting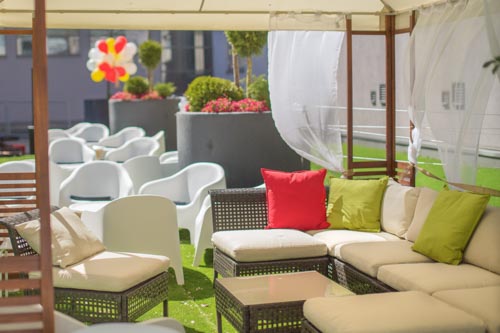 HUONE Jätkäsaari has a spacious terrace. You can have your meeting outside and enjoy the sunny summer day at the same time!
During this pandemic, many are looking for an alternative space away from a small office to have your team together. HUONE's terrace fits originally up 300 to people, however, the capacity is now limited for your safety. We always book a room inside for you, in case it rains.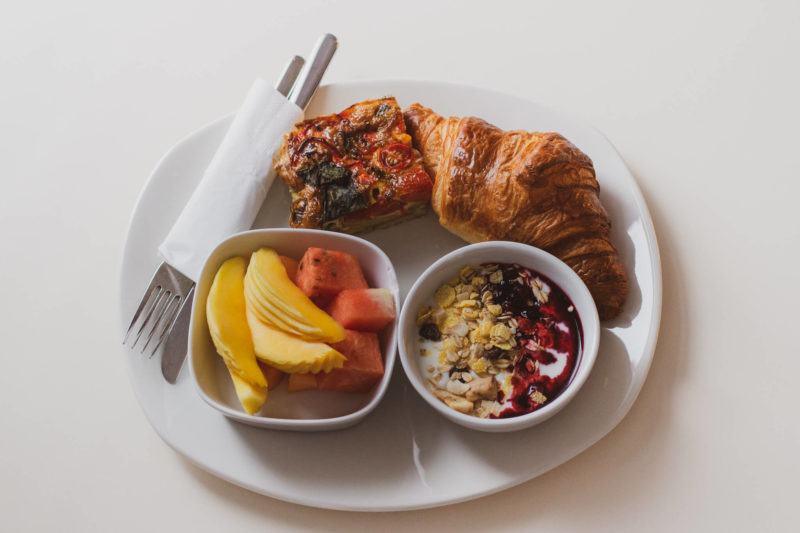 You can now have an option to choose individually portioned meals. (Image: breakfast plate)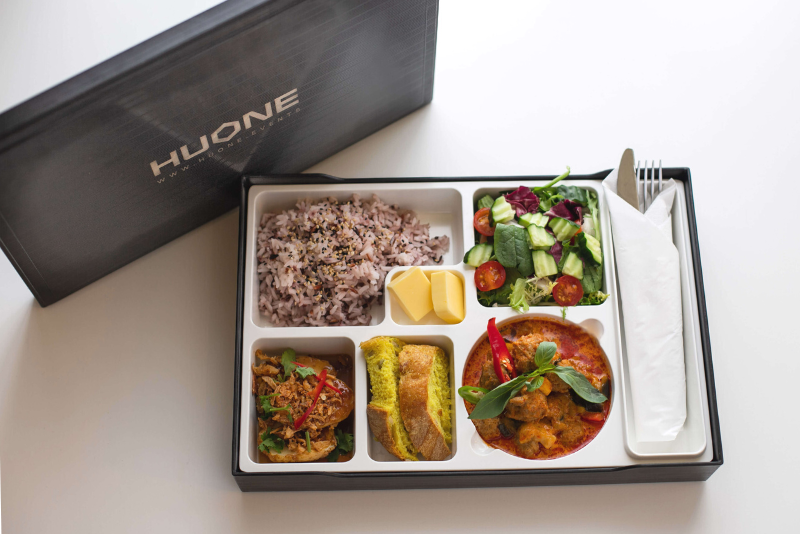 (Image: lunch bento box, HUONE Jätkäsaari)
"Our management team met in HUONE at the beginning of June. We first met "live" since March and while it was wonderful to see everyone, at the same time there was a bit of nervousness about the arrangements during this Corona period. That's why it was awesome how well everything was organized: safety intervals were taken into account, temperature was measured at the door, hand sanitizers were reminded, etc. It was a sunny day, so we also got to enjoy the HUONE's charming terrace where we had lunch. Overall the day was very successful, and we enjoyed our day at HUONE. We also got to achieve a lot after a long telecommuting period! Thank you Evon and HUONE, you rock! "
– June, 2020_ Terhi Lindgren / Attendo