It's time for New Year's resolutions, but also for the reflection. I have always loved doing the new year's reflection, as it gives me a chance to go down memory lane, and pat myself on the back for the things I have done (or tried my best to do), and also to remind myself what I could do better. So, here it comes.
I would say 2019 was another big learning year for HUONE. Sometimes I wonder if it will ever stop being a 'learning year,' but then it is a sign that we are learning and growing. Opening a new HUONE unit in the new market, Copenhagen, Denmark, experiencing a burnout for the first time as an entrepreneur, managing a much bigger team in three different countries, I feel a lot has happened in lightning speed last year. 
7th year for HUONE. 
Many people have asked me how I feel about HUONE turning 7 years old, if I had a 7-year itch (it is a term to describe an itching feeling in long-term relationships usually in marriages). Do I feel different from other years? yes and no. This year, I finally came to terms with the idea that HUONE is no-longer a startup. 
Having said that, we won't stop innovating in meeting design and will keep customers' meeting experience at the core of our continuous growth into the next 7 years and more!
Lessons from the Opening of HUONE Copenhagen, Denmark
It was just last summer when we had the HUONE Copenhagen opening. The newest HUONE where all we've learned about meetings and designs are gathered and launched in one place. It was definitely a big leap for HUONE and exciting thing for all of us, but of course, sweet things don't come without a price.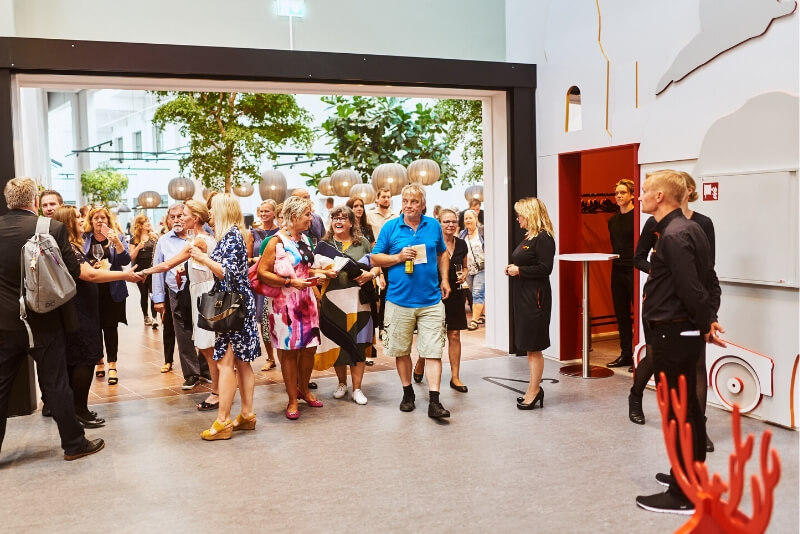 (Image from HUONE Copenhagen Grand Opening)
To sum it up, it was much more than adding one more currency, Danish Krone(DKK); Entering a new market for a company or a product requires having many different scenarios ready, a Plan B is not enough. You need to be prepared for all kinds of unforeseen scenarios, not only in the business context but also mentally. 
Here are some of the unexpected lessons 
Finland is part of the Nordics, but the local nuances are strong!
Finland and Denmark shared many things. For example, both are happiest countries in the world, both are high-ranked in the Social Progress Index. However, there are many different behaviours, nuances and cultural differences between them. For instance, Danes are much more social and outspoken than Finns. 
Good vs Great Design?
Finland is known for its design and it is in the heart of the nation's identity. Finnish brands such as Marimekko, Alvar Aalto were always something I was very proud of. Well, when it comes to Copenhagen, Denmark? Personally, I felt it's the next level. The Danes live and breathe 'great design' and design is in almost every conversation. This was something we had to take it into consideration designing HUONE Copenhagen.
Copenhagen vs. Helsinki?
Feels so close and similar, yet so far. Helsinki is intimate and concentrated while Copenhagen is a much larger, and widespread market. When entering to Copenhagen to do business, one needs a much larger marketing budget to find and reach out to the right people.
Bigger HUONE family. The challenge?
I thought I have learned a lot when it comes to 'communications,' but internal communication becomes a whole different story when you have a 60-person team in three different countries, in three different timezones. 
I used to love huddling up the team as often as I can for quick 'team meetings' to discuss something, share information, congratulate the achievement of the day etc. However, these ad-hoc team meetings are almost impossible nowadays when you have such a big team.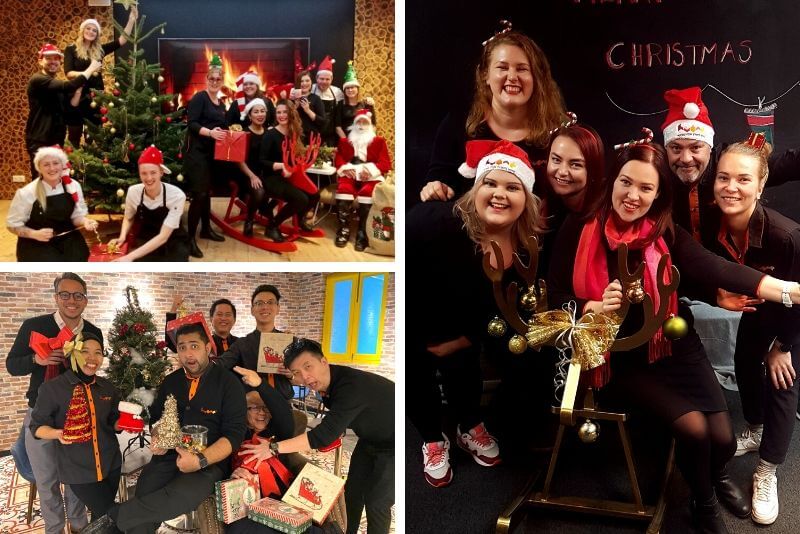 (Season's Greetings from team Copenhagen(top left), HUONE Singapore(bottom left), and HUONE Helsinki (right))
As HUONE grows big, and with more experienced team members, people demand structure, systems, and guidelines to company's processes, policies and governance. I know many felt the resistance in my team with this transition-phase because some are used to the 'start-up way' of working. However, I have also learned that working for a fast-growth company with such uncertainty might not be for everyone. 
In the midst of all the challenges, stress and uncertainty, I've always known one thing that works from my experience—transparency. Being open and honest is at the core of our culture and it's something we hold on to close when it comes to our internal communication.  
HUONE 2019 in numbers and More!
We had a great pleasure to host 59,000 guests.  
That means, more than 3,300 meetings and events at HUONE!
8 out of 10 customers recommend HUONE to a friend/colleague 
Over 50% of our customers are returning customers in Finland. 
Some love us so very much. One came as many as 80 times last year. 
We are becoming a big global family with 60 members in the team! 
We are very proud of our diverse team from different backgrounds; To give you an idea, there are 19 languages spoken among our team! (Maybe it's the secret to being certified again as a Great Place to work) 
Our newest HUONE unit is in Copenhagen, Denmark. HUONE is now in 3 countries! (3 different timezones!)
We now have a new logo, to be more recognisable!
We continue to receive global recognition for our innovative concept: HUONE Singapore won the silver award for the Best Meeting Place
I learned that with challenges, comes great happiness. Also after a personal struggle as an entrepreneur (I shared my reflection on being an entrepreneur in another blog), I feel much more mature and ready to keep running. I know for sure we won't stop, and will continue providing better business meetings and event experiences for many around the world. 
Welcome, 2020!
I wish you all a happy new year. 
Sincerely yours,
Evon Blomstedt
Founder and CEO of HUONE