If you have been organising an event, you surely know the amount of time it takes to get the whole thing set up: finding the right location, coming up with interesting activities, thinking about drinks and menu, making guest lists, arranging for logistics, foresee the unforeseen and then pray all goes well! So, why should you organise corporate events? What's the magic behind them?
Corporate events can indeed be a strain on the organisers: dealing with complaints, last minute changes, questions, doubts! What a waste of resources and time that could have been actually used to… ehm… work? Whilst performance objectives or company savings are quantifiable, often an experience provided to employees or clients is imperceptible at first and not directly measured in numbers. However, the return on investment does show through the strengthened relationship with your team and with your clients.
The way you treat your employees is the way they will treat your customers – Richard Branson
What Are Corporate Events
Corporate events are mainly meant either for your internal team or for your clients. Whilst the content of the event depends on the target audience, corporate events tend to be a chance to build relationships, to network and to showcase your expertise. Instead of spending time on email chains, it's a great idea to organise more real contacts with your clients and invite them over.
A corporate event can be anything you make of it — it's up to the organiser to decide on the size of the event, the venue or any other logistics. The feeling of the corporate event depends on the guests invited and how well you already know them, thus of course on the nature of the business. Corporate event of a financial services company could be more formal than an event of an advertising agency. Keep in mind who's on your guest list, and adapt the content and style accordingly.
When organising a corporate event, keep the objective clear to yourself. Why are you inviting all these people together, what's in it for them? Your corporate event directly impacts the company culture or the company image you display to your clients. Therefore, make this event worthy of everyone's time!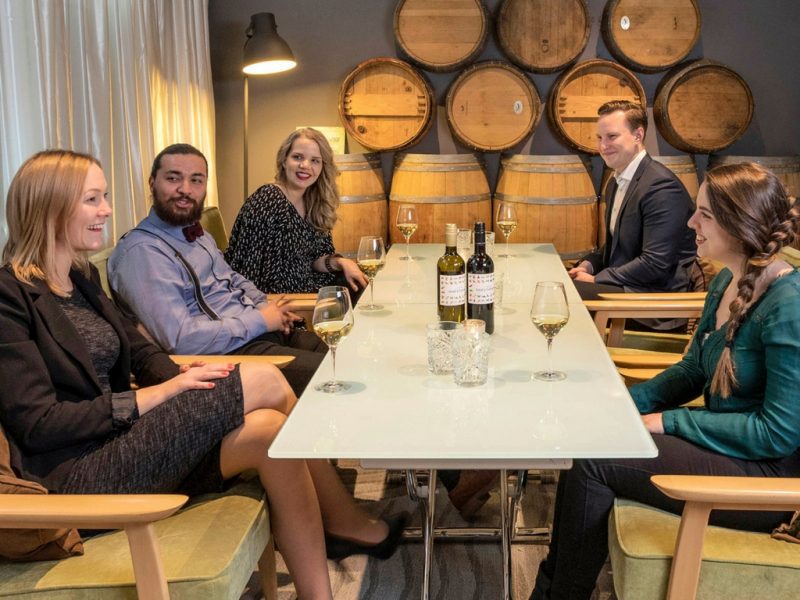 Why Organise Corporate Events?
We flourish when we live with a sense of meaning and purpose. We may flounder or get depressed when we lack meaning'. Victor Frankl, Austrian psychiatrist.
Internal corporate events have a positive return on investment. Showing appreciation towards co-workers is really important. People thrive on positive feedback from others because being valued helps reinforce a sense of self-worth. A corporate event is a gesture to complement the sentence 'you are doing an important job and I thank you for it'. Another reason for celebrating together is that it's easier for people to express themselves, to talk about their dreams, their motivation and their needs, when outside the usual office space.
Corporate events are also a great chance for people to network, whether it's meeting colleagues from different teams, or connecting more relaxedly with the clients. Whilst you might doubt the benefit of organising a corporate event, remember that in the long run, they serve a great purpose to your company. Clients that could feel the effort you put into nourishing the relationship are more likely to return the favour. Employees who were able to get together and strengthen their feeling of belonging are more motivated.
Knowing that appreciation leads to great work, don't forget to organise an event for your team or for your client! Next time around, try and get some professionals on the job, leaving you or your staff able to focus on other things. HUONE has many years of experience in hospitality and our staff will listen to your needs. Together we will be able to work out the perfect setting for your next event. Let HUONE take care of you, and start making memories that count!
If you need help in organising or facilitating your event, contact us.