Whether you're new to giving online presentations or a pro, here are some tips for giving an online presentation, that is engaging. Well, giving a presentation or giving a speech is not a new thing. Hence, there are a lot of resources available for you to become a better public speaker, however, the platform has changed completely, hasn't it? Virtual and hybrid meetings are here to stay, so let's be prepared and become better at it! 
Our tips are for those who are: 
Nervous or feeling awkward about talking to a camera 
Not used to giving a presentation in front of a computer or never done it before
Not a big fan of public speaking in general 
Want to engage participants in an online presentation better 
We divided this blog into two parts:
Perfect Setup for giving an online presentation
First things first, let's get the basics right. You will be speaking to an audience, which means everyone needs to hear you well, and they need (and want) to see you well. These two basics are even more crucial when you are giving an online presentation. 
1. Can you hear me? Audio setup for online presentation
I dare to say that everyone being able to hear well is the most important aspect of a virtual or hybrid event. I say 'EVERYONE' because it's not just one way, it means both ways: the participants being able to hear you, and you being able to hear the participants. So, let's cover the basics 
Have a quiet space speaking area: whether you're at home, or at an office space, make sure that there's no or minimal background noise while you are speaking.
Eliminate distractions: silence your phone, turn off desktop notifications, loud machine(e.g. Washing machine, dishwasher) in the background? Remember that even the tiniest of noises might be heard from the audience and distract them.
Don't be afraid of using a microphone. There are many affordable and simple options out there. It will really make a difference in your speech delivery.   
Make sure your speaker is working. As mentioned above, you should be able to hear the audience too! You might have a Bluetooth speaker or might be using the laptop's internal speaker, which is both fine. Just make sure that it's ON!
2. Can you see me? Video Set up for online presentation
When you give a presentation face to face, or when you give a speech at a seminar or an event, you do not come out with your face covered. It is natural that your audience will want to see your face and your facial expressions clearly. So here are the basics: 
Eliminate distractions: same as your audio set up. Avoid having clutter or an unmade bed, as the background could distract your audience. 
Lighting matters: Rule of thumb, face the window! Any light source you have should be in front of you, not behind. Avoid windows or mirrors near or in the back as they could cause reflections and glares. 
Raise your computer/camera to your eye level. For example, if you are at home giving an online presentation using your laptop, try using books to elevate your laptop. You don't have to go so high (we are not trying to take beauty selfies), but let's make it natural. Your audience will notice the difference.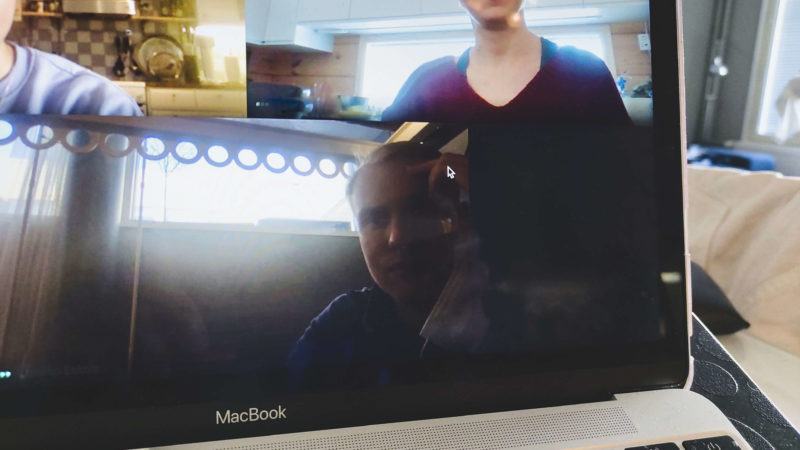 (Bad example: Having the light source behind you is distracting for an audience)
Tips for giving an (engaging) online presentation
So, let's assume that you got the basics covered. There are still some things you can do to make your speech a lot more engaging.
1. Lay down the ground rules clearly 
You want people to engage? then you need to let them know when, how, where! I remember someone told me after a 'webinar,' 
"I didn't know if I could unmute myself and butt in or not. I was wondering if it's better to write in the chat in the call…or 'raise hand'. I didn't know what was the rule "
It is important to let your participants know clearly the rules of the house. Such as: 
The schedule of the event/meeting they are attending e.g. Part one for 30mins then short 5mins break, then 30mins, then a longer break will come for 15mins, then part two starts with…  
When can one engage? e.g. anytime during the seminar
How can one engage? e.g.  by 'raising hand' and the facilitator will address you
Where can one engage? e.g. in the main room, in the virtual breakout rooms etc. 
2. Make eye contact: look at the camera, not yourself
Have you ever felt like you are talking to yourself? That's the most common feeling one gets when presenting online. Because there are no actual people to look at, your eyes drift. 
Everybody knows that making good eye contacts during a speech is crucial to engage with the audience. Well, the same goes for giving online presentations. Instead of looking at yourself and the tiny squares of faces, imagine there's an audience inside of that black dot on your laptop (yes that is the camera lens). You look right at it, which might feel strange at first, but we promise you the participants will experience good eye contact.  
You might need to look elsewhere, for instance, to refer to your materials, and that's completely fine. Just make sure that every so often you look at the camera, the same as having an actual audience face-to-face. 

(Left: looking at the screen, Right: looking into the camera)
3. Keep it short or have a break
This is very easy to implement, but you will see the effect right away. We recommend that you keep one session even shorter than usual or divide the presentation in two so that one time it does not go over 30mins. Another tip is to announce exactly that: 'There will be 2 parts, and in between 5mins quick break' so the audience knows what to expect. 
4. Dress appropriately
Although participants can usually only see you from the shoulders up, let's not go pants-less.  Try to dress from head to toe. In fact, we recommend, giving a presentation standing up if possible. When you dress the part, you will have a better posture, and emotionally you will also feel more confident, and professional.  
5. Start well 
First impressions matter. Beginning your speech is like making a first impression. So, make it a good one! Studies suggest that it only takes as little as 5 seconds to decide whether or not to take someone seriously. So, try to make your beginning as smooth as possible. 
Evon Blomstedt, the founder and the Group CEO of HUONE, shared one tip which is to always try to 'relate to the audience.' She shared her personal experience giving a speech for the audience in Copenhagen from her living room; As she saw the guests walking into the venue with a glass of sparkling, she poured herself a glass too and started the speech by welcoming them with a 'cheers' moment, which gave instantly the feeling of them being in the same place.
6. Engage and engage. Make sure to involve everyone 
It is one of the common tips for giving an online presentation. However, because we are human, often we forget that there are participants online. Especially when it's a hybrid event where there are on-site participants and you're giving a presentation in front of real people. 
Everyone values being seen, and heard. Try inviting the online participants FIRST using their NAMES. For example, instead of asking 'Does anyone want to share what they think about this point?' Say "Maria, could you share your thoughts on this one? I know you had some experience in x, y and z."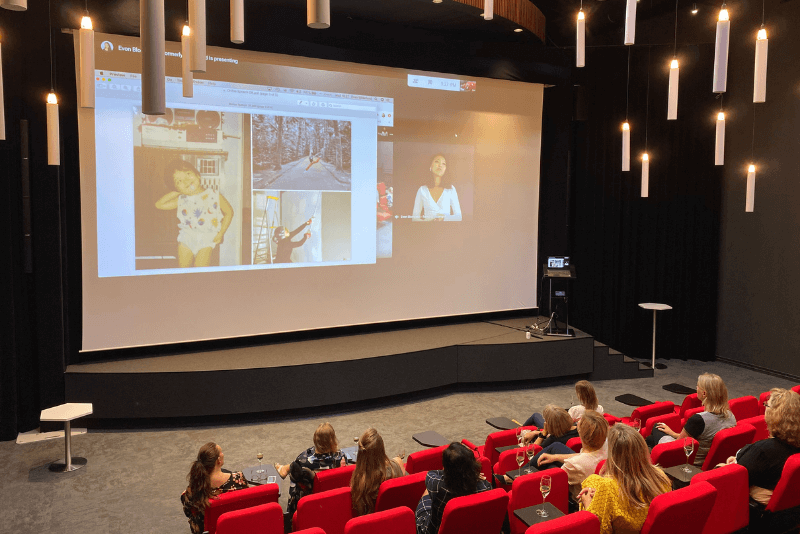 7. Practice and practice. 
Last but not least, it's very simple: practice makes perfect. One of the best and effective tips for giving any kind of presentations.