Magic is visual, interactive and makes the audience hold their breath until the very end. Magic shows have been a popular choice of entertainment in the business event world. HUONE interviewed Joni Pakanen, a reward-winning Finnish magician, to find out what possibilities magic can offer and why you shouldn't miss out on this amazing piece of performing arts in your next event!
In this blog, you will learn:
who Joni Pakanen is
why you should include a program to be part of your event
what does the interactive hybrid magic show mean?
what's the benefit of having an interactive hybrid magic show as your program
The art of a magician is to create wonder. If we live with a sense of wonder, our lives become filled with joy. -Doug Henning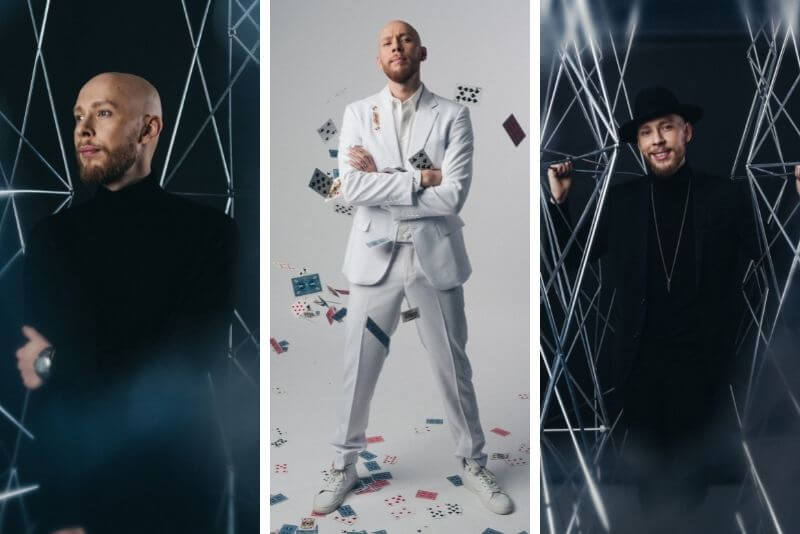 Joni Pakanen will create a memorable show for your company event.
About Joni Pakanen 
How did you become a magician?
Already early on as a kid, I began practising magic tricks. Soon after performing on stage, I started competing and realised the magic became much more than just a hobby. I started my own company during high school and already then I was sure magic can be my future career. The year 2021 Autumn marks my 20 years as an entrepreneur.  
I am originally from Oulu. I studied media production, and produced events and also performed in company events until I moved to Helsinki in 2011. Then have expanded my know-how and expertise to areas such as magic consulting, and designed and produced illusions for theatres and some of the most respected artists in Finland.
Covid- 19 pandemic has affected how events are conducted. How has it been for you as a performer?
Due to Covid-19, I ended up exploring options for performing virtually. Very soon, I noticed my media production studies came in handy and I was able to plan and master the new format fast.  I transformed my office into a studio, purchased some more equipment and in a few months time, the concept of a virtual magician was born. I have been developing this concept for over a year now. Yet, I still find new ideas to utilize every day in this new media.
What are you focusing on mainly now?
Now when the world seems to be slowly opening up, I have designed a brand new show for live performances. In the future, virtual magic will utilize the newest technology to enable interactive shows and experiences to both live and remote audiences. We are transforming into a hybrid-show, that will entertain both audiences equally. In addition, I am preparing productions and concert hall tours for 2022. Plenty of interesting projects going on in the world of show productions! 
Magic is wonderful, and so is technology! -Joni Pakanen
Programs and Entertainments in Business Events
Why one should include a program for your company event?
Every company event has a clear goal. Without one, an event could end up being a waste of time for all participants and nothing concrete is achieved. The whole planning process should be around the goal and the programs could be a great support in achieving it. For example, a more active program is chosen for a team-building day to encourage participants to have fun together as a team and get to know each other better.
What makes a good program?
A good program supports the goal of the event. Planning and deciding on a program should start from a question: "what do we want to get out of this program?"  Do we want the audience to sit down, relax and enjoy a show or perhaps be an active part of the program to energise them? There are plenty of programs to choose from all the way from live to virtual and hybrid. But how do you know if the program is any good?
Traditional live magic shows are the most familiar concept to most. Pandemic has affected the way programs are conducted also and now there are more virtual and hybrid options in addition to live. In virtual and hybrid settings, the challenge is often how to execute an interactive and technically high-quality show. 
The remote audience is harder to keep activated. There are many distracting factors in the home office and content has to be interesting enough to encourage participation. A good performer is not just on top of the technical execution but also activating both live and virtual audiences. When choosing the program for your event, ask the event venue, they often know who to recommend and what kind of program works for your event.
Every business event has a goal. In HUONE, we provide all-in-one business meeting and event solutions to our customers, which includes planning a purposeful program that supports the event goal. You can phrase this however you want –Jaakko Eskola, Country Manager HUONE Helsinki 
Virtual magic show @HUONE
Interactive virtual magic shows works for smaller teams as well as bigger ones- also possible as a hybrid format!
What is a virtual magic show?
A virtual magic show is an interactive and interesting experience, where you get to have fun together as a group. The show is purposefully designed for virtual and hybrid events and can be custom made according to customers' wishes. 
The show is done remote from the studio to ensure a high-quality and impressive outcome. Several camera angles, videos, sound effects and music add to the exciting rhythm of the show. The best part is that all participants, both remote and on-site, are able to see each other on the screen, to make the experience more communal. This way, everyone will feel they are part of the show itself.
What kind of business event is the virtual magic show good for?
The beauty of the virtual magic show is that it is a good option for several different kinds of events. The duration of the show can be set according to the timetable of the event, and the show itself is always customizable according to customers wishes; For instance, it can act as an opening surprise to an event, and bring energy from the start or it can be an entertaining finale to leave the participants feeling magical and surprised. 
The show can be easily done hybrid as well, then some participants are on-site and some remote. Both audiences will be part of the show and enjoy an amazing experience.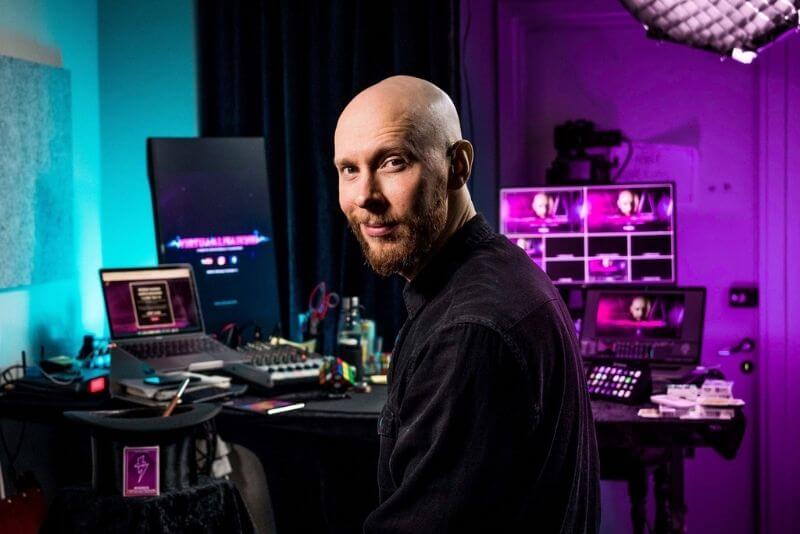 Virtual Magic Show as part of your Business Event
5 things you will get
WOW experience: magic is wonderful!
Passage to secrets the magic tricks hold within
Togetherness with the team: the team participate together in the show, and you share the unique experience together
Seamless hybrid event program execution: both audiences, on-site and remote, are really part of the show, together.
The aftermath, how did it all happen!
Future of Magic Shows
How do see the future of magic? 
When the pandemic hit, neither the audience nor the performers really had the know-how of virtual events and performing remotely. This led to the bad first impression of virtual programs for many. Technology keeps developing and content is planned better and execution is more seamless now. Virtual events are at the same time enabling us to do amazing new things, but we are still just starting. We are definitely facing an interesting journey ahead because virtual and hybrid events are here to stay.
Magic as a form of entertainment works especially well in virtual events. It is visual, interactive and interesting for participants. Certainly, this new format also has challenges, but with all endless possibilities. I see this as an interesting opportunity to renew this historical way of performing art. Now when live events are finally reemerging,  there are now several formats of executing exciting events: virtual, hybrid and live. Don't miss out and try magic as a part of your next event!