Here it comes! Christmas Tivoli at HUONE Jätkäsaari! This year, HUONE offers a unique chance to gather your team and enjoy the Christmas Tivoli on December 3rd. Your group will have your own private room and the possibility to enjoy the common programs and mingle with other groups during the evening. 

Christmas Tivoli (3.12) Package includes
Private room for your group. A private room is booked for the evening during 18.30-01.00 (between 5 -30pax).
Tivoli theme venue with hand-picked games. HUONE creates a Christmas Tivoli in Loistava-hall with games and treats for your group to enjoy. Common areas are open for all the groups during the evening.
Welcoming drink to set the mood right!
Delicious buffet dinner. See the menu here.
Special Program for the evening: Live Band! A live band will play in the Tivoli after dinner and dance music to follow later in the evening.
Your personal events coordinator to ensure all details are considered and your guests will get into the party mode!
HUONE service. HUONE Helsinki is known for its high-quality present on-site for you during the entire event
The bar is open for the evening. For the Christmas season, HUONE Helsinki also offers drink packages and we also have a wide selection of non-alcoholic beverage options.
Tentative Program
18.30 Christmas Tivoli opens for all guests
19.00-20.30 Buffet open.
20.15 Live band starts playing in Tivoli.
22.00 Dance music to get the groove on!
Price 99€ / person + vat 
---
Space
You will have a room of your choice you use for the evening. We will arrange the space according to your wishes and you will also have access to our common areas and bar together with other groups during the evening, our team is on-site for the evening to ensure all is smooth and guests are enjoying the party.
Check out all the rooms in HUONE Jätkäsaari
Curated Christmas Tivoli programs
The theme for this special evening will be Christmas Tivoli, HUONE Loistava hall will turn into an indoor Tivoli for all to enjoy. Filled with games and live music playing everyone will certainly enjoy! Can you smell the popcorn already? You can also add extra programs just for your group in a room such as a magician or whisky tasting.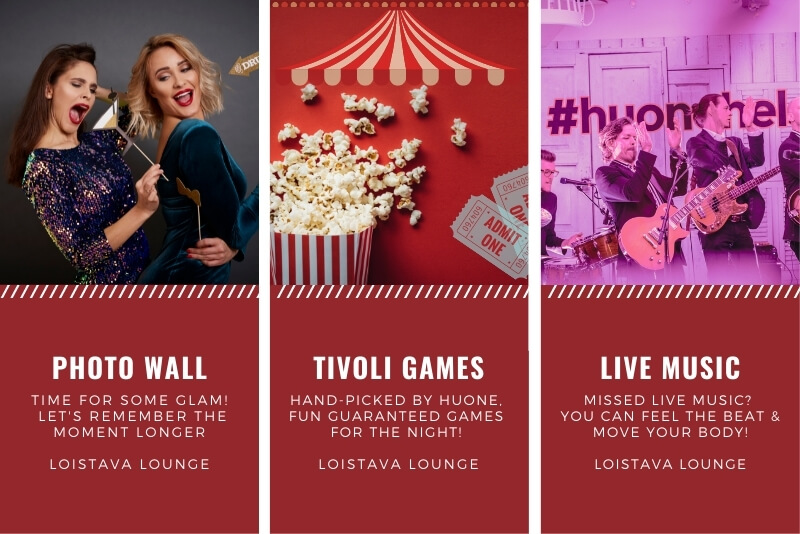 Dinner
Enjoy a delicious buffet prepared by our chefs. A dinner buffet will be served in the lounge area and you can enjoy the dinner in the privacy of your own. Our menu includes a mix of interesting Asian and Nordic flavours with a Christmasy twist! All pre-notified special diets and allergies will be taken care of. No one leaves HUONE hungry.
Bar and drinks
Our two bars are open for the night and offer a variety of drinks to enjoy.  Plenty of non-alcoholic options are also available. For the Christmas season, we also have drink packages, if you wish to have a selection of drinks ready for your guests upon arrival. Drink coupons are also available, we will see the best way for your group together!
---
Let's have a chat!
Kindly fill out the contact form below, or give us a call +358 (0) 20 78 51 440 or send an email to info.fi@huone.events
Looking for a private option for a Christmas party or a casual dinner?
Snapshots from Company Christmas Parties from earlier years in HUONE Jätkäsaari
Contact Us! 🙂