You cannot talk about Finnish culture without coffee. In fact, Fins consume the most coffee in the world per capita! So, for many coffee lovers, a warm cup of coffee in the morning before starting the day is essential. It lifts up the mood and raises energy levels. In the business meeting world, coffee is central. So, let's talk about coffee and meetings!
Coffee boosts your creativity and health
Coffee breaks during one's working day serve a very important function; it's a quick break to unwind and catch up with colleagues in a more relaxed setting. Coffee breaks during your meeting are no different. A study shows that coffee itself boost one' productivity. For instance, serving coffee during a meeting will help attendees to focus better, support productiveness, which eventually helps the overall success of the meeting.
We should also not forget the positive impacts of coffee on our general health. How coffee affects our body has been researched for years and new studies come up every year. Some studies suggest moderate-level daily coffee consumption will reduce the risk of cancer, heart disease, diabetes and depression.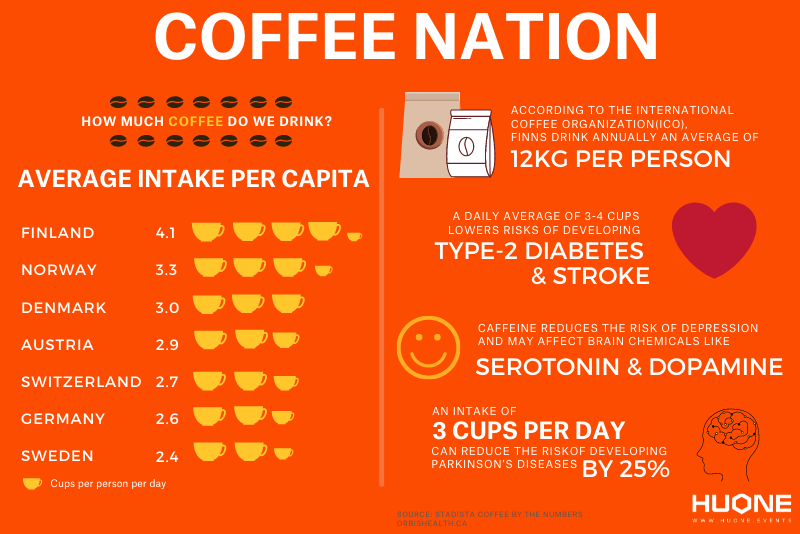 Can there be good meetings without good coffee?
In a social sense, coffee is a drink like no other. Have you heard of the phrase 'coffee breaks the ice'?  The warmth of the cup invigorates us and let the conversations flow. Warm drinks such as tea or coffee are part of a successful meeting, without them, the servings throughout the day will feel incomplete. That is why at HUONE, we pay extra attention to serve only high-quality coffees to our customers because we believe it is part of a better meeting experienceè
In September 2021, we are introducing a brand new coffee—Paulig's new Cafè Singapore. This new coffee is styled after the traditional kopi style coffee, originating from Singapore. In the taste, you will find hints of coconut and dark chocolate, Robusta coffee beans add a level of sharpness.
HUONE coffee and teas are always organic, and fair trade. Along with the new Cafè Singapore, there is classic Paulig's Mundo which is a full-bodied, fresh coffee with a hint of honey flavour. You can taste both now in Helsinki HUONE units, HUONE Jätkäsaari and Kamppi.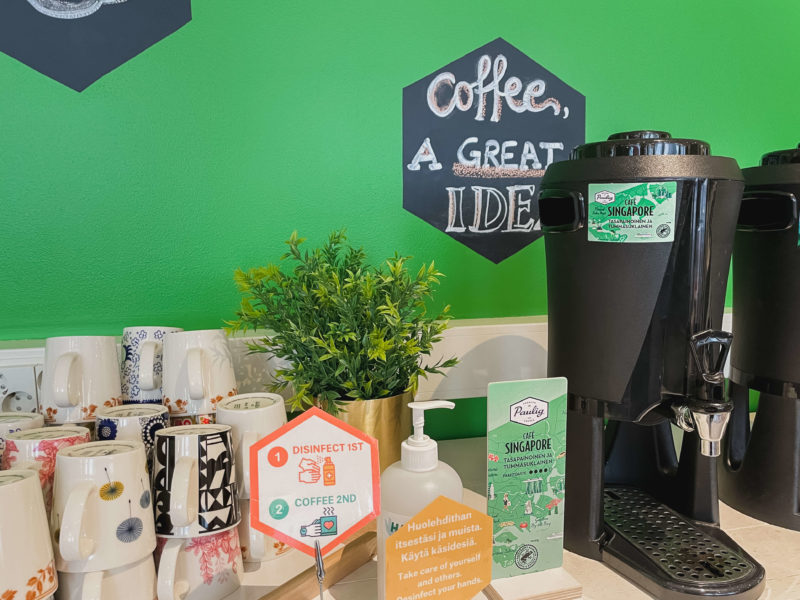 Enjoy the New Cafè Singapore in HUONE Helsinki!  HUONE Jätkäsaari and Kamppi. 
For Café Singapore, we got the inspiration from the verdant metropolis, where local kopitiam-coffee shops serve the locals with the traditional kopi-coffee of Singapore. Kopi-coffee is made traditionally from Robusta-beans and they are also used as a part of the new Singapore coffee blend. 

Kopi-coffee is slighlty darker roast than the traditional western coffees and it is described as rich and aromatic, sugar and butter are used in the brewing process to cut the bitterness.  Kopi is traditionally served black, with sugar and milk, also great as an iced coffee!​
Taste of Singapore in Helsinki & HUONE in Singapore
Did you know that there's is a HUONE Singapore? This may be another reason why we are excited to introduce the new coffee, Cafè Singapore! We are happy to introduce a little taste of our family unit. 
HUONE offers unique solutions for business meetings and events. We offer a full-service package for the day, which includes creative meeting rooms, restaurant services, personal event coordinator and top-class on-site hosting service. Our mission is to help our customers have a better meeting experience and reach their goals for the day. Since its opening in 2012, we have been growing and taken its concept and innovation abroad: Copenhagen in Denmark and Singapore! 
Enjoy this new flavour, and enjoy a better meeting at HUONE!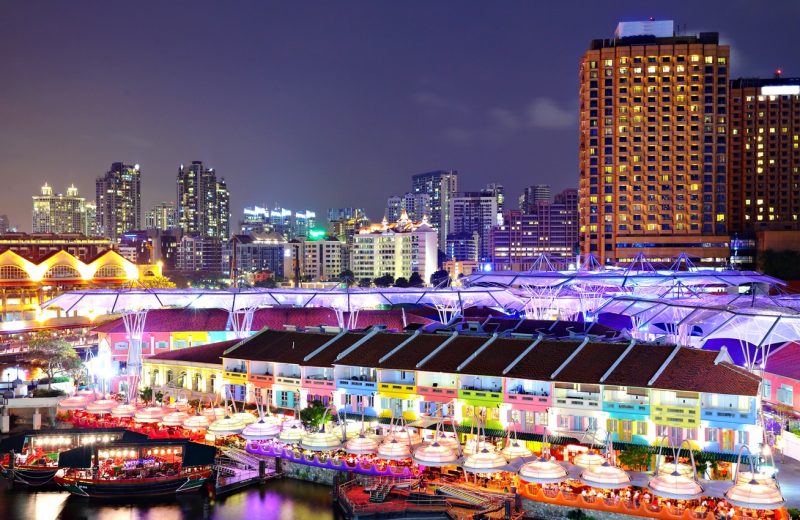 HUONE Singapore is located along the iconic Singapore River at Clark Quay