Looking for some inspiration for your company summer party? Every summer, HUONE Jätkäsaari's terrace becomes a very popular space for company summer parties! Here is an example of an amazing company party with 300 participants. They enjoyed the whole day at HUONE; starting with official daytime meetings and easing into a more relaxed evening summer festival. Check out how 'the best summer party ever' was organised!
Overview of the Day
Prior to the company summer party, HUONE's event coordinator planned and ran through the entire day to the greatest details with the organiser. We discussed the flow of the day, focusing on the goal of the event, and the catered programs to ensure the event is a success.
The day started with a hearty breakfast buffet. After settling in and catching up with each other, the participants were divided into groups and enjoyed their departmental meetings (there are 13 unique meeting rooms in HUONE Jätkäsaari you could choose from). The morning hours were followed by a delicious lunch in Lositava-hall. For the afternoon and the evening part, the company summer party continued with the festival theme, unique programs, a delicious array of food, and beverages. For instance, a sauna was open in Karnevaali-huone, and in Wine- room, a florist was creating flower garlands and a glitter make-up station was set up so one could enjoy a make-up artist creating the perfect look for the evening.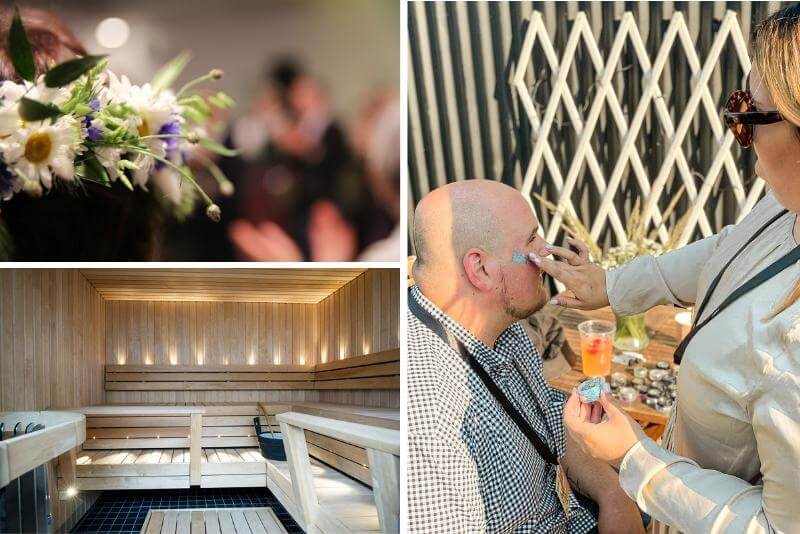 Company Summer Party Food and Drinks
In Loistava-Dining Hall, several fun food stalls and drink stands were set up for the company summer party evening with the 'Summer Festival' theme. For example:
Pad Thai was served in 'Asian Express',
Classic Hot dogs in 'Route 66' 
DIY salad bar in ´Fresh from the Garden´.
As a dessert, fresh fruits from 'Tropical Thunder'
Ice cream from the stand: 'I scream for ice cream'
As for refreshments, Cold Brew and Spice Garden concept drink stands were built in addition to HUONE bars.
Chilly spring evening didn't stop the evening filling with such excitement!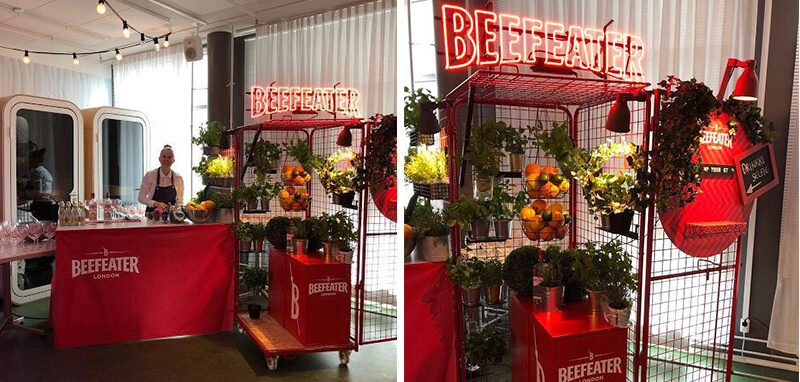 Company Summer Party Evening Program & Entertainment
The forest-lounge downstairs hosted a chill-out zone with Jepa Lambert, while upstairs hosted a warm-up band, Taju boys, and the main perforemer Maija Vilkkumaan at the main stage.
Schedule
18:00 Doors open
– 'Flower Garland' – You are wonderful
– Glitter makeup station is open!
– 'Noisetent' – sauna is open 
– Urban movies
18:30 Main stage – Opening of the event
18:45 First food stands are open!
– Asian Express
– Fresh from the Ground
– Tropical Thunder
18:45 Chill Out Zone – Jepa Lambert
20:00 More food stands open!
– Route 66
– I scream for ice cream
20:00 Main stage – Tajuboys
22:00 Main stage – Maija Vilkkumaa
01:00 Summer festival ends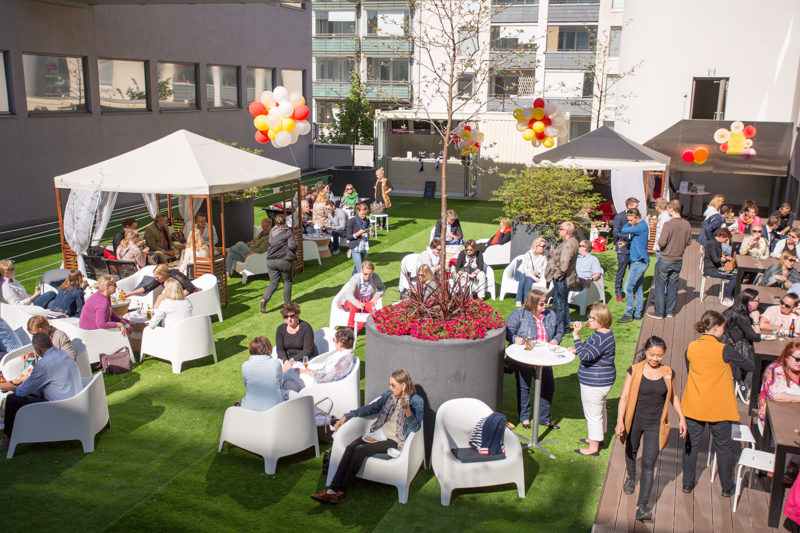 Best summer party EVER"
HUONE team managed everything exceptionally well and I could just concentrate on colleagues and partying".