With over 2000 guests and 70% returning customers, the first meeting quarter at HUONE Helsinki shows great promise for the year 2022. With an increasing amount of returning trainings, workshops, and bigger event series in our pipeline, we are looking forward to a year of growth for business meetings and events.
We see the following trends:
A growing number of returning customers, especially multi-day trainings and strategy days
Buying behaviour shift towards online: booking requests from HUONE's online reservation system covers over 30% of total requests
A growing number of hybrid events: some in HUONE and some joining remotely
A growing focus on the social aspect of the event such as networking, afterwork, team building, dinners etc.
More stress on the overall experience, hence the growing demands for the creative surrounding HUONE provides.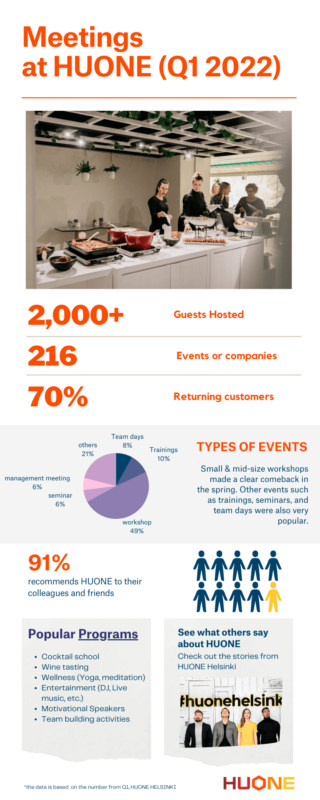 It has been great to see so many familiar faces back to HUONE, and to meet them face to face! It is clear that people have been longing for the social aspect of working together.  We really witnessed the rising demand for business meetings and events from the beginning of March clearly and the outlook for the Q2 is promising!
-Jaakko Eskola, Country Manager HUONE Helsinki
What customers say about HUONE Experience
"Thank you again for a nice and friendly setting. We wanted to pass on the thanks to your entire gang. Everything worked well, the food was good and the bubbly at the end of the day tasted great! heh! We are happy!" – 2.3.2022 l Tanja Aromäki, Lonnan Hyväntuulenkeidas Ab

"The venue (hybrid studio) looked fantastic and had a great vibe. Thanks for making our day a success by providing an inspirational backdrop to our strategy kickoff and a professional tech crew Podstudio, with video and audio specialists. HUONE's attentive staff took care of everything from snacks to technical support. Overall, a great experience and would gladly come again" –16.2.2022 l Jussi Vasama, QR Software
"What I value most in HUONE is the easiness, uniqueness, and the small things that set you apart, the things that someone conducting trainings for a living will notice. All these small things sum up to a significant factor and HUONE has really thought the experience through. In HUONE, every customer journey that my clients go through, we create together with HUONE. I can trust that we are in this together to create these perfect emotions and feelings, and everyone in HUONE will do their best to make the training a success." -26.1.2022 l Interview with Samuli Suvela, Salamander Sales & Strategy
"You can only focus on the day during the day when the framework (including food) is well cared for" – 21.1.2022 Customer comments
"The atmosphere and the effortless flow of the event." 14.3.2022 Customer comment