Strong communication does not come naturally, it's something that you learn and practice. For many, the idea of networking makes one anxious. In this interview with Johannes Malkamäki, an entrepreneur, and a professional sought-after performer, shares his tips on improving communication skills and interacting with new people. Read more and get to know Johannes!
In this interview you will learn
about Johannes and what he can do for you! 
about the importance of communication and the future of networking
practical tips for communication and networking 
---
About Johannes 
Johannes is originally from Tampere. However, he has traveled the world and lived in Kenya, where he fell in love with the beautiful island of Lamu. He's now settled back in Finland, and is one of the few performers in Finland who combine interactive mentalism with magic illusions. Mentalism is modern magic where magician interacts with mainly people's minds, so you don't see robes and shiny boxes. Johannes also has a surprising background as he has majored in biomedical technology and even worked with type 1 diabetes!
How did you become interested in magic and performing?
By accident actually. When I was 15, I saw a friend do a magic trick. After that, I was dumbfounded and loved the feeling of someone pulling the rug under me. I felt inspired and started practicing it myself. I got more fascinated when I saw people's reactions. The rest is history. I supported myself doing magic gigs and at the end of my studies, I realized I'm making a living out of it.
I love modern magic. Mentalism is one of the many branches of magic and when performed properly, it fits very well as entertainment in today's events. Unlike in traditional magic, I include the audience as an active part of a show and interact with them. Humor is also an essential part of my show.
What are you working on now?
I have started to broaden my portfolio to keynote speeches and hosting events as an MC (master of ceremonies). I feel the most comfortable on stage and I also love a challenge. As an MC, I get to combine professional hosting and entertainment. For example, in the beginning of an event, I can set the mood and capture the audience with magic, as well as between the sessions and hosting, I can add more magic when needed. Lately, I have also started to have keynote speeches on interactions and communication skills.
Why one should have a professional MC for a business event? 
A professional MC will make the event run smoothly, add an element of prestige and keep things casual when needed. In live events, unforeseen situations occur and last minute surprises are always stressful. MC's role is to support organisers and react fast while being able to stay calm and professional. Also one should be able to fill the gaps with a small show or a casual speech. Professional MC can 'feel' the atmosphere and see what needs to be done. —the key for being a great host is being present.
Adding an MC will elevate the event and add a little more class
Imagine how much investment and effort the organizing committee needed to put in for the company's annual Christmas party. They do not want to be the one on the stage hosting and entertaining, they would want to relax and enjoy the evening with colleagues. Adding an MC will elevate the event and add a little more class.
How does a physical environment affect the overall event experience?
Physical space has a significant effect, not only on the individual's experience but also on the overall quality of the event. As an example, a too big space might feel gloomy and awkward whereas an intimate adequate space feels more relaxed for guests. Also, light background music will make people feel more at ease and encourages the conversation flow. Music will fill the quiet moments and one is not so rushed to think of something to say.
MC can support and add to the positive effects of the space by, for example, instructing the participants to interact with each other. This will relax the mood and help people network. MC can also work as a facilitator by suggesting questions to be discussed amongst the groups or gently guiding to change the person one is currently talking to.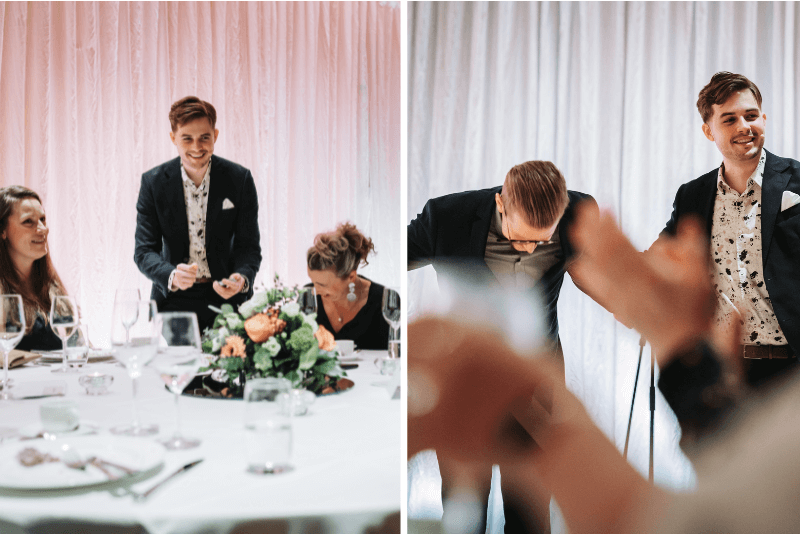 Networking in the New Normal
Networking and talking to new people feel difficult and challenging for many. Seeing people in person after a long time can be awkward. 
Networking and meeting people face-to-face are making a strong comeback. During covid-19 pandemic, we have witnessed how digitalization enabled a new hybrid working culture, however, we also learned that it could not be an option in all areas of life. Virtual events will still have their place in the future, but we need physical interaction to really connect with others. In virtual events, there is a clear lack of multisensory experience.
The trend is to trim customer service down; a truly genuine encounter with one person will be considered a luxury. Companies that invest in this personal touch will be valued more and more by the customers. In a working culture, good communication skill and connecting with others will play a bigger role in developing your career. Some will still start their careers in the most challenging social encounters, for example as a salesperson at a promotional stand in a shopping center or on a phone. This will push us to appreciate and develop our social skills, like empathy and listening.
Networking is all about making and nurturing meaningful connections between people, and everyone can further improve one's own communications skills. Our society challenges us in social settings and as we evolve we start to enjoy them more. You can also independently improve your communication skills. Like I did in one of my challenges where for 30 days I asked questions from complete strangers. I formed the questions so that I would get a 'no' for an answer and this trained me to meet new people and practice receiving a no for an answer.
Tips for better communication from Johannes
Focus on having fun. When the goal is NOT on 'making how many contacts' or 'not being awkward' You become so much less conscious about yourself. You are more relaxed and you can actually enjoy the situation and meeting new people more. 
Utilise facilitating tools if you are organizing a networking event. For example, give all participants an empty sticker, where they can write something about themselves or something they would be interested to discuss. This makes opening a discussion with a stranger easier. You can also pick the topics according to the event's theme, or stick to more common topics to help participants in encountering new people.
Practice and practice. I believe becoming a better communicator is a marathon. If you would like to become a better communicator, you have to practice and throw yourself in those situations such as networking events.