HUONE Jätkäsaari welcomed a fresh breeze for this autumn! Two rooms, Lotus and Library room had a small makeover for fresh thoughts and ideas! Read about the background to each room; the design and its functionality for different types of business meetings and events.
Lotus room, writable walls for more creativity and engagement
Lotus is a perfect room for brainstorming, idea sessions, and hands-on smaller workshops. The relaxing and cozy atmosphere of the room stayed the same but there has been a big upgrade functionality-wise with new special features in the room.
Now you will find a 'creative' working corner with two writable walls, where you can let your mind go wild with your team. It's also perfect for engaging the team during small workshops as the space is big enough for many to work on it at the same time.  On the other side of the room, a big board-room-sized table invites a team for group work and discussions.
The cozy and peaceful atmosphere of the room fits perfectly for afterwork and evenings as well. Just imagine sharing a small tapas and glass of bubbly after an intensive day!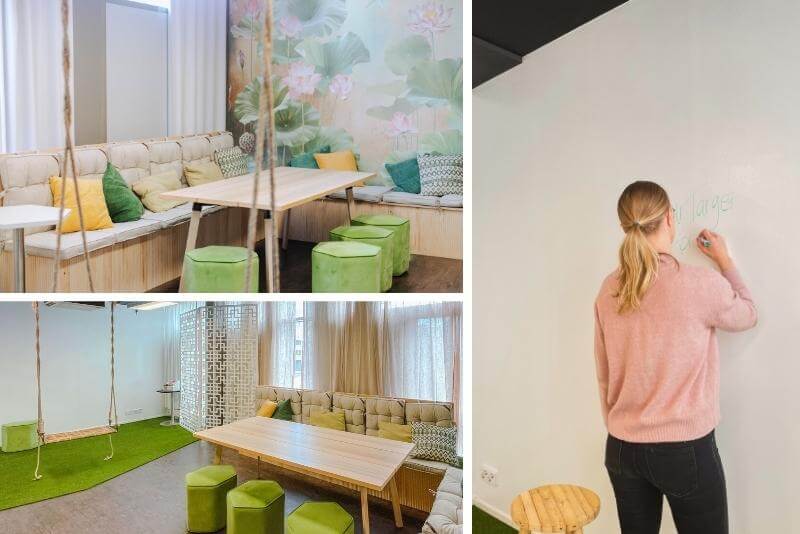 (Lotus-room equipped with creative working corner with writable walls)
Library room, more spacious and cozier with second-hand furniture set
Library room has always been one of HUONE's most popular rooms for smaller groups. It's often used for management meetings, board meetings, and also small internal and intimate team events that require an easy-going atmosphere for open discussions.
HUONE listened to the customers' comments about the possibility of brightening up the room and giving it more open space; The chunky and dark original furniture set was removed and HUONE welcomed a new family of armchairs and couches. What is special about this new furniture set is that they are all second-hand! We wanted to make our meeting rooms better but do it responsibly. So, HUONE Helsinki cooperated with Tavararahaksi, and they help transform the space in a matter of hours. How cozy and welcoming the Library room looks now!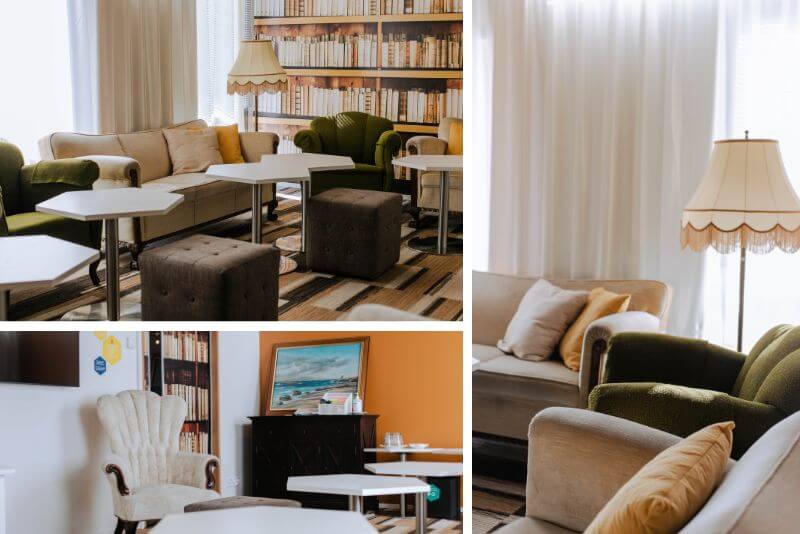 (Library room welcomed a new set of second-hand furniture)
Jussi from Tavararahaksi briefly explains the cooperation with HUONE and how one can make changes to a space 'responsibly.'