Sharing a meal together is an important part of business meetings and events. It could either be a part of a great experience or ruin the whole experience. That's why we don't want you to go through the hassle of finding a place outside. At HUONE, all the meals are prepared in-house and fresh, every day by our chefs. Everything is under one roof, and things flow smoothly. On top of our daily lunch menus, our dinners are also a popular add-on for our customers. Check out our new spring 2022 menu, and a small story that goes with each!
HUONE Jätkäsaari's spring flowers-inspired menu 
In HUONE Jätkäsaari, we are known for our delicious Asian food. This spring, our kitchen found the inspiration for new menus in Asian flowers to celebrate the upcoming spring.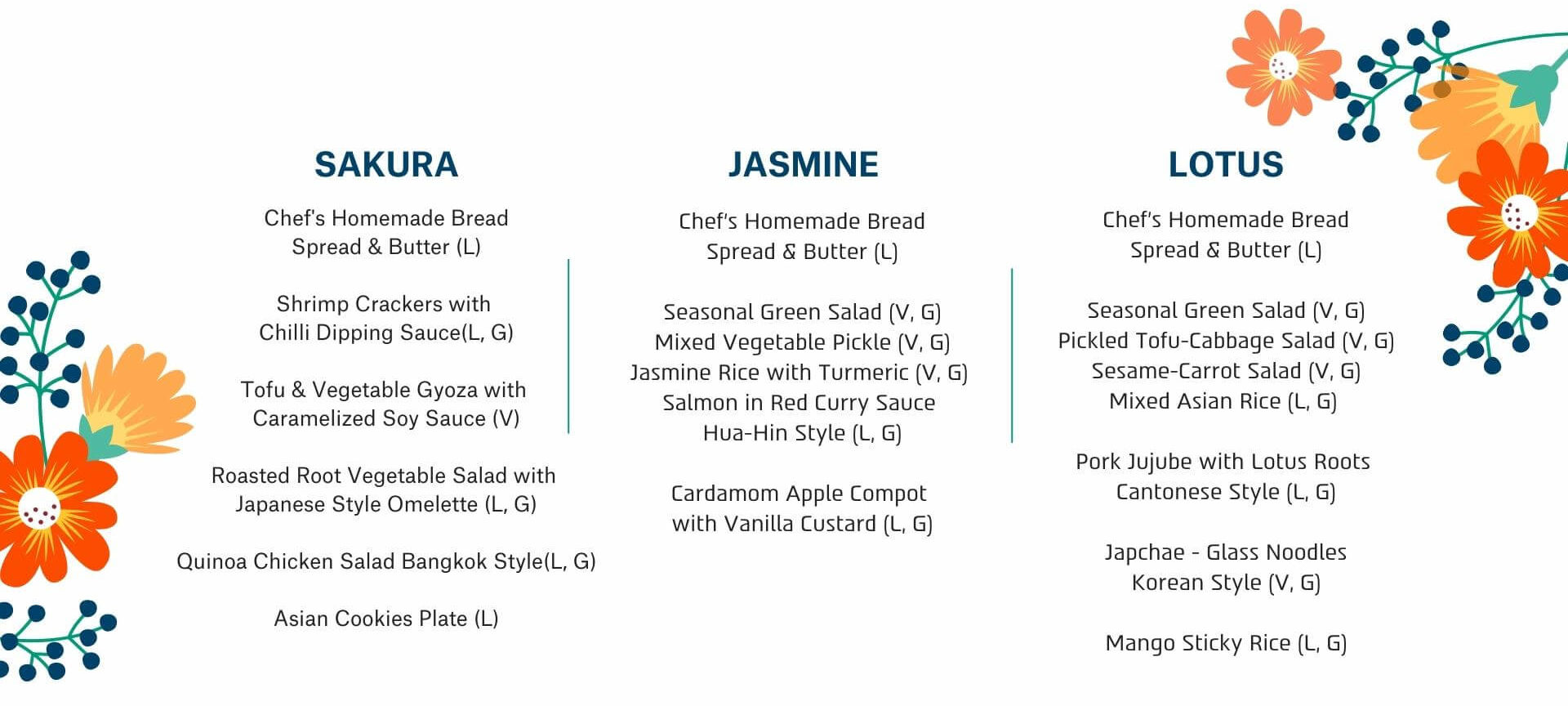 Delicate cherry blossoms symbolize the beauty of the moment. We encourage you to enjoy the moment with your colleagues and guests by sampling hearty Asian-style salads and gyozas before heading to new adventures.
The aromatic and fragrant jasmine rice has become a recognizable stable in HUONE Jätkäsaari. This spring, our famous three-course dinner smoothly combines Thai and Chinese cuisine (as smoothly as our Chef Jay switches languages in mid-speech).
When it is time to celebrate and put your best foot forward our festive menu Lotus answers the call. Lotus flowers symbolize rebirth and wisdom. And we hope our delicious menu hopefully will bring both to our guests. An interesting ingredient in the menu is the Chinese date jujube. Not to forget the quintessential Korean feast favorite Japchae, savory glass noodles with vegetables!
HUONE Kamppi 's musical-themed menu 
Kitchen in
HUONE Kamppi
is known for its musical talents, so finding inspiration through music felt natural.

Our Tambouras menu brings Mediterranean flavors to the table from both sides of the sea. Did you know that the famous Greek lute (think of the first beats of the dance of Zorbas) bouzouki has also been used on both sides of the Mediterranean? Yes, we thought we were being very clever too. 
What could be a better mood for a relaxing dinner than the playful rhythm of calypso? Our most popular dinner menu combines tropical fruits with aromatic spices without forgetting a sumptuous dessert to tie it all together. Close your eyes and get into the mood!
Wanna go all out? Choose Bal-Musette for a full table full of French goodies with a slight English twist. The Musette-style balls were the places to enjoy life in 1920s Paris and the same joyful and informal vibe follows with our feast menu.
Feeling the dinner at HUONE?
😉 You could either add it at the end of your day as a way to wrap up and spend a relaxing time with the team OR you could have an evening event with us! Let's have a chat! Reach us via phone at
+358 (0) 20 78 51 440 or 
e
mail: info.fi@huone.events. You can also
make a preliminary booking easily online with our
online reservation system
. We will be in touch with you shortly!