Next in line for People of HUONE series is…Karoliina Nissinen, one of the Sales & Event coordinators at HUONE Helsinki. Karoliina joined the team in the spring of 2022, and she is a go-getter, who is known for her all-time positive attitude. Despite being relatively new in her role, we can already see such talent! Get to know her 🙂
What I do at HUONE is… to sell and coordinate our meeting packages to the customers. I'm usually the first contact person when they call or reach out to HUONE, and it's my job to help them book, plan and coordinate the day, so the company gets the most value out of the time they spend in HUONE. I also strive to make the booking and planning process as easy as possible. I'm also often on-site to welcome the customers and to make sure the day's running smoothly, in which case, I get to go through the whole journey, from the beginning to the end, with the customer. They are my favorite.
The favorite part of my workday is…the mornings. Getting my first cup of coffee and welcoming the guests of the day. I love meeting with the customers because I have planned their day(s) with the organizer, and finally it's D-day, and guests are taking part in the days we planned! I also enjoy showing the guests around the premises and seeing their reactions to the rooms. So many times I've heard the excitement; "Is there actually a slide in our meeting room? I need to try it right away!".
Karoliina's favorite room in HUONE is…playground room. I personally love the colorfulness, being outside, and playfulness. All these elements are put together in the Playground room. It's the one that gives our customers some screams of joy without fail 🙂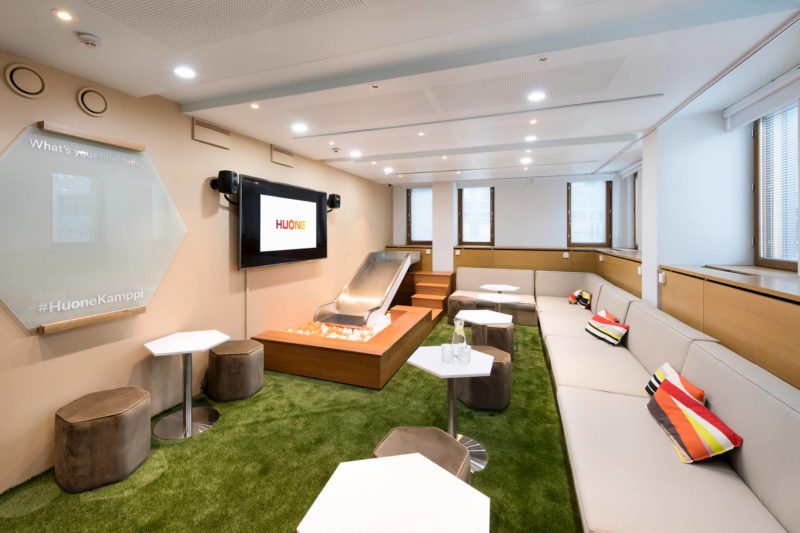 (Playground room in HUONE Kamppi)
*image source

If I were to design a room for the next HUONE unit, it would be…armchair room(nojatuoli-huone). It would be a colorful room with armchairs that are different in styles, colors, and sizes. The colors would give inspiration and the sofas a bit of relaxed atmosphere. The room could be cozy and not too big. Would be great for a brainstorming session, a creative workshop, or just a small team meeting.

Three words that make me smile are…."It's adventure time! (Hei, lähdetäänkö seikkailulle?)" – I love adventures, whether they are in my own forest or far away.
Based on the experience working at HUONE Helsinki, Karoliina's tip for a better meeting experience is … 
to focus on the begining & the ending of the day. Start the day so that everyone feels welcomed, and has time to transition to the agenda that lies ahead. Make sure to spare time in the end to properly wrap up. Finish the day with clear conclusion and next steps.
Connect with Karoliina 🙂
Check available rooms for your next meeting 
*Image source: www.freepik.com