With almost 6000 guests and over 400 events hosted, HUONE finally saw the break in the clouds and blue sky in the second quarter of 2022! Business meetings and events made a strong come back.  
The second quarter of 2022 was the first period without any restrictions related to meetings and events in Finland. In light of this, HUONE Helsinki saw clear signs of more companies returning to off-site events. With the hybrid working policy settling in and repurposing the office spaces, companies are also rethinking how to 'meet.' Leaders put more emphasis on collaborative and creative work and on the human & social aspects of meeting in-person when planning a meeting & event.  
With our prime locations close to the Helsinki city center, both HUONE Jätkäsaari and HUONE Kamppi welcome both returning customers and new companies.
Event Trends we see 
Company-wide events such as kick-off were predominantly the priority for companies coming back to in-person meetings and events
Celebratory events such as summer parties made a strong comeback
Buying behavior shift towards online: booking requests from HUONE's online reservation system covers over 30% of total requests
Smaller gatherings for project teams, departmental team-building had a big jump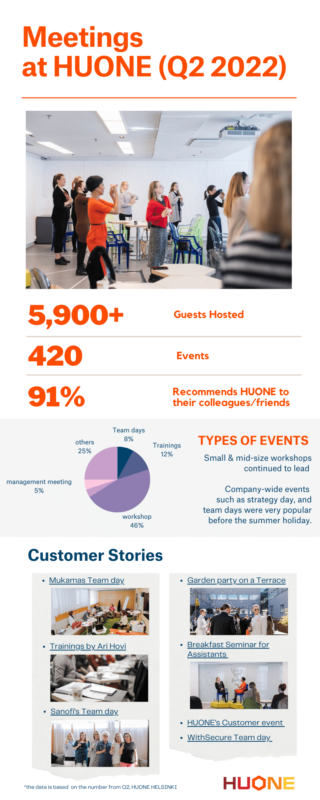 What customers say about HUONE Experience
"The best place for our very important team day so far. As professional facilitators, we are not so easily 'Wow'ed, but HUONE really did exceed our expectations. We truly enjoyed every aspect of our day. All the way from the innovative atmosphere to thoughtful staff. I would say the expectations were really met and the experience was good." 
-14.6.2022 Vilma Mutka, CEO & Workplace Learning Activist, Mukamas Learning Design  
The HUONE terrace was great for my event. We could easily fit my group for dinner and music show, the fireplaces and tents created a great atmosphere. And the staff was on top of their game. I heard nothing but compliments from my guests. – 18.5.2022 organiser comment from a Summer party 
"Our team day was a success through down to the last detail. Great facilities and big thanks to the qualified team of HUONE. They made our day run smoothly and created the amazing athmosphere!" – 20.6.2022 Mikko Mutka WithSecure