Kick off your year, a new season, or a project with a bang at HUONE! Kick-offs are particularly more important when you haven't had face-to-face company meetings and events for long. Start planning early and create an opportunity to align the members in the group and share the vision for the future. Here are 6 things you need to consider for a successful kick-off.  Example agenda included and Check out the campaign code at the end! 
Why organise Kick off?
Seasonal Kick-offs often happen at the beginning of the new year(or financial year of the company) or at the beginning of each season(e.g. Spring & Autumn). It is often an internal event and could be for the whole company or by department (e. g. Sales team kick-off). It could be a couple-hour event or a whole-day event. Why should you bother? It's easy to brush it aside and organise something with only management team members then opt for sending out a general info email instead to the whole company. However, a company Kick-off is a valuable opportunity for the company to reinvigorate everyone for the new year/season, especially if you have many new members!  It is also a chance for everyone to come together and align with the goals what's ahead.
6 Things You Need for a Successful Kick off
1. Inspiring space and rooms to set the atmosphere.
HUONE is an award-winning creative business meeting & event venue. We understand better than anyone that space influences our behaviour greatly, and you do not want to go for a dull, boring space. Choose instead, a creative, inspiring room from HUONE Kamppi or HUONE Jätkäsaari. You will find spaces suitable for small to midsize groups. There's also a possibility to organise a hybrid or virtual event if you have members of the team joining. Do check out more about our rooms.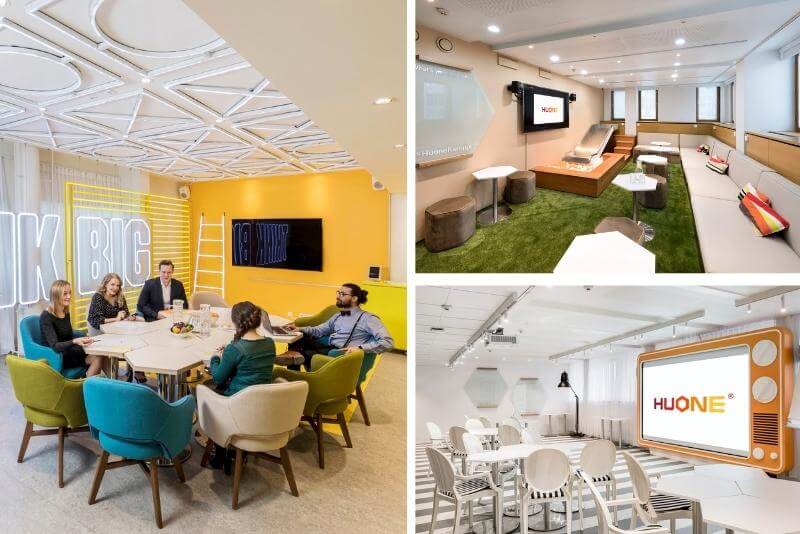 (Left: Electro-room, top right: Playground-room, top-bottom: oversized-room)
2. No-Hassle for you. Fewer middlemen, the better
HUONE is a full-service venue. We make organising meetings easy, and hassle-free. We take care of everything, you can just come and focus on your day. 
Private room for your group, ready and set-up according to your wishes
Your own HUONE Event Coordinator to assist you from the beginning
Reception service for welcoming and guiding your guests
Meeting amenities such as flip charts and post-its and Meeting A/V equipment
On-site Event Host to make sure everything flows smoothly
Free flow of organic coffee and tea in the lounge area
Meeting catering of your choice (breakfast, lunch, snacks during the break and etc.)
3. Hybrid/virtual Kick-off event option
HUONE also offers reliable, effective hybrid meeting solutions. You can have some guests present on-site and some attend the meeting remotely. The techniques have been tested and used by many of our customers already with great results. Check out our hybrid meeting packages.
(Previous hybrid event examples in Cellar-room, Electro-room, Countryroad-room)
4. Your Goal is important
People don't want to buy a quarter-inch drill. They want a quarter-inch hole!
Your goal is important for HUONE. We understand our customers don't pay for just a 'room.' They have a goal to achieve during the time they spend in HUONE and expect a pleasant meeting experience overall. We care about your event goal and we know to ask. All are taken into account prior to the event so you can stay focused on the content.
5. Delicious servings to keep the energy levels high during the Kick off
Breakfast, lunch and all other items for your kick-off will be served according to your schedule. Dinner or perhaps a glass of sparkling will make the day and treat your participants.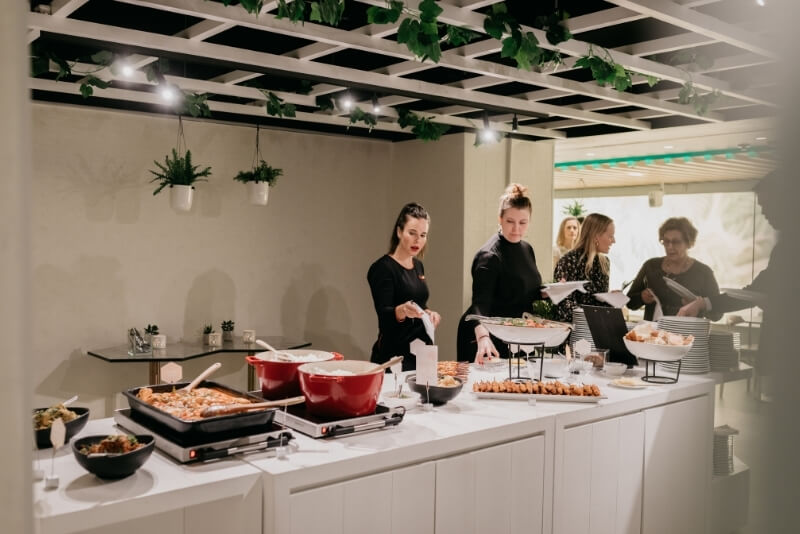 (Both HUONE Kamppi & Jätkäsaari prepare every day fresh meals from its own kitchen)
6. Easily combine the day agenda with a relaxed after-work/evening
After an intensive day, you might want to treat your attendees to something more relaxed. We offer delicious dinners and also have our own bar if you wish to stay to mingle and enjoy a glass of something.. We can also suggest programs to make your kick-off more memorable. How about a virtual magic show, drink school, wine tasting or a round of games during a hybrid event?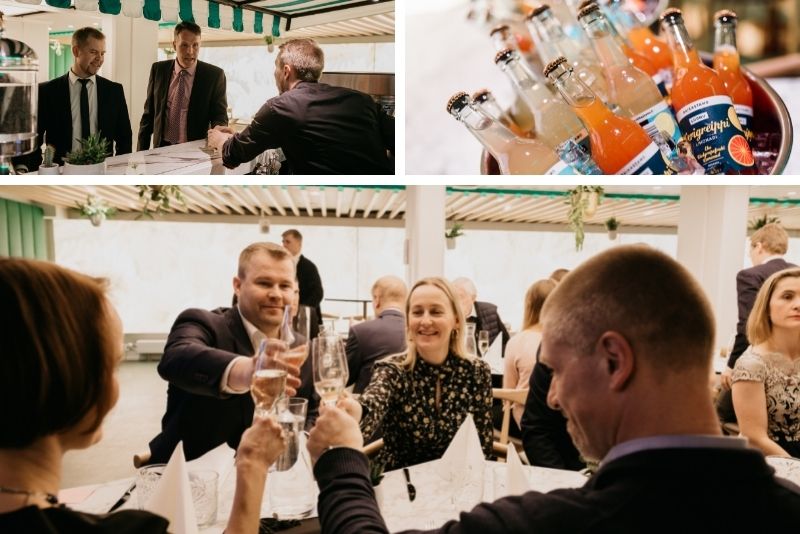 (Every HUONE Unit has dining area & bar: Garden Lounge at HUONE Kamppi, Loistava and Forest lounge at HUONE Jätkäsaari)
Example Agenda for a half-day Sales Kick-off
Start with Lunch (30 mins): give the team an opportunity to connect and catch up! 
Introduction (10 mins): welcome, share the agenda, and set the goals for the day.
Icebreaker (5-10 mins): before diving in, set the mood and engage your participants. Check out ideas for the best icebreakers!
Recap of the previous year/season(30mins): review the previous season/year. Use this time to show appreciation for your team's hard work.
Break (5-10mins) 
Deep dive – learning (45mins): Share up-to-date info regarding sales strategies, processes, marketing messages, etc. You can also use this time to deep dive into new products/services offered in the coming season.
Break (10mins) 
Engaging (50 mins): focus on a few topics and get your team's input. This part can be done in groups (e.g. by regions, by roles & tasks) and other focuses can include the below:
New product suggestions
Operational process review
Challenges
Ideas on using resources
Milestones
Break (10mins) 
Planning (40mins): Focus on converting the ideas discussed in the previous session to participants' day-to day-tasks. And then to a larger purpose. Set clear KPIs for each task, and the person responsible.
Wrap up (15mins): a very important part of the kick-off. If participants are in groups in breakout rooms, bring them back into the main room and thank everyone for one's time, ideas and participation. Wrap up the day by asking the questions below:
Did we achieve the goal of today?
What are the next steps? Is everyone clear on who's responsible for what, by when?
Casual afterwork (flexible): Infuse positive energy and motivate! Give your participants the opportunity to follow up on the conversations they had to cut short with others, network, and get to know each other better in a relaxed setting.
Check available rooms easily online!
Contact us! Let's organise a successful kick-off together😉