*TAKE AWAY LUNCH OFFER HAS ENDED.
Food always plays a big part in any gatherings. Our nutritious, freshly cooked meal has always been one of the favorites of our customers. Since we could not host you personally during the next three weeks due to the new restrictions, we wanted to bring HUONE flavours to you. 
Order and pick-up from HUONE Kamppi, 15€*/box
HUONE Helsinki now offers take-away lunch from HUONE Kamppi(Malminkatu 30)
Lunch includes freshly (HUONE) baked bread, hearty salad and a drink of your choice (juice/soda/sparkling water)
We will cater to all pre-notified allergies and special diets
All portions can be picked up from HUONE Kamppi (Malminkatu 30) reception. Pick up time can be flexible, between 10 am and 1 pm. Pick the most convenient time for you
Minimum order: 20 portions
Sweets you can order a dessert, delicious raspberry-brownie, with an additional 3€ + vat.
* the price is exclusive of VAT
How to order
Order by calling us +358 (0) 20 78 51 440
Order by 2 pm two working days before.
Options for your pick up
One person picks up everything
Everyone picks up individually
A mix of #1 and #2 (e.g. 1 person picks up 10boxes, the rest is picked up individually)
How do I pay?
Order can be paid full on spot or we can send an invoice.
Menus
#1
Persian pulled oats & quinoa salad
Watermelon & mint salad
HUONE Focaccia
Hummus
#2
Asian tofu & rice noodle salad
Pineapple & thai-basil salad
HUONE bread
Hummus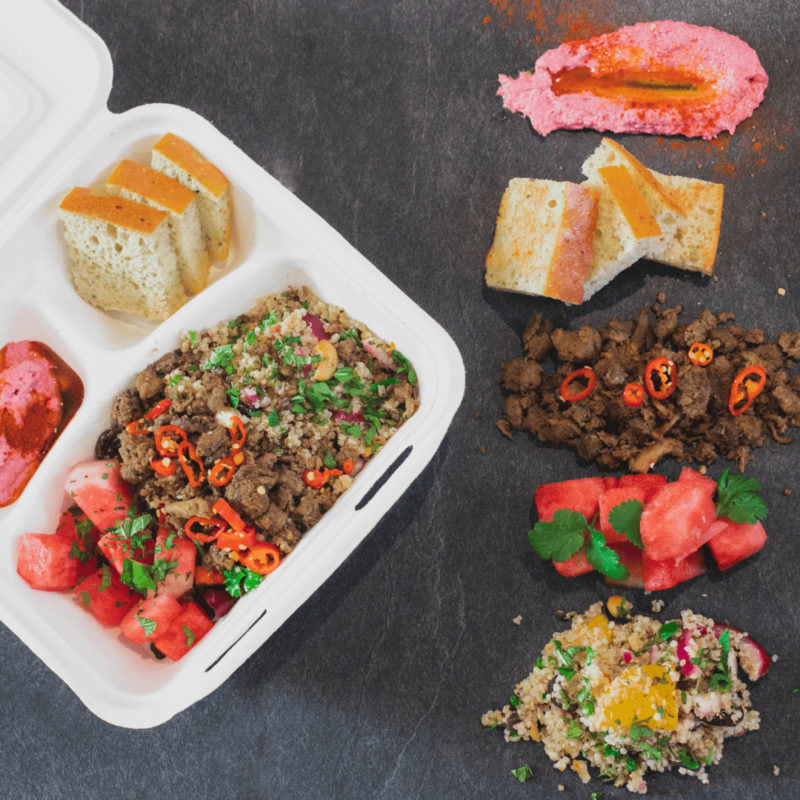 Menu #1 image
Orders and more information from our sales team:
info.fi@huone.events or +358 (0) 20 78 51 440.
Food was delicious, thanks! I also got the same comments from other team mates and special diets were marked well! All went smoothly.