When a company goes through a big change, what you need is a well-planned team day. To align the team and kick off the new beginning, WithSecure organised their well-deserved team kick-off in HUONE Helsinki. The company has been through many big changes during the past year and in recent months, so the timing for the team day couldn't have been never better!
Global cyber security and privacy company F-Secure has gone through large changes in recent months. It transformed its operation into two businesses—Consumer Security and Corporate Security in the spring of 2022. Now WithSecure continues providing corporate cyber security solutions and F-Secure will do the same for homes/private customers. The change has brought many new items for the teams to tackle, so the team decided to organise a day for regrouping and aligning new ways of working.
The goal of the day was to spend time together without distractions and kick off the new beginning for the future as a team. Laptops were set aside to get the most out of the day.
Our team deserves a day together, because through all we have gone through and understood, the most important thing is that we need to take care of each other. No one should have their workload too heavy to carry and there should always be someone to listen if one wants to discuss challenges or share happy thoughts. We remind each other of the fact that each and every one of us is an irreplaceable, important part of the team. My team members are good people, who deserve a proper thank you for all they have done to help not just themselves but also others. They deserve a day to relax and hear a sincere thank you for their hard work.–  Mikko Mutka, Withsecure
WithSecure Team day agenda
Breakfast together to provide 'transition' for the day
Kick-off starts in the Carnival room
Delicious lunch in Loistava Dining hall
Kick-off continues
Sweet surprise with the afternoon coffee
A wrap-up of the day
Wine tasting with the theme of combining wine and food
Afterwork, sparkling & tapas
Our team day was a success through down to the last detail. Great facilities and big thanks to the qualified team of HUONE. They made our day run smoothly and created the amazing athmosphere!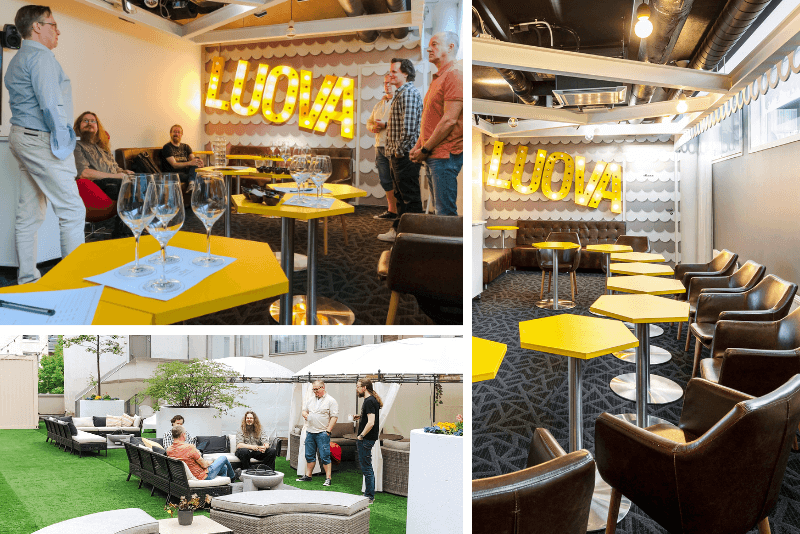 (Wine tasting program was organised in Carnival room, and the afterwork continued on the HUONE's terrace)
At HUONE, you can enjoy a team day hassle-free. Everything from an inspiring space, to suitable food & drinks, and programs, can be organised under one roof. We plan the day with you from the start to make sure it flows seamlessly, and the goal of the day is achieved. We also have a wide range of program options from reliable HUONE partners. Check out our tips for a successful kick-off! 🙂