Unsung Heroes of Business? Assistants and administrative professionals! The annual seminar to celebrate International Assistant's Day was held at HUONE on the 10th of May. The theme for the year was 'give yourself a break' to recognize the hard work and honour those who make the business success possible. Read more to find out how the event went!
In Finland, the day is not commonly known. However, for HUONE, this day has always had a special meaning. We work very closely with many of them since 'an event organiser' is one of many hats assistants wear. And the founder of HUONE, Evon Blomstedt, also started as one!
In this blog, you can check
Interview with Tiina, the life behind the curtain
Tiina, the executive assistant at Supercell, shared her journey becoming an assistant, and what she finds most rewarding and challenging about the job. A few key takeaways from today's interview were 
Do take the chance and send an open application to your dream company, you never know what it might lead to 🙂  
As an assistant, the trust and respect for each other with your employer is really important 
The need for assistants will not disappear in the future. There will always be a need for a human touch. 
We asked Tiina about her idea of a future of work:  
"If we are talking about administrative professionals and assistants, the need will always be there in the future. Some things will always need a human touch and cannot be replaced by AI or automation. For instance, prioritising and understanding the context of the tasks are good examples of things that cannot be replaced. It's much more than just booking meetings and filling up calendars, you have to think and understand what your employer should be focusing on, how his coming weeks look, and you prioritise. 
"…some things just cannot be replaced by computers"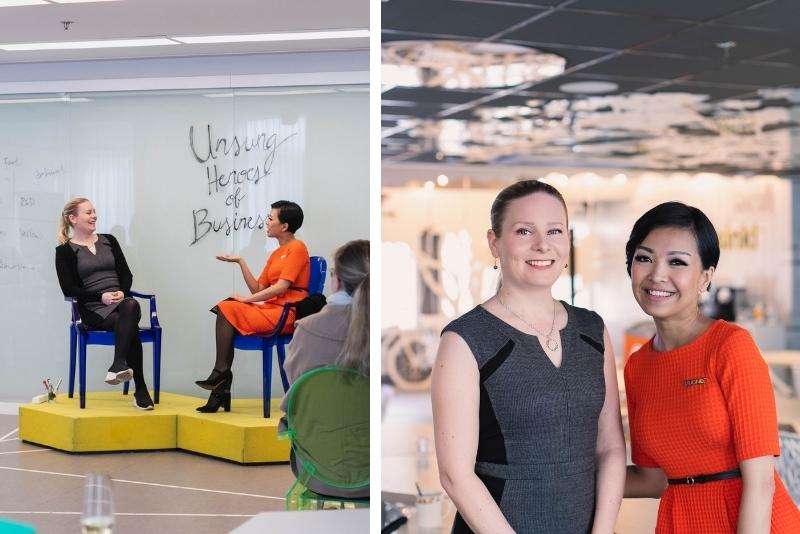 (Image: Tiina with Evon in Magic room and Loistava lounge at HUONEJätkäsaari)
---
Anni, wellbeing in the hybrid workplace
Anni from Cuckooworkout stressed the importance of well-being in the hybrid workplace. Especially by taking micro-breaks for 1-3 minutes during the day will improve your energy levels and enhance recovery. The most important aspect she stressed was that we do not want to go too high or too low with the energy level. Taking frequent breaks and breaking down the breaks into shorter ones will result in more balanced energy levels without too high peaks or a huge drop in energy.
If you are working from home, the easiest way to lift your energy and focus level is to do simple home chores during a break, like emptying the dishwasher. If you want to lower your alertness try breathing exercises or simply just stop for a moment. She points out that physical activity creates the base for cognitive ability, and shared a couple of tips.
Tips to improve your physical activity
Change your working posture e.g. by changing the working station or seating area
Take frequent micro-breaks
Try a walking meeting and get some fresh air!
Tips to improve your cognitive ability
Try different types of working techniques(e.g. Pomodoro technique: 25mins focus time and 5mins breaks)
Minimize interruptions. Turn your notifications off for the focus time
Avoid multitasking, concentrate on the task at hand
Divide projects into smaller pieces, and do a list
Movement is medicine
A Pro-tip for brain-friendly meetings: Avoid back-to-back meetings in a row. Remember to leave a transition time between the meetings and let your brain have a break.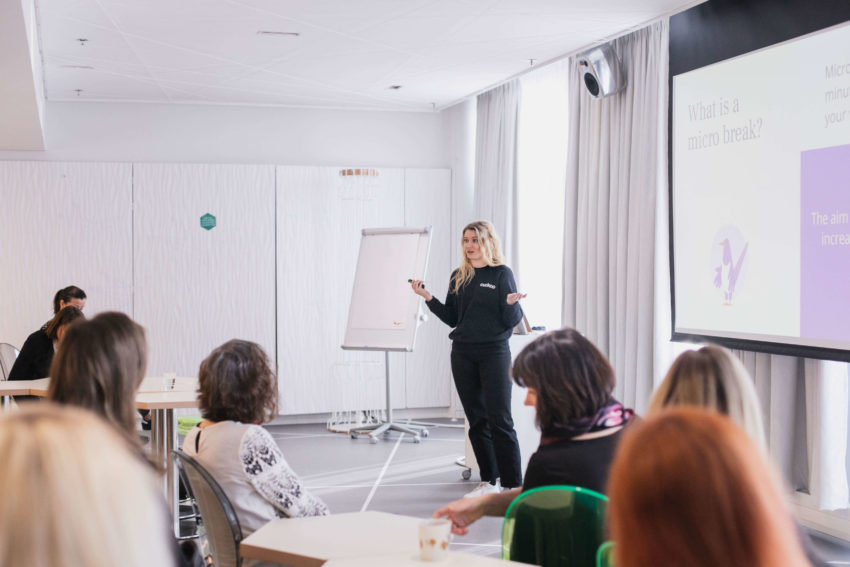 (Anni from Cuckooworkout in Taika-huone)
Feedback from the participants
The best part about the event was… 
See the meeting rooms and hear about the facilities. And hear about the HUONE and catering. – Teija Ahlgren, YritysHelsingin Satama Oy

An inspiring and interesting program.

It's hard to pick just one, but I would say a good vibe that came from both the staff and the crew in general

Good food, nice people and speakers and a tour of the premises

See the spaces physically, not just in the pictures. Chatting with people and having a good breakfast.

Excellent breakfast and interesting speeches.
Feel the event!
Be the first ones to receive invitations to our next upcoming events!